With Summer so close you can literally feel it I have two beauty essentials that you will need in your make up bags.  Keeping my skin clean and protected is really important to me.  Especially since my family spends so much time outside during the Summer.  I want to keep my skin clean after being outside and sweating all day.  No one wants to show up to a family reunion with a major break out because you were just sweating your guts out the day before.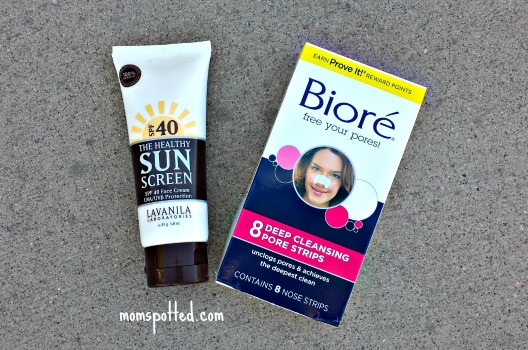 Bioré Deep Cleansing Pore Strips retail for $7.99.  They are great to throw in your travel bag and help you clean out your pores.  I love that in one use I can remove deep-down dirt and blackheads.  They are a must have in my beauty bag.
I also am really conscious about keeping my skin protected.  I didn't always worry about the SPF in my lotions, or beauty products.  I use to oil up, and then lay outside to tan for hours.  I cringe to think about it now.  I have seen so many people recently struggle with skin cancer, including a really good friend.  She is my age, late 20's, 3 small kids, no family history of cancer, and never worshiped the sun like I did.  But she was diagnosed with skin cancer on her cheek about a year and a half ago.  After multiple surgeries, treatments, scans, shaving her head, and all the battles that cancer entails she is now cancer free.  I really admire how brave she is, and how she is always so hopeful and full of joy.  Her experience also scared the heck out of me!  Now I will forever worship my pastey white skin instead of tanning.  I will always lather up the SPF and sunscreen.  Hopefully I can make up for all the other times I would bake in the sun.
Lavanila Healthy SunScreen Face Cream SPF 40 retails for $28 and I have loved this sunscreen for my face.  It is a mineral sunscreen and is a broad-spectrum UVA/UVB protection.  It is not greasy like a lot of other face sunscreens, and because it is fragrance free it doesn't stink like other sunscreens. It is also has youth-promoting antioxidants, botanicals and amino acids.  So, I am keeping my skin protected, while also keeping it healthy and nourished.  I will definitely be buying this when it runs out.
Do you have favorite Summer beauty products?  Are you like me and use to worship the sun but now slather on the SPF?