Can you believe it's May and I still haven't shared Sawyer's birthday party with you? I've been so incredibly busy the past six weeks and I'm just now finally starting to come up for air! I have several posts that will show different things I did and these were one of my favorites! The whole party was a success and like always, what I was doing for the cake part was left undecided until the very last minute. Even though Sawyer had a Mickey Mouse 1st Birthday Party he was so in love with Mickey Mouse we thought it was only fitting that we do it again.
Last year I made the Wilton's Mickey Mouse Clubhouse Cake and a few months prior to his party I found a vintage mickey cake pan off of eBay and actually bought it. As the day approached my schedule was really starting to get really busy and I decided I need to pick something that I could still make but not be up the entire night before finishing and be too tired to enjoy the actual day. These simple Minnie & Mickey Mouse Cupcakes were perfect.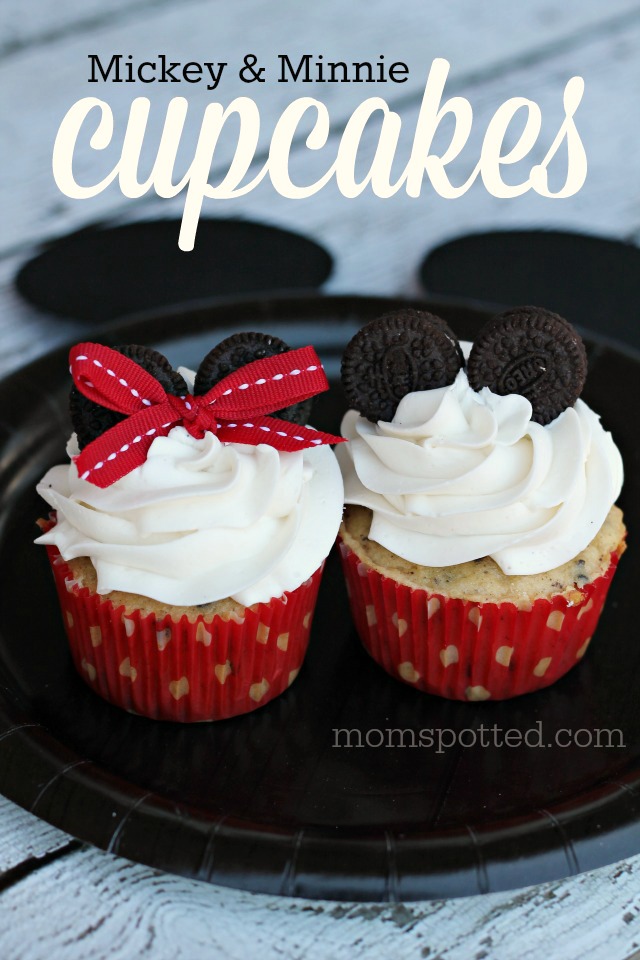 I was so pleased with how they turned out in the end! Sawyer's birthday was all red, white, & black themed and these matched perfectly!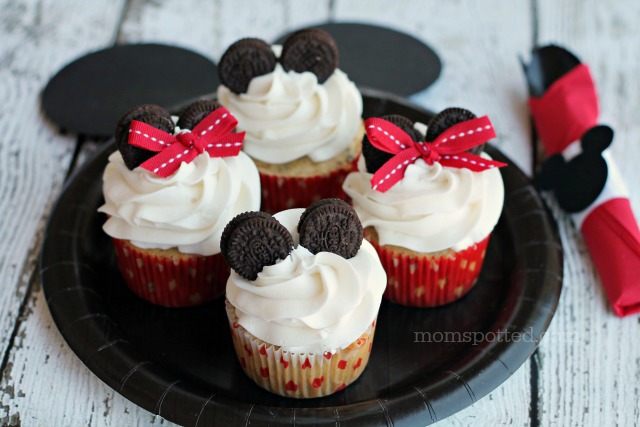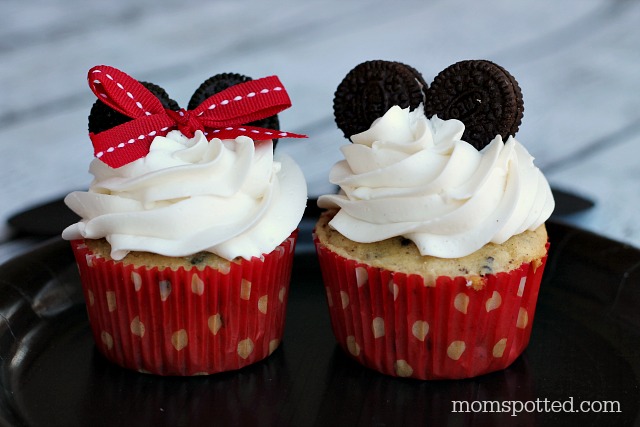 I made enough for everyone who was there to have one, plus a few extras in case someone dropped one or wanted another one.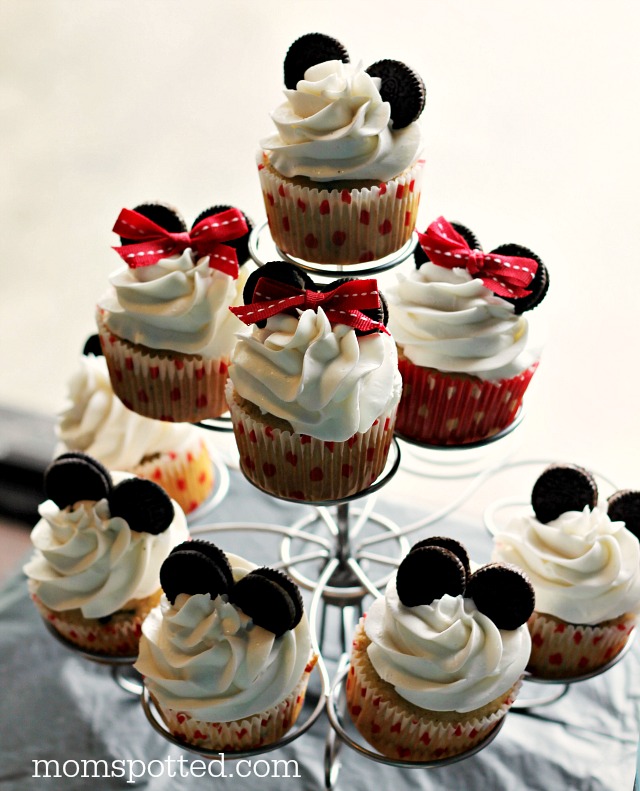 I used the Wilton Cupcake Stand to display the Minnie & Mickey Mouse Cupcakes and elevate them on the party table and then lined the rest across the table to easy grabbing. I loved not having to cut the cake this year!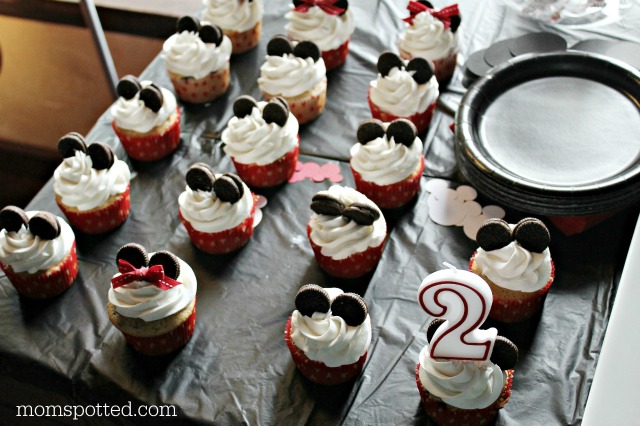 Sawyer found them yummy but isn't a fan of blowing out candles as we learned this year.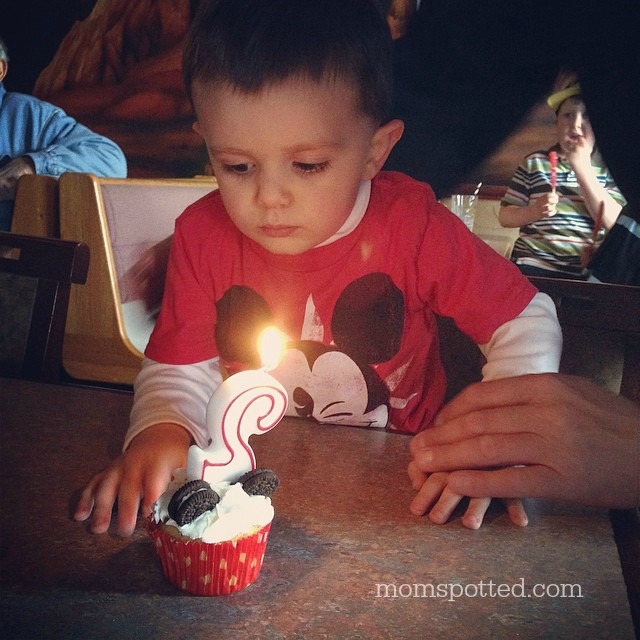 To make these Mickey Mouse Cupcakes extra special I decided to make the cupcakes themselves Oreo flavored too. I dropped a full-size Oreo on the bottom of every cupcake liner before adding in the batter. I just used boxed French Vanilla cake mix and then crushed up several regular sized Oreos into the batter too. I didn't chop them up small I made sure to leave them pretty chunky and then when you bite in and get a bite you know it. Bake as directed but make sure you can pull a toothpick out dry before removing.

I baked them the afternoon before the party and then left them on a cooling rack until after I put the kids to bed. By this time, I knew they were completely cooled and ready for decorating.
At this stage, you can store your cupcakes in a large plastic container. I use several of these. They are great if you need to take them to travel too. I also love my big cupcake holder if they are going to school.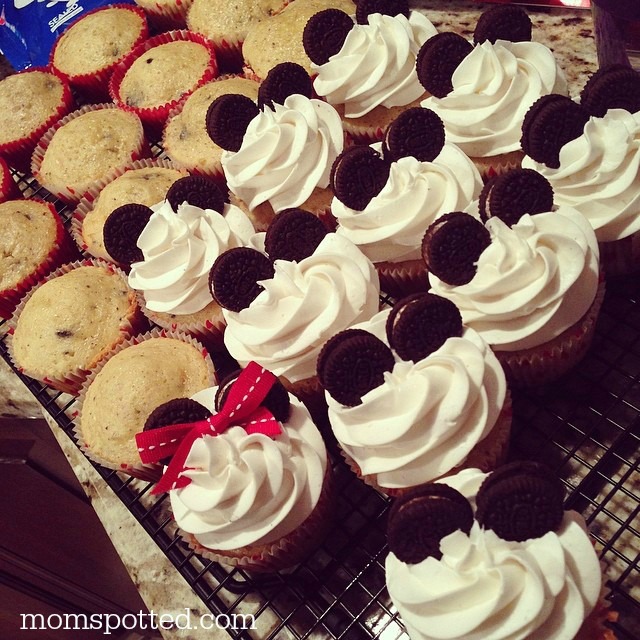 To make these you will need:
If you are traveling I would fill the decorating bag and take it with you and decorate there. To get the swirl hold the bag tightly and start on the outside edge of the cupcake and work your way in. Then add the two Oreos at the same time to center and press down evenly.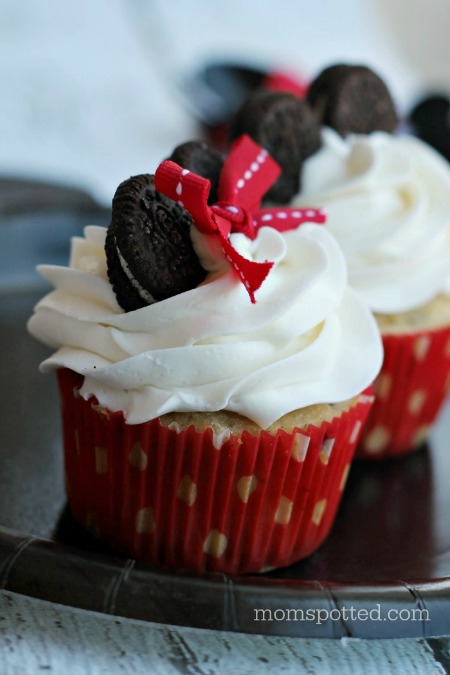 To add the ribbon bows I added a little frosting under the knot to help it stick to the cupcake.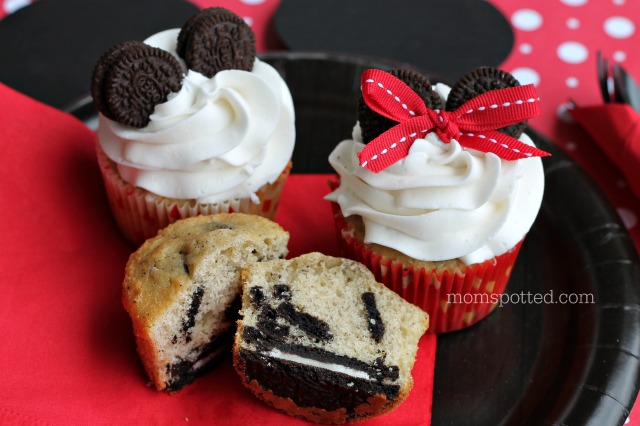 Don't those Mickey Mouse Cupcakes look delicious? They were! I can't wait to make these cupcakes again! I might just have to make an Oreo frosting to go with it next time! Stay tuned for other posts about Sawyer's DIY Black, White & Red Mickey Mouse Birthday Party.