I am always looking for a good face wash.  I like to mix things up during the week because my skin doesn't always need the same thing everyday.  Sometime's I need intense moisture, or an exfoliate.  Sometimes I want just a good deep clean for my pores.  Bioré has new products to help really clean my skin.  I have been really impressed by the Bioré Deep Pore Charcoal Cleanser and the Self Heating One Minute Charcoal Face Mask.  Charcoal is the secret ingredient in both the cleanser and the face mask.  Charcoal draws out and traps 2x more dirt than regular cleansers.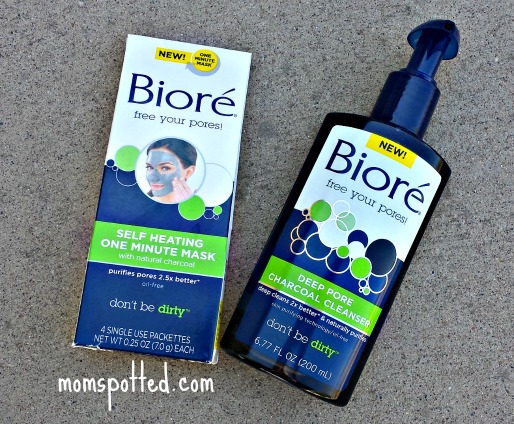 The Deep Pore Charcoal Cleanser is oil-free and dermatologist tested.  Straight out of the bottle the cleanser is black, but after I  massaged it on my wet face it foams white.  My skin felt really clean afterwards, and also cool and a little tingly.  I really liked this cleanser.  It did take a little trial and error to figure out how often was too often to use this.  After trying this cleanser for a few days, and using it morning and night my skin was much too dry.  Now I have only been using it at night after I remove my make up.   I rinse and dry my face then I follow with a moisturizer.  By using it just at night or every other night I haven't had any more problems with my skin being too dry.  When this cleanser runs out I would definitely buy it again.  It retails for $6.47 at Walmart and other drug stores.
The Self Heating One Minute Charcoal Face Mask is also oil-free and dermatologist tested.  It retails for $6.47 at Walmart and other drug stores.  The package includes 4 single use packets.  Before I even used it I already wasn't impressed because of the price.  It only has 4 masks for the same price as a entire bottle of the cleanser.  I was hoping it would knock my socks off.  Like the cleanser the mask also comes out black.  You put it on your already wet face and it heats up.  It does get really pretty warm.  But there is no way it lasts for one minute.  The longest I had it stay warm was 20 seconds.  You continue to massage the mask for one minute and rinse it clean.  It also left my skin feeling cool and tingly.  I will not be buying more of this.  It did leave my skin feeling clean, but not any more clean than the cleanser.
Are y'all getting your skin ready for summer?  What are some of your favorite cleansers or face masks?