I love nail polish.  I love how it can pull together an outfit and makes me feel more put together.  Playing around with new nail polish colors and trends is one of my favorite things.  Right now one of my favorite trends is nude colored nails.  I love it because my nails will always compliment and go with what I am wearing.
SALLY HANSEN NAILS THE NUDE TREND AT PARIS FASHION WEEK
As the exclusive nail sponsor of Stella McCartney Collections in 2014, Sally Hansen strutted down the runway at the spectacular Stella McCartney Winter 2014 Collection fashion show at the Palais Garnier during Paris Fashion Week. To complement the bold textures and sophisticated color palette of the designer's Winter 2014 Collection, the Sally Hansen nail looks worn on the runway featured clean, modern, understated shades of nude to flatter the models' skin tones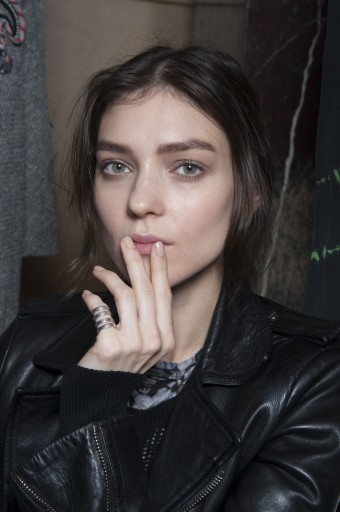 THE NAIL LOOK
Sally Hansen Global Color Ambassador, Madeline Poole, custom blended colors of barely blush, nudes and sheers from the Complete Salon Manicure palette.
"We did a natural slightly sheer nail using various combinations of four shades," said Madeline Poole. "Colors were layered differently for each model to best complement their skin tone. As different nudes look better on different hands, we wanted to customize each girl's look rather than using the same nude on everyone.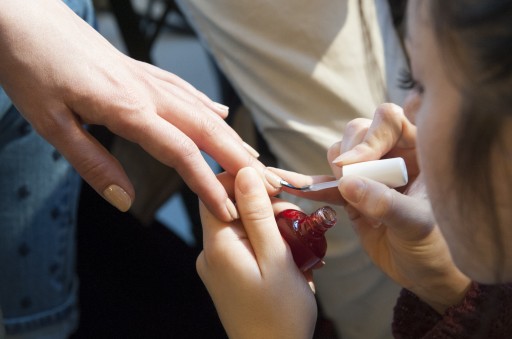 Thanks to the all-in-one product Complete Salon Manicure, we were able to skip base coat application and with the larger, rounded brush, swiftly paint the nails so we could also address nail health and cuticle treatment. As most of the models have had a multitude of nail changes over this past month of fashion shows, we wanted to bring emphasis to conditioning and nourishing the cuticles with Sally Hansen's Cuticle Rehab. A little bit of backstage TLC goes a long way."
THE SHADES
Complete Salon Manicure in Arm Candy

Complete Salon Manicure in Shell We Dance

Complete Salon Manicure in Almost Almond

Complete Salon Manicure in Pink Pong

I really loved this polish.  As a mom I don't always have a lot of time and I want my nail polish to last through my busy day.  This nail polish is quick and easy to apply.  I don't have to worry about adding a base coat or a top coat.  I was impressed how long the color lasts before it started to chip.  Which is saying a lot since my hands are constantly getting wet and I am busy with my kids.  It has also been fun layering these polishes.  I can quickly change up my look and have a bunch of different options for colors.  I love that these are made to compliment different skin tones to find everyone's perfect neutral.  You can find these and other Sally Hansen products at Target and Amazon.