Halli just turned one last month.  I can't believe how fast the year flew by.  Going from one kid to two kids was a harder adjustment for us than I expected it to be.  I also forgot how expensive babies are!  Diapers, wipes, clothes, baby food, it all adds up so quickly.  I like to be able to save a little bit of money where ever I can, so I was really excited when Perrigo Nurtionals asked me to try some of their products.
About Perrigo Nutritionals:

Many moms are not aware that they can save up to 50 percent on infant formula by choosing a store brand over a national brands.
Store Brand Formula is nutritionally comparable to the national brands, yet are typically up to half the price, and can save you about $600 a year
Perrigo Nutritionals is the largest supplier of Store Brand Infant Formula and nutrition products in the world and one of only four companies recognized by the U.S. Food and Drug Administration for meeting the strict FDA requirements for safety, nutrition and quality for infant formula-manufacturing in the United States
Same standards and expertise used to develop infant formula applied to toddler foods
Toddler foods are appropriately developed for variety of stages of growth and motor skills with quality, nutritional ingredients to create foundation of good nutrition
Halli has been exclusively breastfed, but with my first baby Hayden I was unable to nurse after 3 months.  Formula is so crazy expensive.  We would often buy the store brand formula and it saved us so much money!  Now that Halli is older and eating baby food she loves the baby food pouches.  She has always been an independent eater and has never liked me to spoon feed her.  She is Miss Independent and does it all herself.  I love the baby pureed pouches because they are easy to take on the go with a lot less mess.  Baby puffs and yogurt bites are also great quick, mess free snacks for when we are on the go.  Perrigo Nutritionals store brand products are as nutritionally complete as the national brands, but cost significantly less. They are sold under individual retailer brands, such as Walmart's Parent's Choice and Target's Up & Up Store brand product.  With Perrigo Nutritional brands I can have the best of both worlds and save money while having quality products for my kids.
Perrigo Nurtitionals also sent me a really great book to read called, "Say Goodbye to Survival Mode: 9 Simple Strategies to Stress Less, Sleep More, and Restore Your Passion for Life," written by a wife, mother, and blogger extraordinaire Crystal Paine.  The title of the book alone had me hooked.  What mom doesn't want to stress less and sleep more?!  I am naturally a worrier and I stress.  In the past few weeks my husband has had a complete job change and we are moving across the country in a matter of days.  With all of the huge changes and the up coming move, my typical worrier personality has basically been on overdrive and I  have felt like a basket case!  There are some days I know I have been in complete "survival mode," and have barely limped through the day.  Crystal's book is exactly what I needed.  It had so many good reminders and helped me mellow out.  Crystal gives really great practical tips for families, for example on how to save money.
Crystal Paine's 5 Money Saving Tips for Families

Create a Budget

A budget gives you parameters and purpose, it gives you boundaries, and it gives you freedom to live creatively within those boundaries.

Shop With Cash

When you shop with a credit card (or even a debit card, for that matter!) you can have your budget in your head and you can do the best to stick with it when you check out, but it's so much easier to go just a little bit over here and there when you're swiping!

Plan a Menu

When you have a plan in place for what you're supposed to be eating each meal and you've already purchased the ingredients for those recipes, it's a lot harder to justify chucking the plan for takeout.

Use Coupons

Coupons are a great way to save a lot of money on your grocery bill, but they can be hard to keep up with. Clipping, sorting, and organizing coupons takes time — so enter a coupon database! You'll have access to printable and other coupons currently available and it's one of the most effective and efficient ways to save money on groceries.

Buy Store Brands

One way to save a great deal of money on your grocery budget is to learn to like and use a variety of brands. The sooner you can get over being a brand-snob, the more your pocketbook will thank you.  For example, while I breast fed my children, moms who choose to formula feed can save up to 50 percent by switching to store brand formula, which meets the same FDA quality standards as expensive name brands. There are also coupons available at a website – StoreBrandFormula.com.  This one simple change can save moms about $600 a year.
This year I have been trying more to focus on having joy.  Enjoying my kids more, and getting down to play more often.  I'm trying to enjoy the mess!  Life is messy, kids are meant to be messy, sometimes messy can be fun and sometimes it is better just to go with it.  Reading this book helped remind me of my goal to slow down and embrace joy in our life.  A huge move and new job is craziness and sometimes complete chaos, but it is also exciting!  A fresh start and new opportunities is very exciting, it is like a new little adventure.  No matter what stage of motherhood you are in or if you stay at home mommy or are a full/part time workin' mama you will love this book!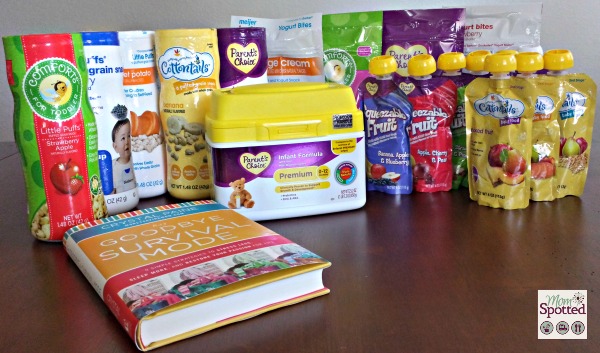 Right now one (1) Mom Spotted readers has the opportunity to win ONE (1) prize pack from Perrigo Nutritionals
A copy of "Say Goodbye to Survival Mode: 9 Simple Strategies to Stress Less, Sleep More, and Restore Your  Passion for Life" by Crystal Paine
1 container of store brand formula
9 assorted Puree Pouches
5 assorted Puffs
4 assorted Yogurt Bites
To enter use the Rafflecopter form below. Good Luck!
Contest ends 4.28.14 at 11:59pm. For Official Giveaway Rules click here. U.S. Residents Only