We love Disney Junior at my house. Disney Junior always have such fun and cute shows.  One of our favorites is Doc McStuffin's.  Now she has taken her clinic to the toys in the movie Doc McStuffin's: Mobile Clinic.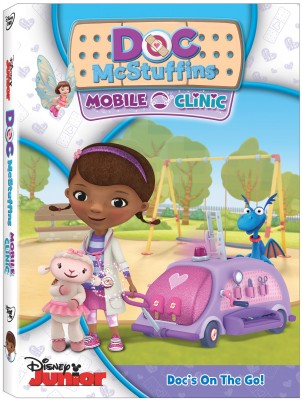 Doc McStuffins is back to save the day and this time, she is mobile!  After building a mobile clinic with her dad, Doc is able to make house calls to help toys in need when she's away from her own backyard clinic.  The Doc Mobile comes equipped with everything she needs to fix toys good as new.

Releasing Tuesday, March 18, the "Doc McStuffins: Mobile Clinic" DVD comes packaged with five song-filled episodes and includes a FREE "Doc McStuffins"  reusable tote bag. 
Doc is such a darling little girl.  I love that she is sweet, a good friend, and also smart.  She is always willing to serve and help others.  Hayden loves all the catchy songs and is thrilled with the idea that she can make her toys come alive. 
Now with our new Doc McStuffins: Mobile Clinic we can watch Doc anytime!  There are 5 great episodes.
1 – Doc McStuffins Goes McMobile / Chip Off the Ol' Box
2 – Doc to The Rescue / Don't Knock the Noggin
3 – Out of The Box / Run Down Race Car
4 – Rescue Rhonda, Ready For Takeoff / All Washed Up
5 – Rest Your Rotors, Rhonda! / Keep on Truckin'
Halli has been having so much fun with the FREE reusable tote bag that is included in the movie.  She puts everything she can find in it, then walks it a few feet and dumps it out, then fills it back up, she does this over and over again.  The tote is such a fun extra so your kids can be just like Doc. Your kids will love watching Doc be a great toy doctor and will love pretending to fix their toys too with the cute tote!

Right now you can purchase Doc McStuffin's: Mobile Clinic from Amazon or most retailers such as Target.