I have such fond memories of Winnie the Pooh and all of his friends in the Hundred Acre Wood.  My siblings and I had dozens of Winnie the Pooh tapes for our good ole' VCR that we would watch over and over again.  I'm so glad there are still more adventures happening in the Hundred Acre Woods that I can share with my kids.  Winnie the Pooh: Springtime with Roo is now on Disney Blu-ray with a Digital Hi-Def Copy.  It is such a darling movie!  I think all kids love Winnie the Pooh and this is a great movie to add to your collection.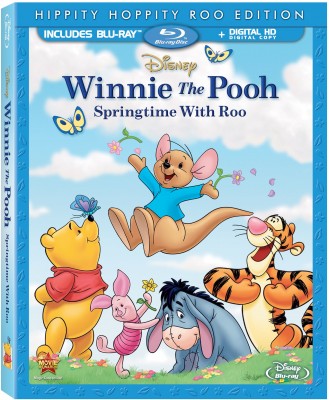 Every year Rabbit has been the Easter Bunny.  He has meticulously planned every last detail and desperately wants his friends to follow his plan so they don't ruin his Easter.  I totally understand where Rabbit is coming from because he and I are super similar.  We are both huge planners and like things done a certain way.  I feel like I sometimes get wrapped up in the planning of big events and forget that it is more fun to be easy going and just let fun happen.
The next year Rabbit has decided that this year that he will no longer be the Easter Bunny.  Easter will now be replaced with "Spring Cleaning Day."  Everyone is ordered to put away their Easter baskets and forget about a Easter egg hunt.  Today is now a day for scrubbing, organizing, and dusting.  Roo is especially disappointed but just wants his good buddy Rabbit to be happy.  Tigger tries to get everyone excited for Easter and reminds them of how much fun it can be, especially when you share it with friends.  The entire movie has a wonderful message about what it means to be a good friend.
All of the music in the movie is really great and up beat.  I caught Hayden tapping his toe, and Halli has loved bouncing along to the music.  There is a great bonus feature that helps everyone have fun and get into the Spring and Easter spirit with Rabbit's Easter song.
I love that this movie also has a digital copy.  It was so quick and easy to load it onto my iPad.  Hayden and I snuggled into my bed and watched it together while eating some popcorn.  It is 65 minutes long and was the perfect movie for a family movie night. Winnie the Pooh: Springtime with Roo would be a great Easter basket filler!  You and your family will love this new movie from the Hundred Acre Wood.
Right now one (1) Mom Spotted readers has the opportunity to win ONE (1) Winnie the Pooh: Springtime with Roo on Blu-ray and Digital Hi-Def.  To enter use the Rafflecopter form below. Good Luck!
Contest ends 4.7.14 at 11:59pm. For Official Giveaway Rules click here. U.S. Residents Only