I have a love hate relationship with my hair. It's crazy thick and grows crazy fast. You think I'm kidding? My hair dresser double books my time when I get it cut because it takes forever. As a result I hardly ever get it cut. With every child I've had my hair has gotten a tad bit darker and just a little bit curlier. Of course it's also become a million times more unmanageable.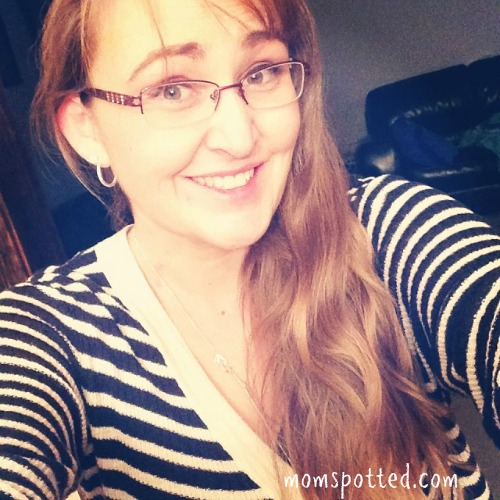 I've come to learn that if I want to get out of my boring old pony tail routine I need to invest in a few key products to help my hair behave and look its best with as little required work possible. I recently was given the chance to review some products from TRESemmé®, Dove® & Suave® and each one definitely helps in its own each way for the different ways we like to style our hair.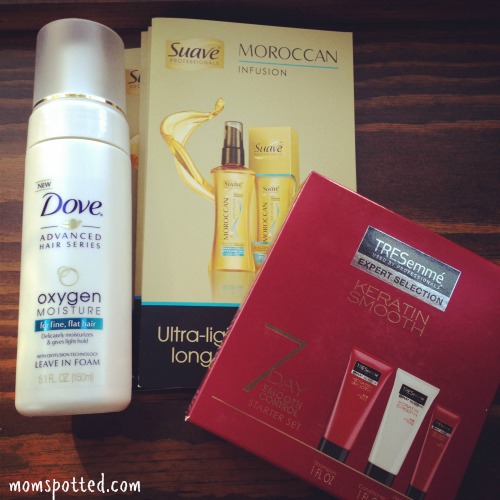 Out of all these products my favorite was the TRESemmé® Keratin Smooth.Get salon-gorgeous hair every day with TRESemmé® Keratin Smooth. With the new 7 Day Smooth line extension, you'll have ultimate frizz resistance that lasts through washes. It just gave the smoothest, softest hair when I was done styling it. It lasts three washes so you don't always have to use it.
The new line of Suave® Natural Infusions is salon proven to moisturize, smooth and restore your hair's natural shine. These is great for those special occasions where you just want a little boost in your everyday shine. I love this for when my hair is flat ironed best. It gives it such a nice polished look.
 Dove's Pure Care Dry Oils are made from first-pressed organic oils which are absorbed in an instant to nourish and pamper hair and leave it looking smoother, shinier and softer from the first use. This is meant for fine, flat hair and mine is anything but so I didn't use this one but I can't wait to share it with someone who can!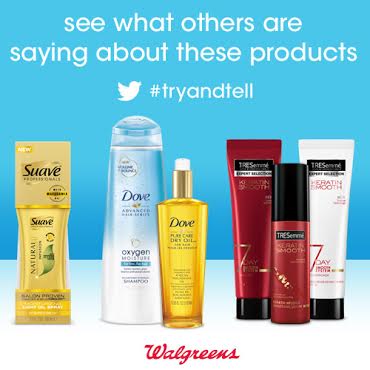 Wanna stock up your hair care drawer? Well right now from March 1st with your rewards card at Walgreens you can:
Get 25% off these product innovations
Buy two participating TRESemmé®, Dove® or Suave® products, and get 2,000 Walgreens Balance Rewards points. That's a $2 reward!
Want to hear what others are saying about these new products? Get the inside scoop by searching #TryAndTell on Twitter. Plus, you can win new product packages and Walgreens gift cards during one of our live Twitter chats, and hear what people are saying in real time about their favorite brands.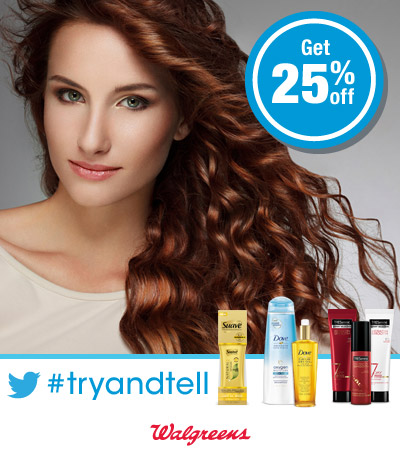 Make sure to follow TRESemmé®, Dove® & Suave® all on Twitter so you can catch the latest up to date news for all these great hair care products. Don't forget to stop into your local Walgreen's and take full advantage of this amazing sale.