When I first got started in the nursing field I was trying to find a way to do it so that I could go to college part-time and still work in the field. I was a single young mom and financially things were hard. I was doing everything I could to push forward. My college advisor told me about a grant the Red Cross had that would let me take a course for three weeks during winter break. At the end I would be tested on my skills and if I'd pass I'd get my CNA. The Red Cross covered the cost of the class as long as I worked for 6 months in a residential living. I've always known I had a love for emergency medicine and I knew long-term I wasn't wanting to work in nursing homes but found out that there was a lock down psychiatric facility nearby and since the patients were live-ins it would fit my grant request.
That six month grant period actually turned into two years and I learned a lot. It helped get me a lot of experience I might not have had the opportunity to have otherwise. If it wasn't for that grant I don't know if it would have been possible for me to get my certification any other way.
Later on I also watched the Red Cross as they stepped in to help others when they really needed it in so many different situations. They stepped in and helped so many after 9.11 and after devastating hurricanes. They have come when homes have been swept away from floods and burned by fires. They help families get back on their feet and they help them begin again. For so many without the Red Cross they might not have been able to do it themselves.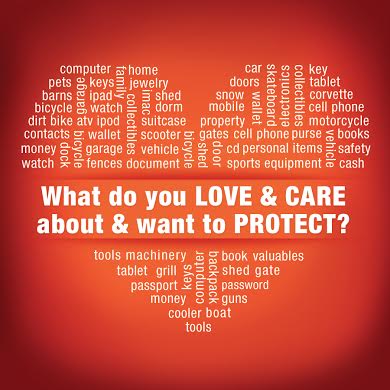 During many of these times of need we think of what we have and how we need to protect them. Did you know that in 2006 we lost our home to a fire? We didn't know what needed protecting and what didn't and as a result we lost everything. As a result of having gone through something like that I've made sure that I've made us better protected in the future for all different outcomes.
Of course in every outcome my family is the most important to protect but there are other things you need to keep prepared besides flash lights in night stands and basement preparedness. When our house burned down we had no paperwork for things we owned, for our children, for anything. Going through the process and the cost of replacing all those needed documents was a nightmare.

Right now, Master Lock is kicking off its year-long initiative by asking consumers to tweet what they most want to protect using the hashtag #MasterLockProtects in exchange for a $1 donation to the American Red Cross and entry into a sweepstakes for a chance to win one of 28 prize packs!! How awesome is that! Master Lock will even make an initial $10,000 donation to the American Red Cross and will donate up to $10,000 in additional funds based on consumer participation in the sweepstakes! Their donation will support the urgent needs of the American Red Cross mission, whether it is responding to a disaster, collecting lifesaving blood, teaching skills to save a life, or assisting military members and their families during emergencies.
Grand Prize Winners: 3
$100 Visa Gift Card
Master Lock 5422D Portable Key Safe
1547DCM Backpack Lock
5900D SafeSpace
First Prize Winners: 25
$50 Visa Gift Card
Master Lock 5422D Portable Key Safe
1547DCM Backpack Lock
5900D SafeSpace
Red Cross Emergency Preparedness Kit
Since Master Lock is the world's largest manufacturer of padlocks and related security products, providing innovative security solutions for home, automotive, campus, power sports, bike and storage security needs since 1921 I know that I can trust them to keep my material valuables safe in times of disaster! As a recognized leader in the padlock and security industries, Master Lock is always striving to provide the best products and advice to help families live their lives safely and securely.
For another chance to win make sure to check out Resourceful Mommy's "Protecting All That You Love and Care About" Twitter Party on Tuesday, February 18th from 8:00 to 9:00 p.m. ET! There will be 10 winners of with prize packs valued at $150! Make sure to be there!
For complete Rules and Regulations for Sweepstakes click here. The Sweepstakes runs from February 17 until February 28.