Baby bedding is possibly one of my favorite things to shop for.  I needed to get Halli some bedding for her other nursery at grandma's house.  I wanted her bedding to be girly, soft, comfortable, and high quality.   Beyond Bedding has the perfect selection of bedding I was looking for.  They have a large selection of crib, toddler, kid, and teen bedding.  I looked around their website forever just drooling over all the sweet crib bedding sets.  I found a darling set called Lavender and Gray Elizabeth Baby Bedding  and fell in love.  I was never really a huge fan of lavender until I had a little girl.  Now I am obsessed with it.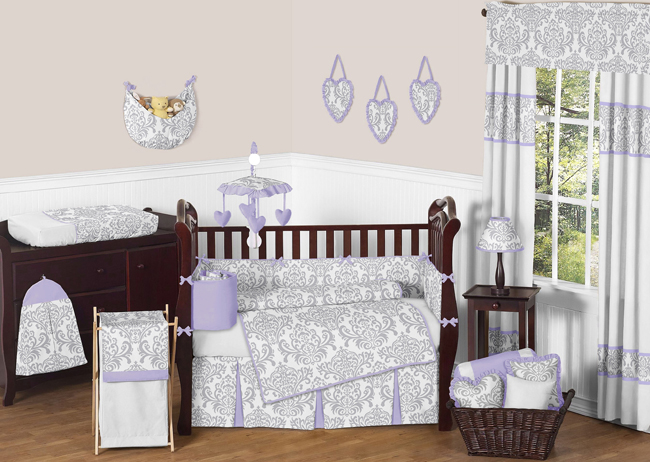 I was so excited when the bedding showed up on my porch, I couldn't wait to put it on her crib to see what it would be like at her second nursery.  The materials are so soft and the colors are gorgeous.  It is so soft and relaxing but also girly. I also loved that it came with so many pieces.  It is such a great value for a crib bedding set!
The 9 pieces included:

Crib Blanket
2 Window Valances
Crib Skirt
Fitted crib sheet
Bumper
Diaper stacker
Toy bag
Pillow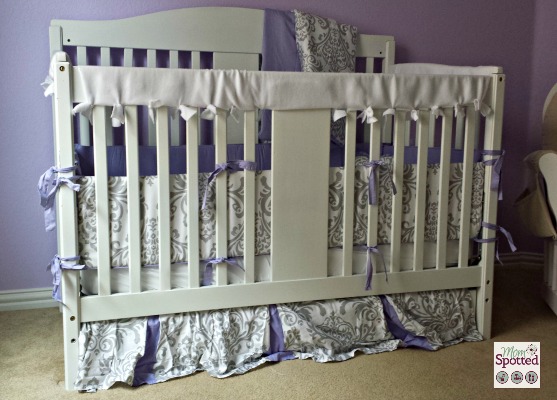 I really love the gorgeous gray and white damask print.  I can also order more add ons to help finish off her nursery such as window panels, wall hangings, laundry hamper, or a lamp with lamp shade.  We are so happy with her new bedding and it will be darling in the other nursery.  I know she will be nice and comfy while sleeping with this bedding.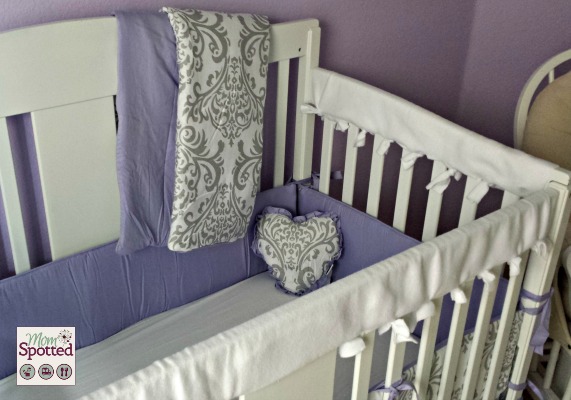 I was also really impressed with the Beyond Bedding website.  I like that they had an option to create your own custom bedding.  It is all so simple and easy to use.  Beyond Bedding regularly releases new baby bedding sets designs, such as chevron baby bedding,  nautical baby bedding, and other modern crib bedding styles.  They also offer $7.95 flat rate shipping to the U.S.  On the Beyond Bedding Facebook page they hold monthly contests where you can enter to win a new bedding set when you review your current set, or share a set.  You can find out more details on their Facebook giveaways HERE.
Right now 10 lucky winner are going to win a bedding set of their choice from the children and teen set lines.  (no crib sets) Good Luck!
 Contest ends 2.24.14 at 11:59pm. For Official Giveaway Rules click here.