I can't believe Sawyer is approaching his second birthday. He is growing so fast and I swear if I blink I'll be sending him off to college. For now we're just talking about kicking out that last piece of big, bulky baby gear out of our downstairs. The high chair. Sawyer loves to be around us and copying us anyway possible. One thing he has shown interest in is sitting at the table with us.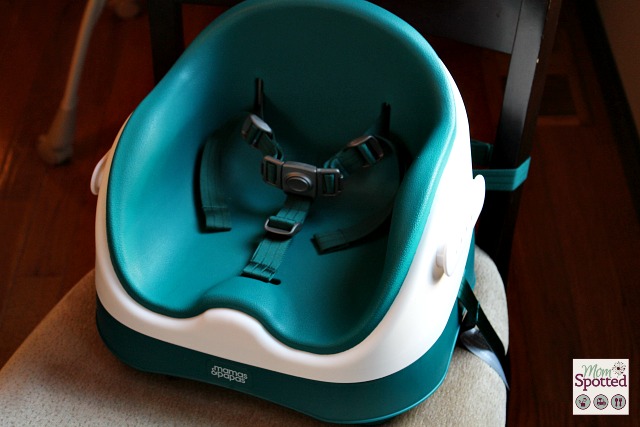 I've looked around at quite a few booster seat options but I kept coming back to the Baby Bud Booster Seat by Mamas & Papas. I loved it's bright color and sleek design. I loved that it was secure to the seat and still included the tray.
Mamas & Papas 3 stage booster seat – easy, secure feeding & fun anywhere. Baby Bud from Mamas & Papas is the perfect booster seat for bringing your little one to the table for meal times. With adjustable, non-slip feet, two chair harnesses to keep baby securely fastened in and a removable, easy clean tray. Baby will feel like part of the family in this comfortable and supportive baby seat – and because it's easy to carry and store, it's ideal for using when you're out and about. Easily fits most chairs securely, so you can boost your little one up to almost any table. Provides added comfort and support for baby with removable soft seat insert. 3 position removable tray. 4 adjustable non slip feet. Suitable for baby from 6 months up to a toddler at 3 years as the removable insert allows it to adapt as your baby grows. Age Suitability: from 6 months to 3 years approx. Size: H: 11″ x W: 15″ x D: 15″ approx. Tray Height: 7? approx. Weight: 4lbs.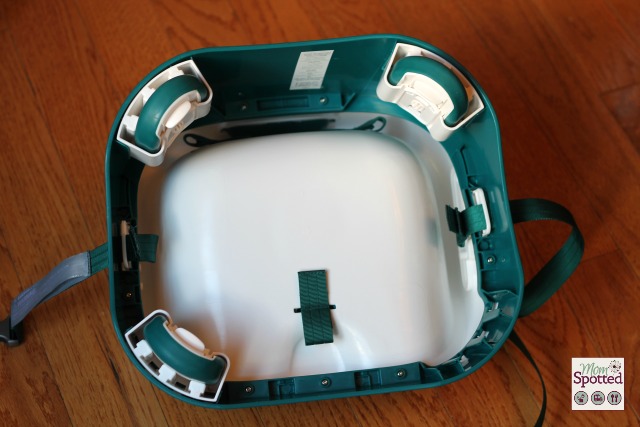 I really liked that it has three different height adjustment options. This allowed me to make sure that I was able to get Sawyer perfectly fit to the level of our table. They come separate in the box and you just adjust them and push them in. When you hear them click you know they are in. Super easy to go and change them if you see that you need to. Just push in the button with one finger and then while holding take your other hand and either pull or push the foot to where you want it.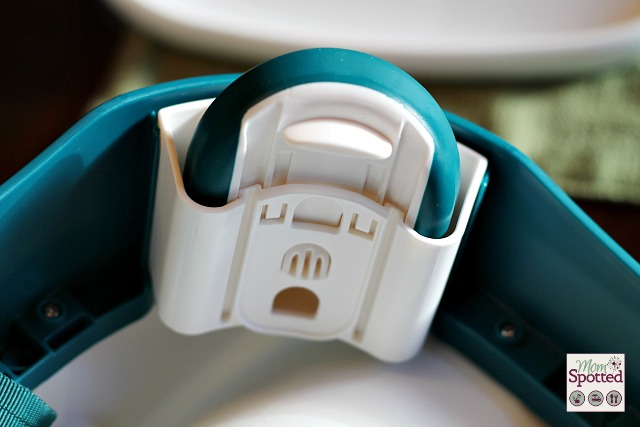 Sawyer  is full of energy and loves to move all around. I love seeing that it not only has a strap to go under the seat but around the back as well. This let me get the seat to be tightly secured and doesn't have any room to wiggle around and possibly result in a fall. I also really liked that they include little clips along the straps to hold the extra not needed so he doesn't see them and try paying with them.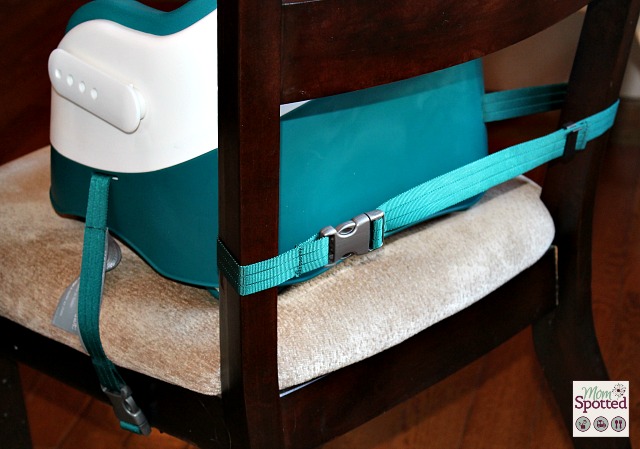 He was so excited about being able to sit at the table that he didn't even want to look at me while I tried snapping photos. I even tried over the course of several days and this was still the best one. He just LOVES sitting at the table. He won't even let me put him in his high chair now. He loves that he can also climb right up on his own and get in. Of course I stay close and make sure he doesn't fall and make sure to buckle him myself to know it's done correctly too.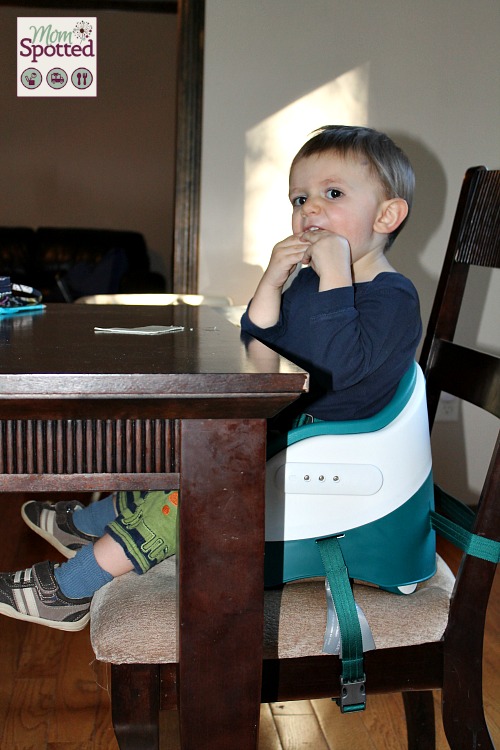 One huge bonus is that is comes with a tray still. I wish I had this was Sawyer was smaller because this would have been a great floor seat and great for outdoors all summer long. I love that you can easily lock the tray in place so he can't figure out how to get it off and send it flying like he did his high chair one. Simply slide the tray on and push down the tabs on the side. You'll see the little lock image when it's locked in place.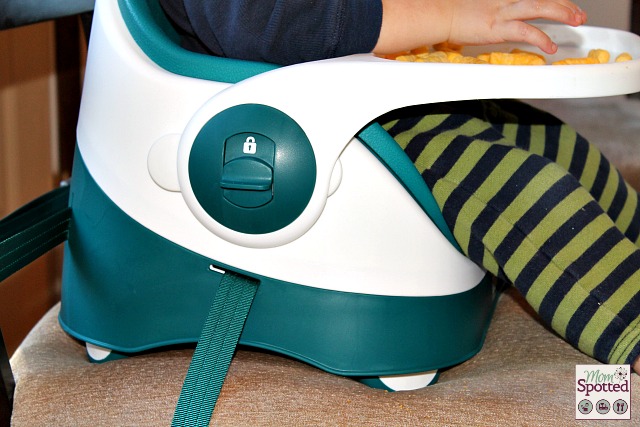 Sawyer just loves his Baby Bud Booster Seat! He uses the tray at lunch time and no tray at dinner time. I like that I can use it both ways as I'm still helping him eat and at lunch I can still sit right in front of him. At dinner he's pretty much eating what we eat so it makes it easy to let him feed himself completely. We are so happy with the Baby Bud Booster Seat!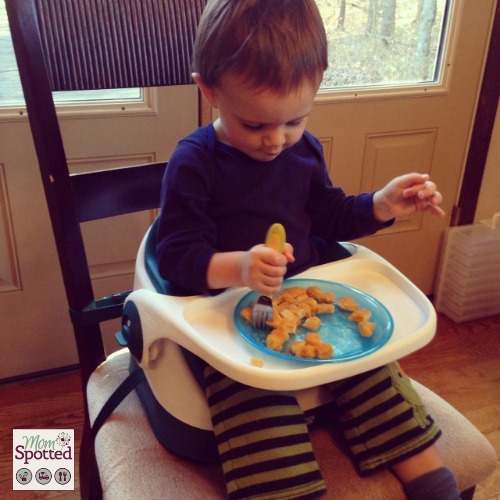 You can purchase the Baby Bud Booster Seat at Babies R Us or our affiliate Amazon.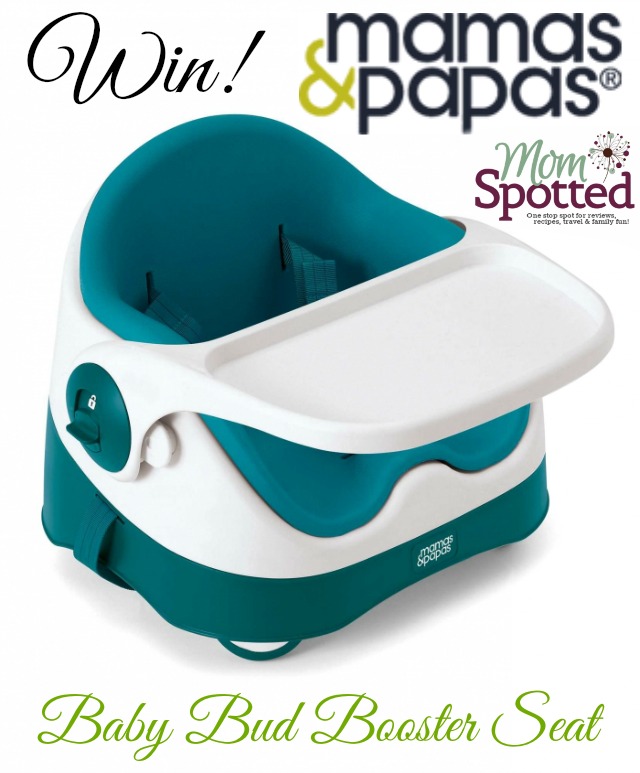 Right now one (1) Mom Spotted readers has the opportunity to win a Mamas & Papas' Baby Bud Booster Seat. To enter use the Rafflecopter form below. Good Luck!
Contest ends 12.16.13 at 11:59pm. For Official Giveaway Rules click here. *Choice of color is not promised but will try to be accommodated.