I can't believe how big Sawyer is getting. I feel like it was just yesterday he was born. I love to see the little boy he is becoming and what his likes and interests are. What grabs his attention and what gets him using his imagination. One of his most favorite spots is his play kitchen in his room. He's been playing here since he could stand independently.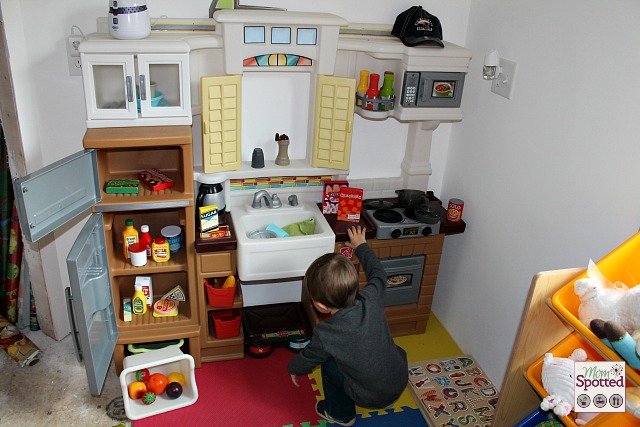 The problem was he was getting bored with it. It didn't come with any food and Charlie (my dog) has chewed up half the plastic extras it came with. I really needed to step it up and get him some food to go with it. I knew I wasn't really wanting plastic foods. So many of them contain chemicals and many of them are sold with choking warnings so I wouldn't be able to use them as he's only 19 months old.
We've done a lot of wooden toys with Sawyer and I've been thrilled with the level of quality they have. I knew when I saw that Melissa & Doug has great wooden play food sets that it was exactly what I wanted for Sawyer's kitchen.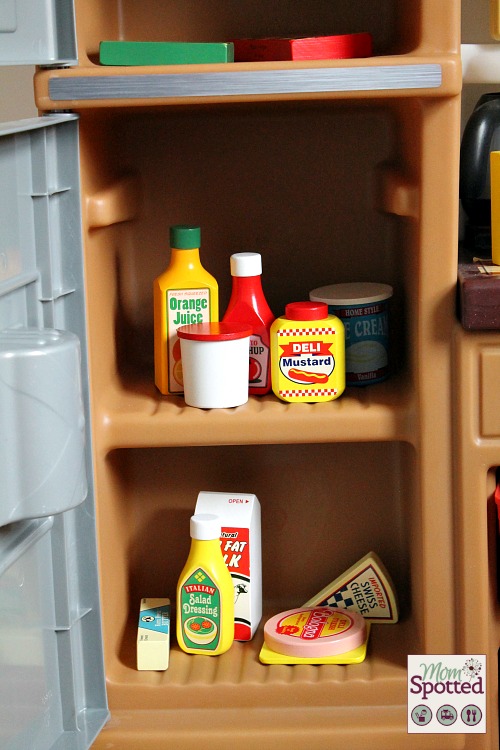 We have been playing with the Pantry Products and Fridge Foods Wooden Play Food as well as the Playtime Fruits Play Food. All of them by Melissa and Doug and we have been thrilled with the quality like all other products from Melissa& Doug. I like having foods for all the different areas of his kitchen. We can begin teaching what goes in the fridge, freezer, or stays on the counter. Since they are still small scaled he can pretend to use them and cook with them. The best part is they can take him being hard on them, throwing them, and trying to, well, eat them.
We love the additions to our play kitchen and these sets would make a great addition to yours too! If you're still looking for a play kitchen make sure to check those out while you're over there too! Amazon has such a great selection of toys you'll be sure to find the perfect gift for the kids on your gift list!