At the end of this month it will be 6 months that I had my baby.  It blows my mind Halli is half way to 1 year.
I had a pretty healthy pregnancy.  I gained a healthy amount of weight, and tried to eat well.  I have been able to lose my pregnancy weight from Halli, and I can button my pre-pregnancy jeans! Whoop!  BUT, I still have my "mommy tummy."  You know what I'm talking about…especially you c-section mamas.  My first pregnancy was rough.  I gained an obscene about of weight, I was terribly swollen…there is no coming back from that.  I am still hanging onto some of my baby weight from baby #1.  I know my body will never be the same, and I am kind of glad.  My body went through a LOT to get my two gorgeous babies here.  I am proud I was able to be "home" to each of them for 9 months.  But I can always put down that 3rd cookie, go for a run, and try to be healthier right?!
I have been SUPER inspired by Jenne and her journey to be healthier and get fit.  Have y'all been following her?  If you haven't, you totally should…girl is fabulous and totally rockin' it.  She takes her boys running every.day.  Amazing.  I knew I had no excuses and I needed to get me, my kids, and my mommy tummy out the door and get moving.  The Jeep Adventure Jogger Stroller has been perfect for my walks and runs with my kids.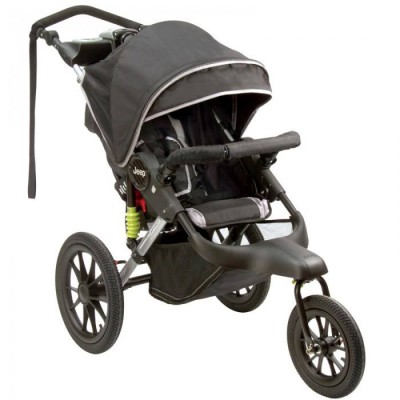 Can a stroller be pretty?  Because if it can I think this is it!  I can't say enough good things about this jogging stroller, I love it.
I usually strap Halli in her car seat and it fits perfectly into the stroller with no adapter!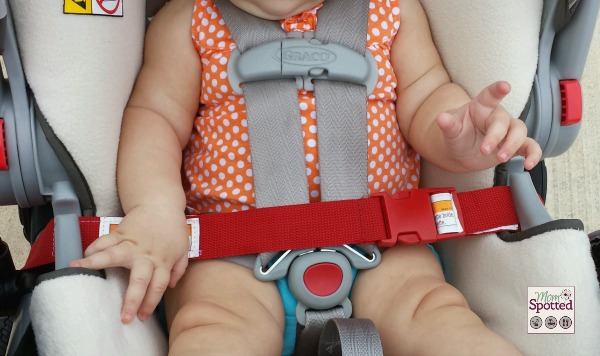 All I have to do is slide the car seat restraint through like a seat belt and tighten it.  It is so quick and easy and I know she is safe and secure for our ride. (side note: could you just die over all her delicious rolls and chubby fingers…and chins.  So chunkalicious!)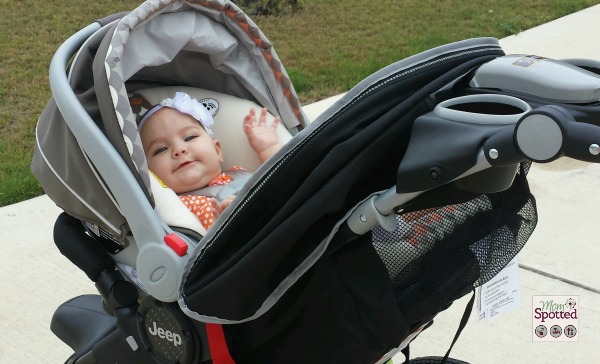 The Jeep Adventure is compatible with many popular infant car seats including: Baby Trend, Britax, Chicco, Cosco, Graco, Peg Perego and Safety 1st.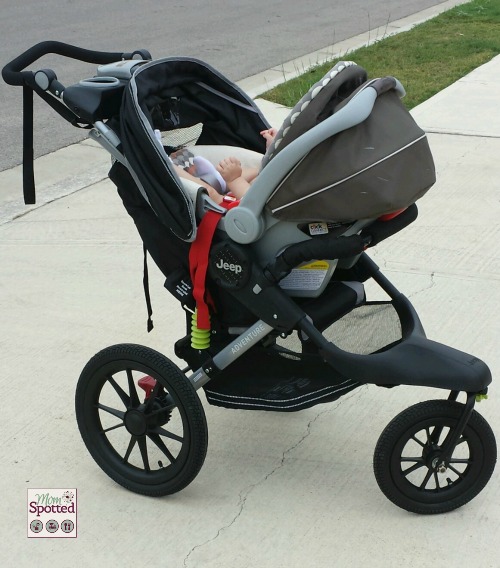 Halli usually rides in her car seat attached to the stroller.  But she is starting to sit up great on her own, and the adjustable 5-point harness seat belts gives me peace of mind she is safe.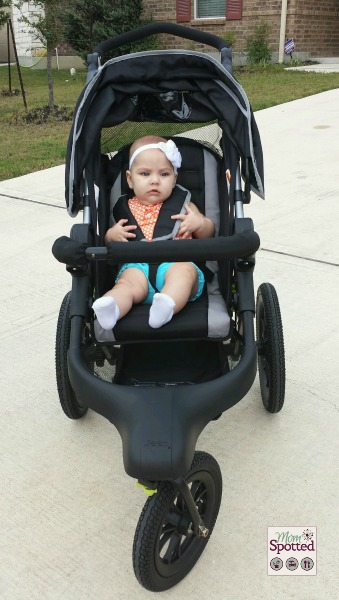 If she happens to fall asleep, the seat has a multi-position recline that I can quickly adjust.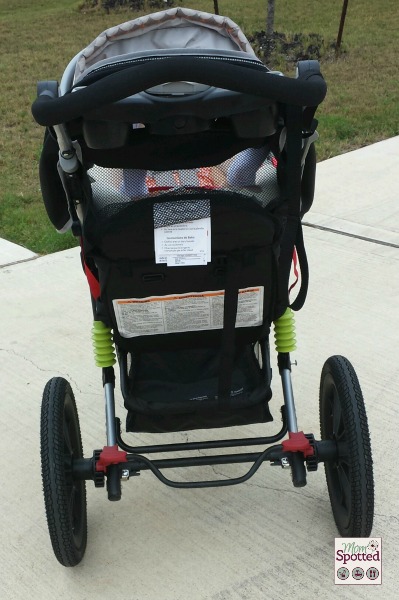 The Jeep Adventure also has a 60 lb weight limit!  Hayden is 4 1/2 years old and weighs 40lbs.  Occasionally he will get to ride in the stroller and it still rides super smooth.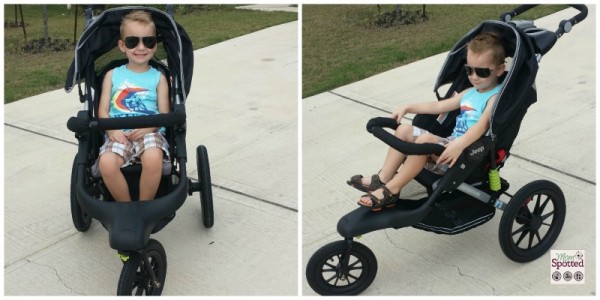 When he gets to go for a ride he and I both really love that there is a child cup holder that can attach to hold his drink.  The front bar of the stroller also removes and twists out easily from either side so I don't have to lift him in.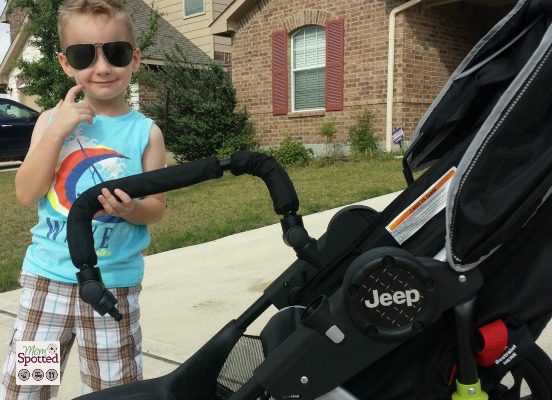 It is also so comfortable and easy to push.  The shock-absorbing suspension system keeps our rides nice smooth.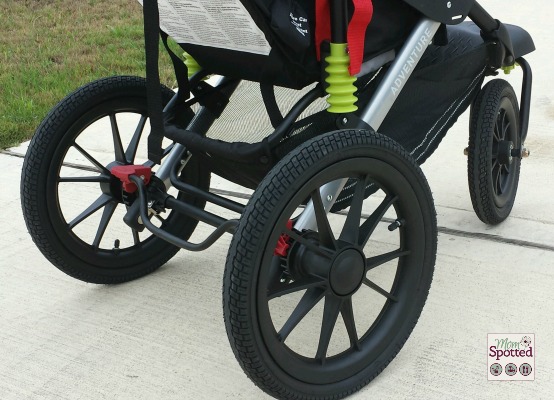 The Smart Handle® also adjusts to multiple heights which is great for when I may want to pick up my pace or when my husband takes it out for a spin.

The front wheel also has the option to lock-forward to increase the wheel base and be more stable while jogging, or to swivel for everyday use.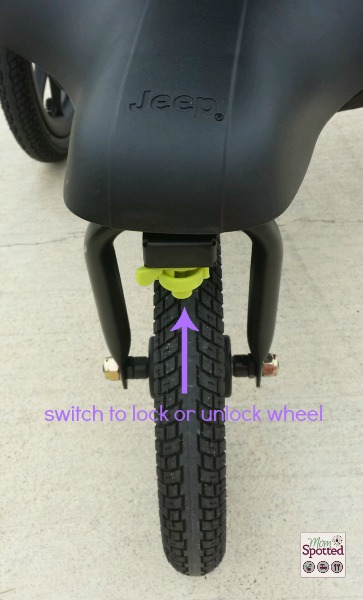 I tend to leave it in swivel mode for our walks so I can turn easily.
Other great features of the Jeep Adventure I really love are the large storage basket that can be accessed from the back or front of the stroller, and the large canopy with a window so I can peek on Halli and she can see me.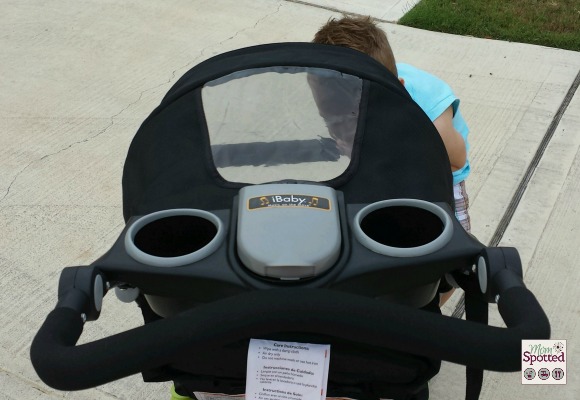 The cup holders are the perfect size for holding my water bottle and Hayden's.  The iBaby® sound system that connects to my phone is also a HUGE plus.  It is so, so cool we can all listen to music while we run!  It makes it so much fun.  I think Hayden may like it more than I do. 🙂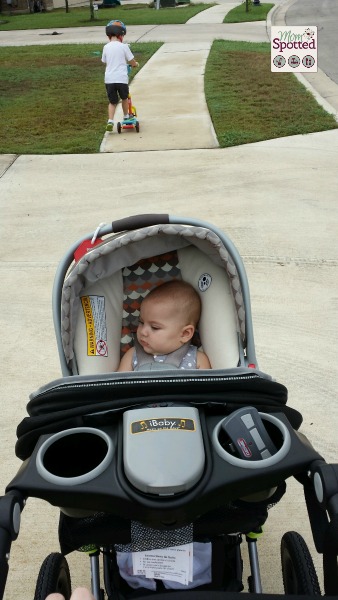 This is an amazing stroller.  It was fairly easy to put together, there are so many great features and it is so sturdy and well made.  My family will be able to get healthier and have fun with this stroller for a really long time.
You can purchase the Jeep® Adventure Jogger Stroller for a retail price of $349.99. We were able to find it under $300 from Target.com and for even less than that from Amazon!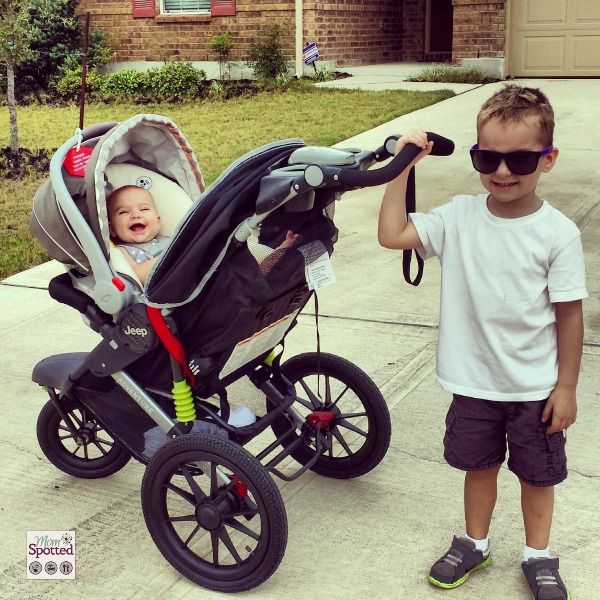 Right now one (1) Mom Spotted readers has the opportunity to win a  Jeep® Adventure Jogger from Kolcraft.  To enter use the Rafflecopter form below.
Contest ends 10.21.13 at 11:59pm. For Official Giveaway Rules click here. Affiliate links used.