We have permanent car seats for both Sawyer and Gavin in three vehicles. All those seats are from Britax. They give me peace of mind that my children are safe and they provide the ultimate comfort at the same time. We just gave my mother-in-law the Pavilion for Sawyer and now Daddy and I both have the Advocate 70-G3 Convertible Car Seat in both our vehicles.
We switched over to the Britax Advocate 70-G3 Convertible Car Seat when Sawyer was just over a year old. We had planned on him fitting in his infant seat longer since he's still a light weight but he's long and lean and hit the height requirements faster than we had planned. We really wanted to rear-face as long as possible and loved that the Advocate 70-G3 allowed us to do that. For the full review on this seat please click the link above.

We have been really happy with our seat over the past six months and I'm thrilled that we have that same safety and comfort in Daddy's car now. Why does this car seat make me feel so safe? Let me tell you about my top three reasons.
True Side Impact Protection
True Side Impact Protection is a system that provides advanced levels of side impact protection to your child during a crash.
Integrated Steel Bars
Integrated Steel Bars strengthen the connection to the vehicle and reduce forward flexing of the child seat during a crash.
Premium lower LATCH connectors
Premium lower LATCH connectors refer to the push-button lower connectors found on BRITAX child seats that allow you to install the seat into the vehicle using the LATCH system. An audible click can be heard when the connector is securely attached into place.
To me a lot of what protects you on a Britax seat is visually there. They don't try to hide their safety features they put them where you can see it. Seeing it really does make me feel safer about the seat. Knowing that my seat is attached to my vehicle by steel bars and the latch system makes me feel it will do everything it can to hold the seat in place. If for some reason the force is hard I have faith in the side impact protection to take the blow of that force and protect my child too.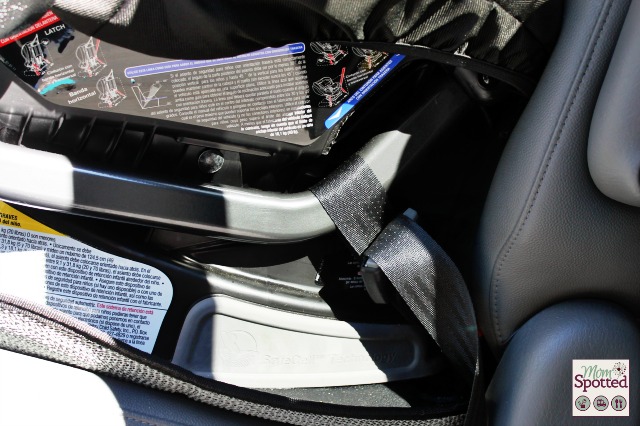 We love our Britax Advocate 70-G3 Convertible Car Seat and Sawyer does too. He is growing like a weed and the Advocate 70-G3 has been accommodating him well. Through all our long summer road trips and the short ones. Even though he's super tall he's been fine with the extended rear facing in this convertible. He either puts them up towards the head rest or has begun to cross them over. At times he'll even try to dangle them out.
Won't he get broken legs? Of course there is the risk of his legs breaking in an accident but all his other risk factors come down as it's now being recommended to rear face until 2 years of age. I wasn't sure what I was going to do as I switched my other boys around on their first birthday. I couldn't wait for it to happen fast enough but then I saw a video on youtube and my mind was made up. I don't know when I'll turn him around but it won't be anytime soon. See how happy he is?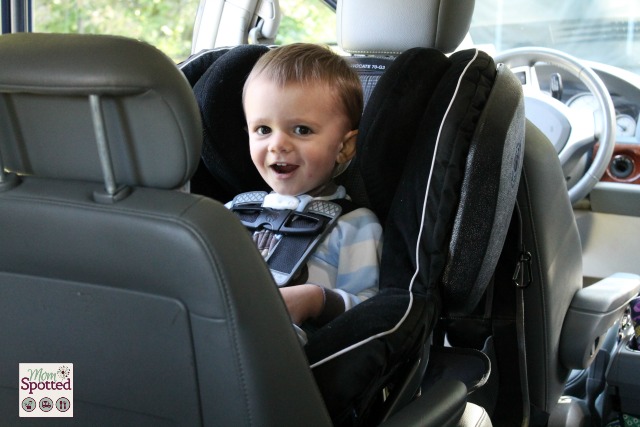 The wonderful people over at Britax want to share some of their great safety tips with you too. They have lots and lots of quick tips that are great for every mom to hear. Even if you think you know all the rules just take a minute and watch it. You never know what you might learn 🙂
What did you think? What tip could you offer?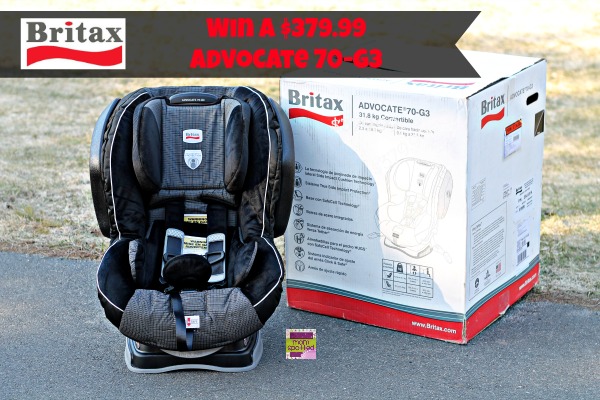 Right now one (1) Mom Spotted readers has the opportunity to win a Britax Advocate 70-G3 Convertible Car Seat. To enter use the Rafflecopter form below. Good Luck!
Safety matters when it comes to car seats. I want one that will protect my child. And Britax convertible car seats have so many safety features — and knowing that makes me feel like my child is safe while in the car. Click here to learn more about Britax safety features.
This is a sponsored conversation written by me on behalf of Britax. The opinions and text are 100% mine.