I picked a total of 30 pounds of blueberries this summer. I still have most of them frozen in my freezer but I've been having fun baking with them too. When looking for recipes on what to use my blueberries in I, of course, turned to Pinterest where I found this recipe. I had already made my blueberry lemon streusel muffins and didn't want to make more but the idea of the jam like filling definitely intrigued me so I thought I would give it a twist and make it into a blueberry streusel bread.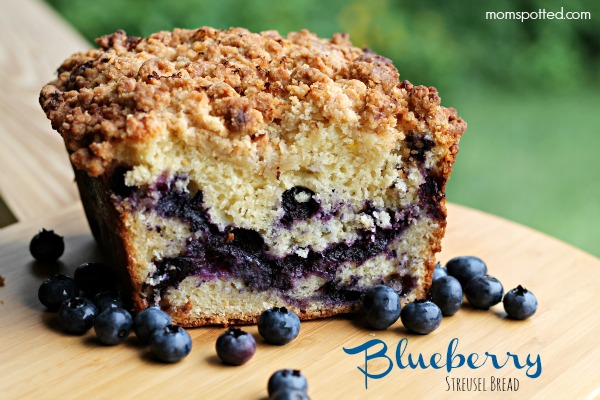 I made this bread at night so I didn't photograph the process of making it as the photos would have had horrible lighting. By the time the next day came only half the loaf remained. It was sooo good!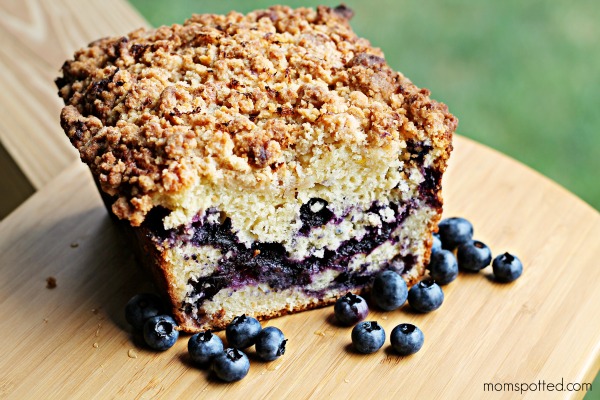 That layer of jam in the center just makes it. I was definitely glad that I made this into a bread instead of muffins. It was so delicious!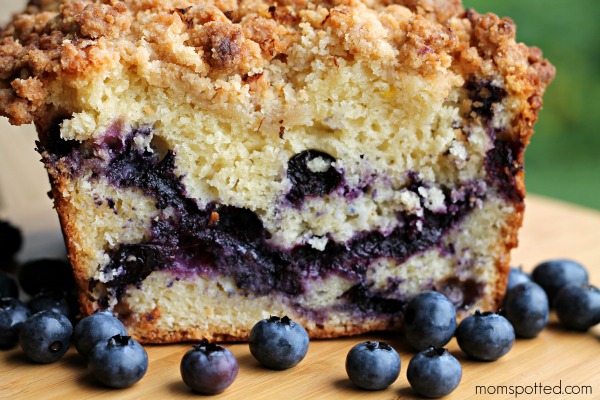 I did take these photos of the bread and shared on Instagram. I'm sharing them for reference. The first is a blueberry mixture on stovetop and the other is how I added the batter, then the mixture and then after the batter. Hope these help.
Here's the recipe for the blueberry streusel bread, I tweaked it a bit. I also used organic sugar, butter,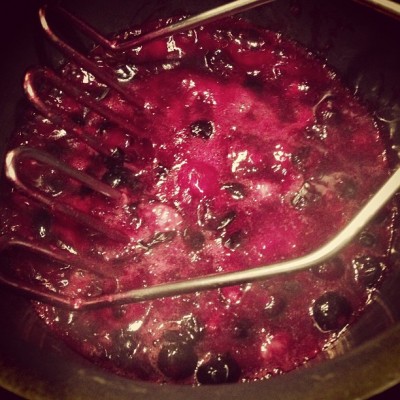 Blueberry Streusel Bread #Recipe
I used as many organic baking products as possible but you can easily substitute non-organic products.
Ingredients
Streusel Topping

3

T

organic sugar

3

T

organic brown sugar

1/3

cup

organic unbleached flour

5

T

melted organic butter

zest from 1 lemon

Bread

2

cups

fresh blueberries

1 1/8

cups

plus 1 teaspoon organic sugar

1

tablespoon

water

2 1/2

cups

unbleached organic flour

2 1/2

teaspoons

baking powder

1

teaspoon

table salt

2

large eggs

4

tablespoons

½ stick unsalted organic butter, melted & cooled slightly

¼

cup

vegetable oil

1

cup

buttermilk

2

teaspoons

vanilla extract
Instructions
Preheat oven to 425. Spray bread pan with nonstick spray.

Bring 1 cup blueberries, water, and 1 teaspoon sugar to simmer in small saucepan over medium heat. As it heats up mash your blueberries with a potato masher. They will break down and thicken as you cook them. It should reduce by about half. It will take about 5 minutes or so. Remove from heat and place in a bowl and put aside to cool while you prepare the rest of the recipe.

In a large bowl take flour, baking powder, and salt together and mix together with a whisk. Take remaining sugar and eggs and whisk together in medium bowl until thick and well mixed. Slowly mix in butter and oil until combined. Whisk in buttermilk and vanilla. Using a rubber spatula, fold egg mixture and remaining cup blueberries into flour mixture. Remember that with breads you don't want to mix a lot. Fold over just enough to combine ingredients. It's okay if there are lumps.

Take half the batter and place in the bottom of the bread pan (see picture above). Spoon the cooked berry mixture into center of the batter but don't let it touch the sides. Pour remaining batter over the mixture. Sprinkle lemon streusel mix over batter.

Bake until top is golden. Bake at 425 for 30 minutes and then reduce to 350 until cake tester pulls clean. (I checked in 10 minute increments) Once pulled clean let sit for 5 minutes then transfer to wire rack and let cool. To store wrap in tin foil and keep refrigerated.
Let me know if you make it! Yum!