My sweet little Halli is 4 months old now… See look….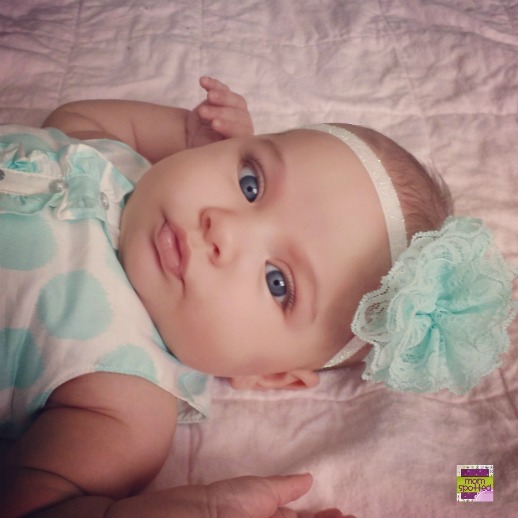 I know right?! Could she be any cuter?!  *sigh…. oh my heart…

ANYWAY! I am also ridiculously proud that we have been successfully breastfeeding!   This may not be super exciting to some people, but for me especially this is a HUGE accomplishment.  With my son breastfeeding was rough.  I did not enjoy it at all, he ate all the time, and my milk dried up when he was 3 months.  Looking back this was a huge blessing that my milk had dried up because I was suffering from terrible postpartum depression and anxiety.  I didn't realize I had basically lost it and was miserable until Hayden was about 4 months.  If I would have had to make the decision to stop nursing him so I could start medication to help my PPD and anxiety I think it would have made my depression worse.  So Hayden was a formula fed baby for most of his life.  That was right for us then and he has grown up to be a super healthy and happy little boy.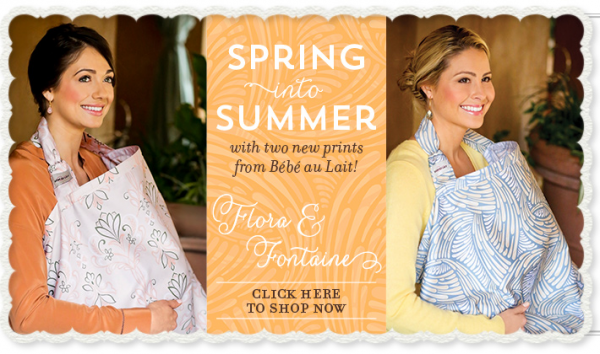 But right now for our family I am breastfeeding.  It's going great!  I don't hate it…I actually even love it sometimes!  Thankfully I do not have PPD this time around either.  I love feeling her squishy, chubby little body against mine.  I love hearing her almost sing and hum as she is nursing.  I love how she will always rub my thumb or play with my hair.  That is our time.  Like her brother she loves to eat.  At her 2 month check up she was 14 lbs 9 oz and 24 1/2 inches long for heaven sakes! …obviously the girl loves her food(she gets that from me…helloooo chocolate.), and her pediatrician said I must make some pretty great milk (thanks I worked hard on it 😉 ).  She nurses every two-three hours-ish, and refuses to take a pacifier or bottle.  I can't sit at home and nurse her all day.  Sitting at home all the time would drive me and big brother crazy.
I am not awesome at nursing in public.  I cannot do it to save my life with just a blanket.  Halli wiggles, and kicks and that blanket comes flying off and the whole worlds sees my…stuff…  I also live in Texas.  Texas summers are ridiculously hot n' humid.  Nursing is hot business anyway, and I swear Halli's little body runs warmer.  So her extra warm little body, plus already hot nursing, plus Texas summers, plus all her wiggling…we are a mess.  If any of this sounds like you.  I have the perfect solution. That totally makes me sound like the sham wow guy, but for real all you nursing mamas I have found the world's best nursing cover!!!
Bébé au Lait has amazing baby products.  Everything is well made, their patterns are beautiful and they have thought of features every mama has dreamed of.  I am absolutely head over heels in love with their nursing covers.  Here are some of the nursing covers features:
Patented RigiFlex™ Neckline allows for optimal viewing of baby and ventilation
Neckline Safety Technology promotes product longevity by preventing fabric wear and tear.
100% breathable Cotton – single layered for cool comfort, soft as can be as it delicately shelters baby while nursing. Tuck top corner under arm for full coverage
Internal Terrycloth Pocket: Perfect for quick cleanups and stashing pads and pacifiers.
Adjustable d-ring neck strap with branded hardware for authenticity. Adjust it once and done.
Generously sized 26" X 36" to allow baby to remain focused, not distracted during nursing
Compact covers roll up to take wherever you go.
Multi-use: use as a changing mat, sunshade, and light blanket.
2011 Creative Child Magazine Top Choice Winner
Machine washable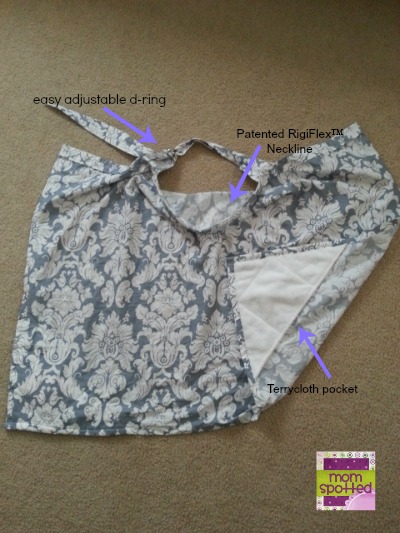 I am able to nurse in 100% confidence that my stuff isn't showing as Halli wiggles around.  I can always see her sweet little face with Bébé au Lait's Patented RigiFlex™ Neckline.  That glorious neckline is my most favorite feature.  This neckline is what separates it from all other nursing covers! It not only allows me to see her and her to see me, it also helps make nursing a little more comfortable.  We are both able to get a little air and we aren't so stinkin' hot!!  The cover is huge, and the material is breathable and soft.  I have used it as a blanket when hers was the victim of a blowout diaper and a car seat cover when she has fallen asleep.  Even though it is a big cover it fits perfect in my diaper bag.  My second favorite feature is those wonderful terrycloth pockets, there is one pocket at the bottom of each side of the cover.  I wish daily I could store pacifiers in there… but sadly Halli won't take one.  BUT I do put my nursing pads in there.  They fit perfectly.  I love that the pockets are made out of terrycloth so I can hurry and take care of those "spitty" moments after breastfeeding.  All of Bébé au Lait's patterns are so cute and I love that they have a pattern to fit everyone's style.  This is one of my favorite and most used baby products.
See… totally a private little moment between you and your little babe.  Obviously when my hubby took this pic I was seriously focused on some latching issues.  He's got great timing 😉
Any of the Bébé au Lait's baby products are now my go-to gift for new mama's.  I can't say enough great things about them.
Bébé au Lait has gloriously thick and soft bath towels that I absolutely adore for bath time!  They are waaaay better than those super thin towels that get just as soaking wet as your baby, and are never big enough.  Plus, like all Bébé au Lait products they are well made and have super cute patterns to choose from.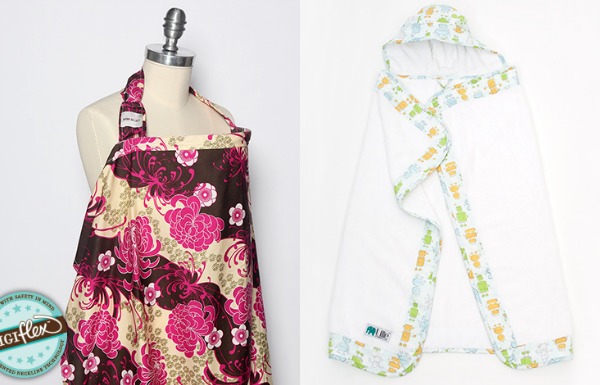 Right now one (1) Mom Spotted readers has the opportunity to win a Lille Hooded Towel OR Nursing Cover by Bébé au Lait . To enter use the Rafflecopter form below.
Contest ends 8.5.13 at 11:59pm. For Official Giveaway Rules click here.