If you are a faithful reader or facebook or instagram you know I love little boy clothing. I love buying Sawyer clothing and have been stocking his closet up since the moment he was conceived. One place I've been buying for super cute, quality clothing is Gymboree.
I often get told dressing little boys just isn't as fun as little girls. Of course we don't have ruffles, bows, or lace but come on!! Little boys are fun to dress too! Let me prove it to you!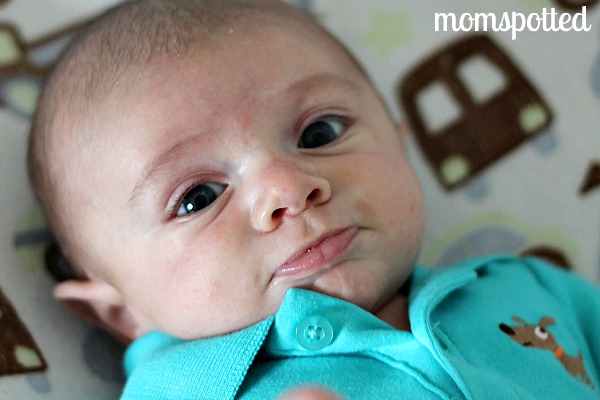 Sadly, we don't have a store anywhere around me but I love to visit their website and check in on the sales they are having. I love the website and if you watch and visit often you'll find some amazing deals! I often buy extras for the following year when the sales get really good. Here's my most recent purchase: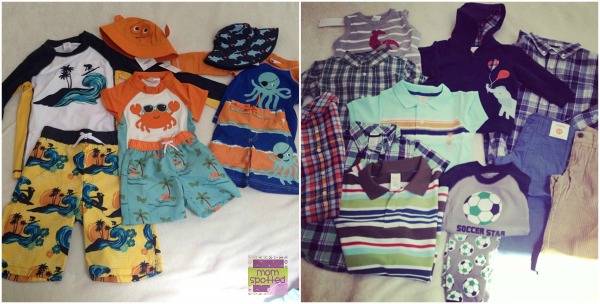 I got all that for $150.94 and I even qualified for $75 in Gymbucks to spend later. If you look you'll notice not only am I buying for Sawyer this summer but I grabbed some bigger sizes for later on. I also bought Gavin a few things since they also carry bigger boy sizes.
What are Gymbucks?
For every $50 spent in their stores or online you qualify for $25 Gymbucks to spend at a later specified date. For every $50 you spend you can cash in $25 of those Gymbucks. So to spend $75 in Gymbucks I will need to fill my basket with $150 worth of clothing. The best part is they often release the newest lines so you can stock up on everything new or grab those last minute deals. To learn more about Gymbucks click here.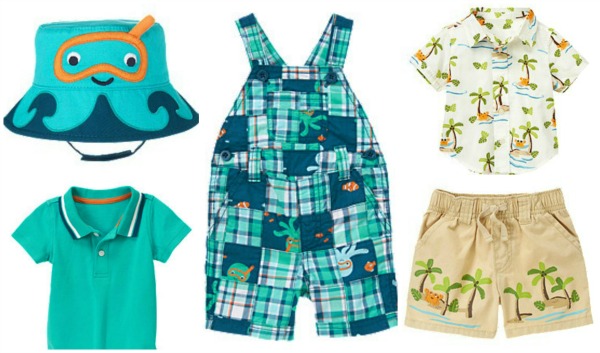 Now once I got my first bundle of clothing in I had to go back and buy everything in the photo above for our upcoming vacation. This also gave me more Gymbucks! I'm so glad I did because now he has matching outfits and swimsuits and his pieces can be mixed and matched and changed around making for many different outfits.
I do find that Gymboree runs slightly bigger then other brands so if you are looking to buy for now stay true to size. Sawyer is 15 months and weighs 22 pounds and he fits the 12-18 month items perfectly. I ordered the crab swimsuit in 18-24m so we can use it on our annual Florida vacation in winter and still have it fit so it is big on him. I also love that their hats all have the velcro tabs under then to keep them on baby's head. These are the only hats that I can manage to keep on Sawyer's head.
I just adore their outfits. All of them. They just pay attention to every detail and make sure that your child is also comfortable and that the clothing can take anything your child throws at them. Does it really get any better than cute quality clothing and getting great deals too?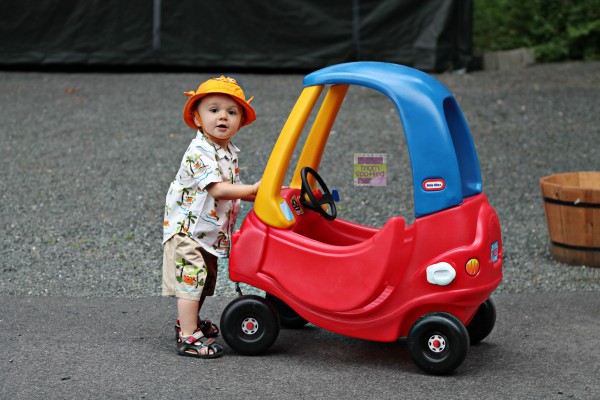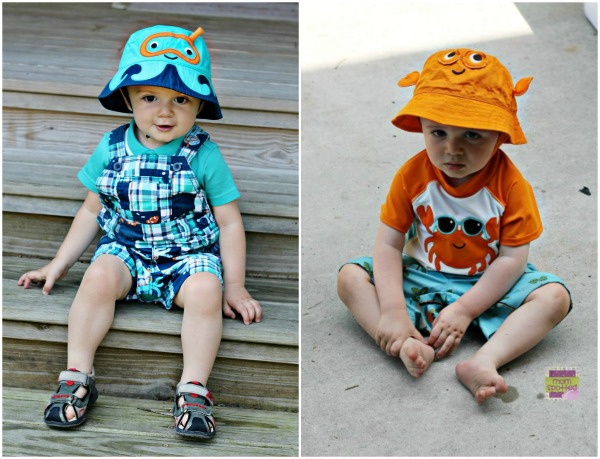 Do you want to start getting adorable cute photos of your kids in clothing that is almost as cute as they are? How about I give you a good jump start?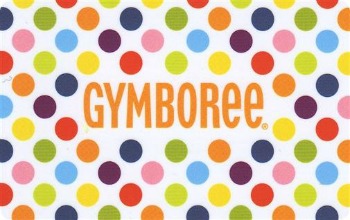 Right now one (1) Mom Spotted reader has the opportunity to win a $100 Gift Card to Gymboree. To enter use the Rafflecopter form below.
Be sure to head over to Must Have Mom and enter her Gymboree Gift Card giveaway too!
Contest ends 7.15.13 at 11:59pm. For Official Giveaway Rules click here.