I love summer. My favorite days are the ones that you are dying for a moment in the shade. Those hot days are great because they usually translate to fun family water days. When we're home they translate to water slide fun days! Thanks to BounceHousesNow.com my boys know that they can always have a fun, cool day even if we never leave our house. When we throw all our summer parties they are always a great spot for all the kids to play together and let all the parents sit back and relax and enjoy the day!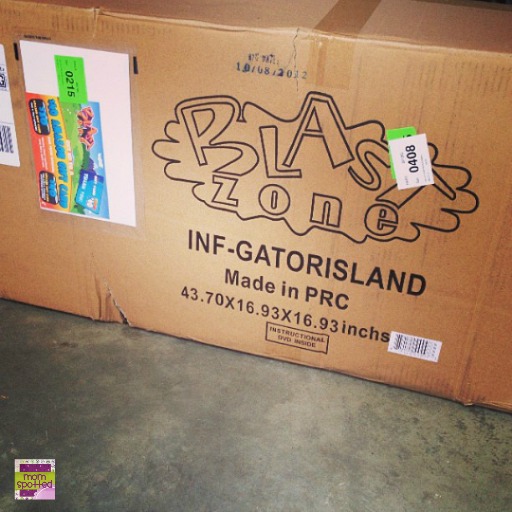 Owning a Residential Water Slide is very beneficial. My kids love hot sunny summer days and they beg from the moment they wake up for us to pull it out and set it up. While the water slide is big it is easy enough for me to handle on my own. Johnny is a big help and usually can set it up himself if I help him carry it out there. Meet our new Gator Island Water Slide by Blast Zone.
Once you lay out the material of the bounce house and line up the air blower it goes right up with almost no help. Sometimes you might have to help shake a side out but you can stand back and watch. If you check out my YouTube Channel you can see where I've shown them go up real easy!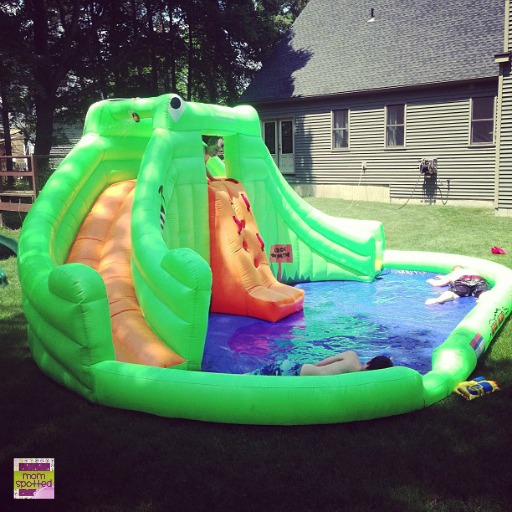 The back of it is rather simple. I like this because it never encourages the children to run around to the back.
When you set up the air blower you want to make sure that the airline is completely straight. The other air line should be tied closed. When you want to let it out just untie both and it goes down smoothly. Sometimes we will lay on it and roll too.
Here you can see the motor is a simple one button and go system. It is somewhat loud but you will tune it out shortly. This should *never* be near water.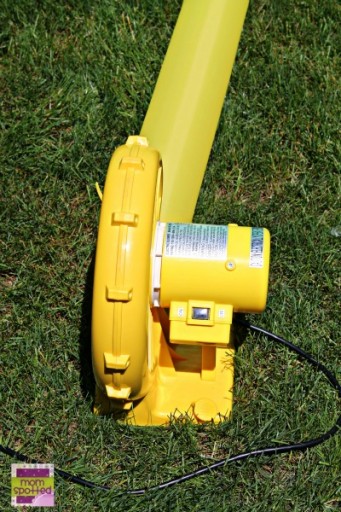 When you come around and step in you'll find a step in area. This is great for smaller children.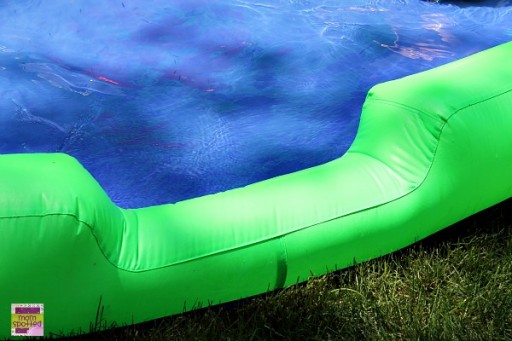 As you can see it doesn't prevent the water from pooling. It takes a little bit to fill but the moment the slides are wet they are good to go. The boys love the pool part. As you can see in the photo above they just lay in it when they run out of energy from the slides and just want to stay cool.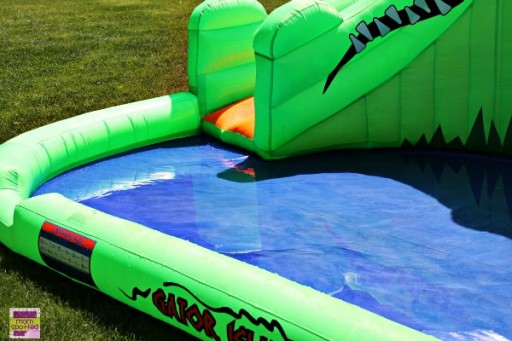 I like that the warning is front and center. This is great for making sure everyone knows the rules. I am really strict about making sure they kids know what is safe and what isn't.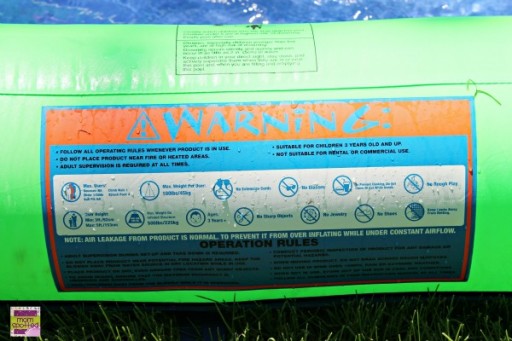 When the kids want to use it I really like that the ladder is sturdy and has both foot holes and thick handles.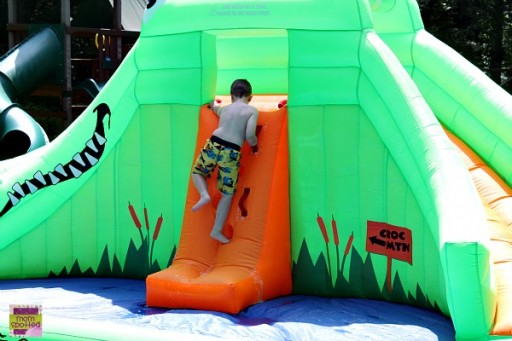 I also like that there are two handles on the top helping the kids pull themselves up and over.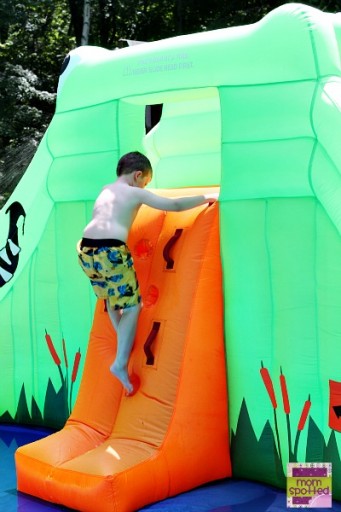 At the top of the slide there is plenty of room to move around.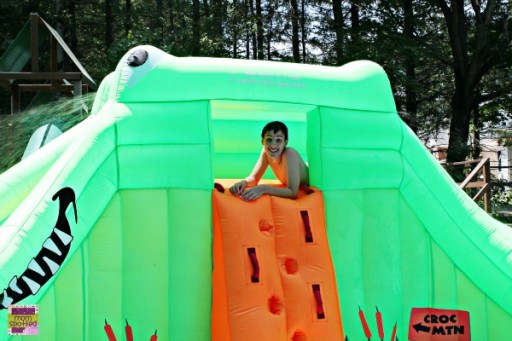 There is also a water sprayer at the top of each slide. This not only keeps the slide wet but it gets the kids as they go down and keeps water in the pool area as the kids splash it out.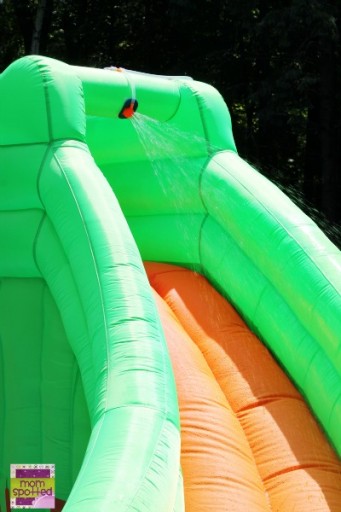 The kids get hyper and have to be reminded of the rules at times but I'm always glad the sides are nice and high to help keep them safe.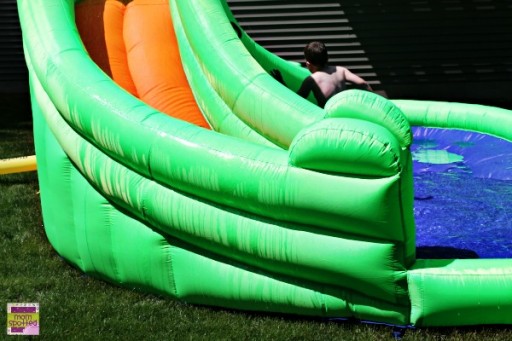 Here you can see on the inside how well it even protects my slightly taller then recommended child (12 years of age and 5'8″).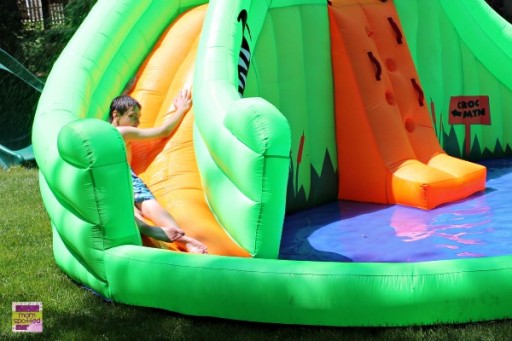 This Gator Island Water Slide by Blast Zone is a huge hit. If you follow me on Instagram you will see many photos of us using it over the summer!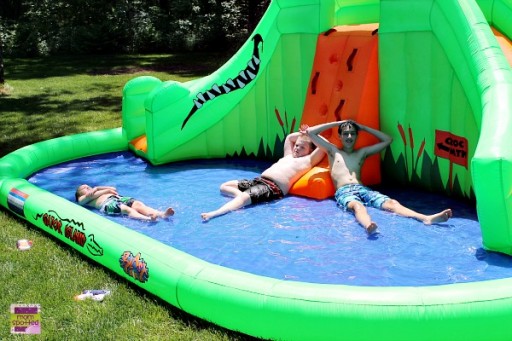 Here is a quick video of my boys using their new water slide from BounceHousesNow.com:
Don't forget to check out all my other BounceHousesNow.com YouTube Videos!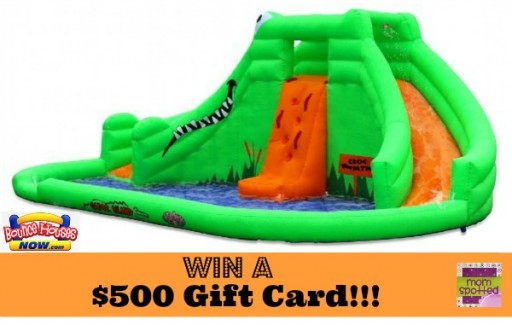 Right now one (1) Mom Spotted reader has the opportunity to win a $500 Gift Card to BounceHousesNow towards any purchase.  To enter use the Rafflecopter form below.
Be sure to head over to Must Have Mom and enter her $500 Bounce Houses Now gift card giveaway too! We are EACH giving away a $500 gift card so it is not the same contest! That means you've got double the chances to win big!
Contest ends 7.15.13 at 11:59pm. For Official Giveaway Rules click here.