I love aden + anais. No, really. I looooooove aden + anais. If there is one company you check out for your baby it must be them. Last Christmas I gave all the babies I knew Cozy Sleeping Bags since I wanted them all to experience the love I have for this company and sure enough those Moms were asking me a few weeks later where they could buy more.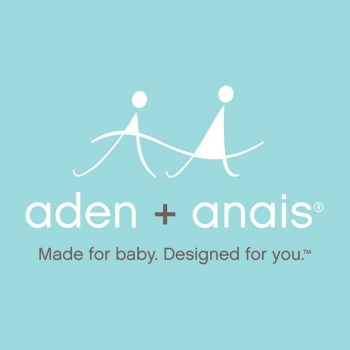 See, when you find a great company that delivers quality products that fit all your daily needs you can't help but shout from the roof tops how much you love them. This is why you will constantly find pictures on Instagram and Facebook of Sawyer showing off our extensive collection of aden + anais products.
Here you can see Sawyer in his crib from this morning. I had another photo planned for here but this one really shows how much we love them. Can you see his silky issie security blanket or how about his classic sleeping bag? If not that's because he has his cozy swaddle blanket wrapped around him. He just recently started sleeping with blankets. I'm one of those over-protective freak out moms so I started with the issie. It was great but I could really tell he still wanted a full blanket. These cozy swaddle blankets are one of my favorites because they really are in my opinion the best blanket ever. They aren't super thick so they fold up and fit in his diaper bag fairly well. They are good size for using in the stroller and since they are designed with two layers of 100% cotton muslin they are perfect for cool summer nights. You can even use it as a tummy time blanket at the park or a nursing cover too!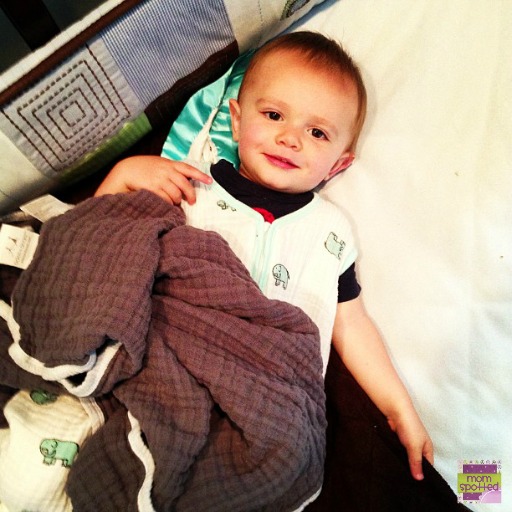 Can you believe that there are products I still haven't tried? I finally decided to try out on of their towels & washcloth sets. I really wasn't planning on it because well infant towels drive me crazy. They quickly become to small and can often turn abrasive after a few washings. I'm so glad I gave these a shot because they are awesome. I seriously want to replace all of Sawyer's towels with these! They are much larger then the rest of his towels measuring 32" x 32". They are 100% terry cotton, which is extra absorbent and durable. Plus, when it came it was so soft. Incredibly, the more times I wash it, it seems to get softer and softer. This is definitely my top pick for when we're out on the boat or visiting our local spray park! Sawyer thought it was so soft he tries to pull it in like he does his blankets.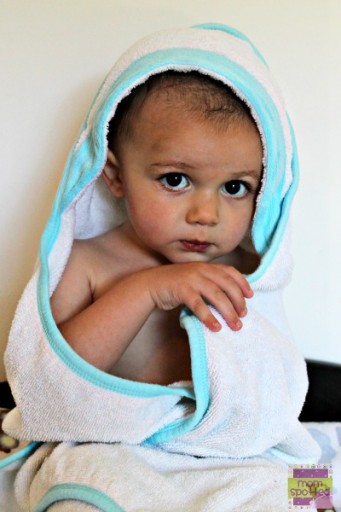 I was also impressed with the large size of the washcloth! It measures a whopping 15" x 15″ making it great to cover your hand for a quick cleaning and as Sawyer likes to play peek-a-boo! They have four layers of muslin making them not just thick and durable but super soft for baby's skin! I can't wait to get him more!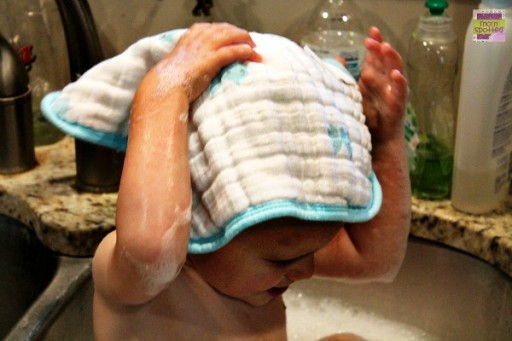 Both the Towel & Washcloth Set and Cozy Swaddle Blanket are perfect summer additions. They will not only make your life easier at home but you will find multiple uses for them out and about. I personally can't remember the last time that I left the house without an aden + anais cozy swaddle and snap bib tucked safely into my diaper bag!