I was so impressed with the Zen Swaddle™ by Nested Bean. It is designed to give your baby the sensation that they are being held.  The blanket is lightly weighted in three spots.  One spot is a cute little bird on the top where their chest is and two spots on the sides.  The lightly weighted areas are to give the feeling where your hands would be when you are snuggling your sweet baby.  It is also designed so you can swaddle your baby with their arms in or out.  The blanket has a little pouch to put their feet in when they are just tiny, and then they can be wrapped out of the pouch when they have grown out of it.  Any baby product that can grow with them is an extra bonus in my book; especially since I have big babies that grow and get super chunky really quickly.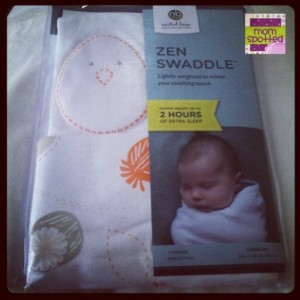 The swaddle is so super soft, and I thought was even softer after I washed and dried it!  "The Zen Swaddle™ was designed by a mom, Manasi Gangan, who came up with the idea because her second son could never calm and sleep without being held. It made for trying, sleepless times.  I love baby products made by moms." Moms are brilliant!  They know what is important and what is not for baby products.  The swaddle was also super easy to use and get her all swaddled up.  It has a large wing span so I could swaddle her nice and snug.
Halli is in the little pouch, but I also think she is big enough now to not be in it as well.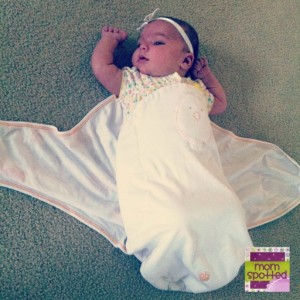 The sweet little bird is one of the spots the swaddle is lightly weighted, the other 2 are at each of her sides.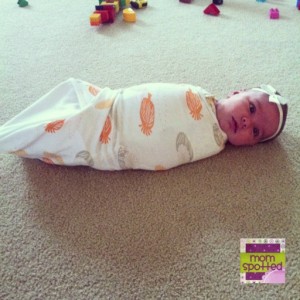 Swaddled nice and snug and held in place by velcro
I was more than excited to get this washed and ready to use as soon as I could.  You know when you get to the point where you would try anything to get even a few more minutes of uninterrupted sleep.  That is where we are right now.  I am majorly sleep deprived and couldn't wait to try something that could mean more sleep for everyone.  Halli already has an interesting little personality, which is VERY different compared to my son Hayden.  Hayden was very easy going and was more than fine to sit in his swing or bouncy chair while I showered or made dinner.  He was just a happy, easy going, low maintenance baby; and he is still that way.  Halli on the other hand needs to be held, talked to, rocked, bounced, and sang to pretty much all the time.  One reason for some of her fussiness is because she is a super gassy baby and the poor girl has terrible reflux.  Hayden was fine with anything we gave him; he loved any pacifier, any bottle, and any blanket.  She is really particular for the things she likes and is not shy to tell you when she doesn't like something.  She hates pacifiers and will only be held to go to sleep a certain way.  The girl is demanding and emotional already at a month old! I am in trouble I think. 😉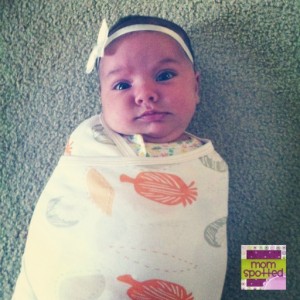 I love her face in this picture.  "Seriously mom…this again?!"
So sadly this lovely swaddle did not work for us.  She will only fall asleep with one certain type of blanket and will only let me swaddle her one way.  This does not mean it couldn't work for you though!  I just have a sassy little lady. 🙂 I loved the idea of this swaddle and how well made it was.  If I have more babies I will for sure be saving this to try with them.
 The Zen Swaddle™, provides babies with the comfort and security they feel in your arms. With so many new sights and sounds outside the womb, it's not uncommon for babies to be agitated, making sleep nearly impossible. By combining the time-honored principles of swaddling with the scientifically proven benefits of simulated maternal touch, the Zen Swaddle™ helps soothe and nurture infants.
Moms who have used it report their babies sleep up to 2 hours longer at night.
You can read all about how the product works, including information on why touch has such a powerful effect on babies at nestedbean.com. You can also watch our promo video here. The Zen Swaddle retails for $39.99. The Zen Swaddle launched in stores in July, and the three new prints just hit retail in November.


Right now one (1) Mom Spotted readers has the opportunity to win a Zen Swaddle™. To enter use the Rafflecopter form below.
Contest ends 6.3.13 at 11:59pm. For Official Giveaway Rules click here. Affiliate links used.