You know I love clipping coupons! Last month there was a Healthy Essentials™ coupon insert with coupons on many of my favorite brands. If you didn't get the insert or you are looking for more coupons make sure to check out the Healthy Essentials website. There you can download coupons for great deals on your favorite products from NEUTROGENA®, LUBRIDERM®, AVEENO® and more!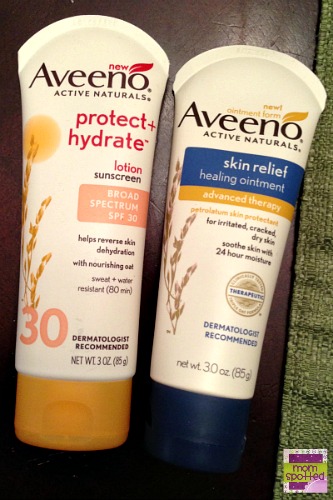 AVEENO® PROTECT + HYDRATE™ SPF 30: Sun protection is a must for safely enjoying your favorite outdoor activities this spring! ENVIROGUARD™ Technology offers long-lasting, photostable UVA/UVB sun protection, while ACTIVE NATURALS® Oat works to replenish the skin barrier compromised by dehydration caused by sun, chlorine, salt water and sweat.
AVEENO® Skin Relief Healing Ointment: For those extra-dry, chafed or cracked areas that need a little more love, dab on this brand new ointment. Multi-purpose petrolatum helps soothe scaling, peeling and cracking skin and lips while locking in moisture on the skin's surface.
With my severe psoriasis I'm always buying lotion to keep my hands from cracking. Aveeno is one of my most purchased lotions. I really like the advanced therapy because it leaves my hands feeling well moisturized and I'm really happy to see one with sunscreen! Putting sunscreen on daily is so important!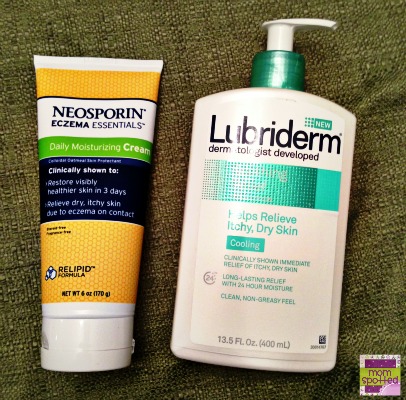 LUBRIDERM® Soothing Relief Daily Lotion: Flaunt some seriously healthy-looking, touchably soft skin this spring. This breakthrough formula contains a unique Soothing Complex that delivers long-lasting comfort and a clean, non-greasy feel for smooth, sexy skin from head to toe.
NEOSPORIN® ECZEMA ESSENTIALS™ Daily Moisturizing Cream: Even those with eczema can dare to bare this spring thanks to this moisturizing cream, which is clinically shown to restore visibly healthier skin in three days. The gentle formula goes beyond ordinary daily lotions to relieve the dryness, itch and irritation associated with eczema.
While the Neosporin is meant for eczema I've been using it will my psoriasis and its been helping with the temperature changes. I've kept it in my diaper bag and it's really helped with the cracking and bleeding I struggle with this time of year. I've left the Lubriderm on my night stand and this has been great on my legs after I get out of the shower with all the daily shaving the warm weather has us doing.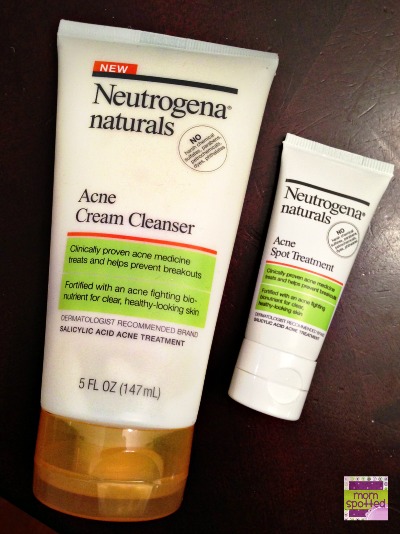 NEUTROGENA® Naturals Acne Cream Cleanser: Keep those humidity-induced breakouts at bay with this naturally-derived cleanser. It's clinically proven to penetrate deep down into pores to treat breakouts and help prevent new ones from forming, delivering smooth, blemish-free skin for your big night out!
NEUTROGENA® Naturals Acne Spot Treatment: For those blemishes that just can't be avoided, dab on this naturally-derived spot treatment to stop zits in their tracks and prevent new ones from forming.
These are both new to me and I've been only using them a short while but they leave my skin feeling fresh and clean. I haven't had a chance to use the spot treatment but I'm glad I have it on hand for when I need it.
While you're showing off that healthy, radiant skin, don't forget to snap a photo using the new mobile app, Donate a Photo! For every photo shared through the free app, Johnson & Johnson will donate $1 to a cause that you choose from a rotating list. Help a newborn get medicine to thrive, protect kids against sports injuries or restore a public park! Visit healthyessentials.com/our-caring to find out how to download the Donate a Photo app.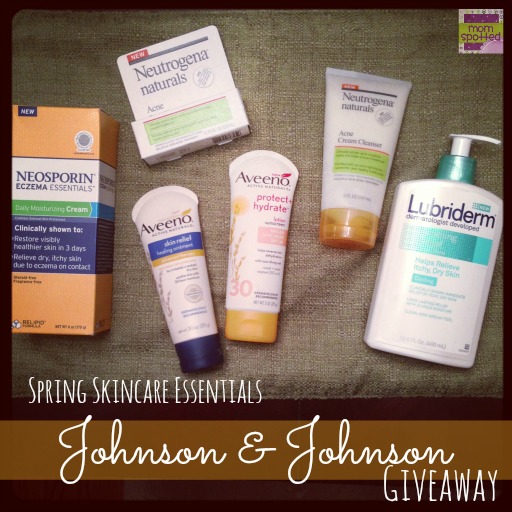 Right now one (1) Mom Spotted readers has the opportunity to win a Spring Skincare Essentials Gift Set (all product pictured above). To enter use the Rafflecopter form below.
Contest ends 5.27.13 at 11:59pm. For Official Giveaway Rules click here. Affiliate links used.