I love to cook and bake.  There is something so therapeutic about trying out a new recipe, and tasting as you go along; adding a little of this and that to eventually have a delicious end result. (Especially if the end result includes chocolate!)  Or cooking and eating that meal you have had a million times, but there is something so comforting about it you make it over and over.  Mmmmm… Yes I really love food; we have a special relationship…why do you ask?  BUT the worst part of cooking for me…the dishes and the mess.  My 4 year old also loves to help me cook, and I love teaching him how to cook.  It is one of our special "mommy moment" bonding times.  He is quiet the crazy messy enthusiastic stirrer, and for some reason I always find flour and other dry ingredients in my hair when he helps me cook.  Does anyone else always end up with waaay too many pots, pans, spatulas, and measuring cups that weren't actually necessary for the recipe?  I also have a 1 month old, so finding time to cook, let alone clean up the mess is hard.  Plus I hate it so much; it is one of my least favorite household chores…it's right up there with putting clean laundry away.
The Farberware 3-Piece Open Skillet Set maybe one of my new favorite kitchen tools.  They are soooo easy to clean.  I'm talking crazy, ridiculously easy people.  They have a Teflon® nonstick coating so food doesn't stick and it easily wipes clean.   These Faberware skillets are also dishwasher safe.  Oh be still my heart…I love it when products are dishwasher safe!  So what is already an easy cleanup is even easier because you can pop those bad boys in the dishwasher.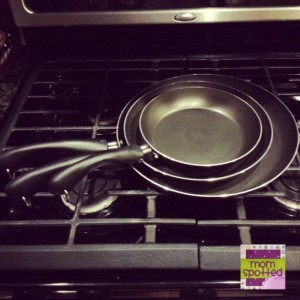 I also love the 3 different sizes.  They are perfect for cooking for a small family or a large one, single servings or many.
With Mother's Day around the corner, these would be a perfect gift!!  Nothing says "I love you" like an easy to clean pan…at my house anyway. 🙂 I'm glad I can make my family a yummy meal and have a quick cleanup to spend more time playing trains and laughing together.
My son loves breakfast.  He could have oatmeal, waffles, pancakes, and "skinny pancakes" (crepes), at every meal and everyday if I let him.  Here are the pans in action making my favorite little buddy the BEST.PANCAKES.EVER.  No lie people.  When I want a super fluffy, melt in your mouth, drown in syrup, get outta here healthy stuff, make for company kinda pancakes these are my go to.  Put this recipe casually out for your significant other to find and maybe all you amazing mama's will get some breakfast in bed. 🙂  (You're welcome in advance.)
The fluffiest best pancakes ever!
Recipe slightly adapted from allrecipes.com here
Ingredients:
1 cup buttermilk (or I will sometimes do 1/2 C. Milk and 1/2 C. greek yogurt)
1 cup all-purpose flour
2 tablespoons white sugar
1 teaspoon baking powder         
1/2 teaspoon baking soda
1/2 teaspoon salt
1 egg
2 tablespoons butter, melted
Directions:
1. Combine flour, sugar, baking powder, baking soda, and salt in a large mixing bowl. Whisk egg and butter into milk. Pour the flour mixture into the wet ingredients and whisk until lumps are gone.
2. Heat a large skillet over medium heat, and coat with cooking spray. Pour 1/4 cupfuls of batter onto the skillet, and cook until bubbles appear on the surface. Flip with a spatula, and cook until browned on the other side.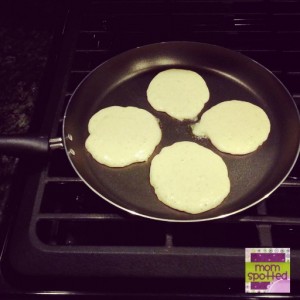 mmmmm starting to get fluffy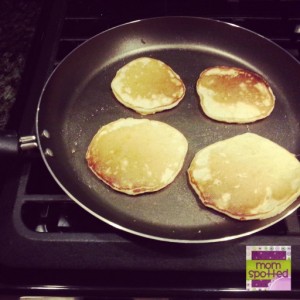 Flipped super easy, I didn't need ANY cooking oil or butter.  That means I can add extra syrup later right?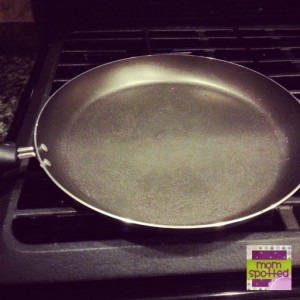 Post pancake pan.  Hardly anything on it! Again clean up is a breeze.
By using Farberware cookware with Teflon® nonstick coating, you'll see that it's possible to make a hearty, delicious meal for 1 or 20 without spending all day in the kitchen. The nonstick coatings on Farberware's pots and pans make for easy cooking and clean-up every time! Clean less and celebrate more with those that matter this Mother's Day 
Farberware Triple packs come in red, black and champagne and are three different sizes for all your sauté needs. Triple packs can be purchased at Walmart stores or online.
In addition, we want to invite you and your readers to celebrate our favorite time of the year – National Egg Month in May! We'll be running a month-long #TeflonEggMonth Facebook Sweepstakes, where we will be giving away daily prizes and weekly prize packages from cookware products (including the Farberware Triple Pack) to iPad minis! Follow us on Facebook and Twitter for more updates!
Farberware's Facebook page is having a giveaway where you can enter to win this amazing Farberware Triple Pack now thru 5/20 – "A Mom's Day Off – Clean Less, Celebrate More."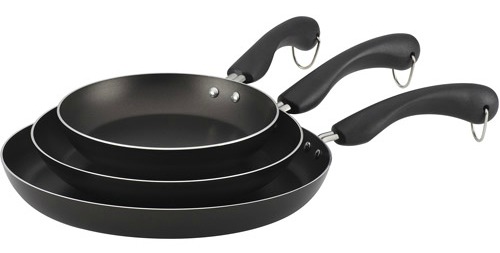 Right now one (1) Mom Spotted readers has the opportunity to win a Farberware 3-Piece Open Skillet Set. To enter use the Rafflecopter form below.
Contest ends 5.27.13 at 11:59pm. For Official Giveaway Rules click here. Affiliate links used.