When I was younger I would watch my mom eat Biscotti. I didn't really understand it. Was it a cookie or was it breakfast? Was it a cookie you could eat at breakfast? Why wasn't I allowed to eat any? Then when I did I thought she finally let me because it had gone stale. Little did I know then the many different flavors that Biscotti came in and that it was supposed to be crunchy.
The problem with Biscotti is that if you get it from a bakery it is delicious but expensive. If you buy it from the grocery store prepackaged it really does taste stale. I never really looked into making it and then I recently stumbled onto it when going through the Cookie Exchange book by Wilton.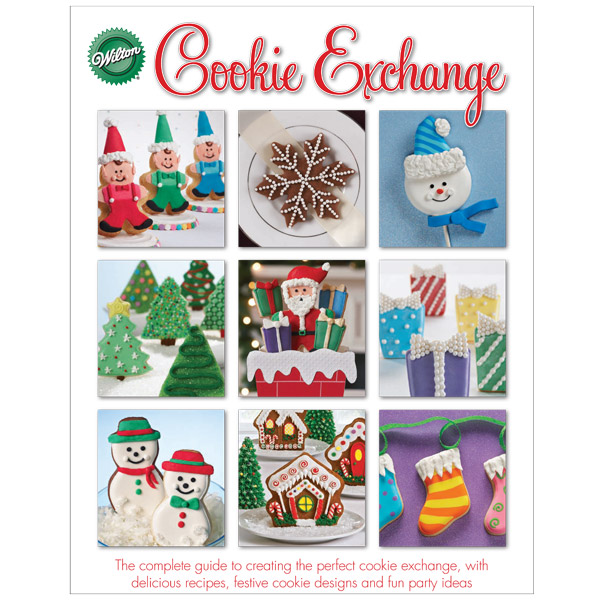 If you don't have this book, get it. Easy to follow, full of ideas, bunches of recipes. Very useful!
Okay back to the biscotti. It was a bit more time consuming but well worth it.I mean doesn't this look delish?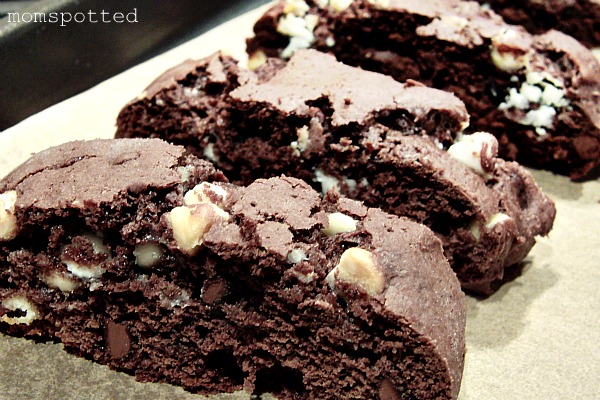 Here's the printable recipe: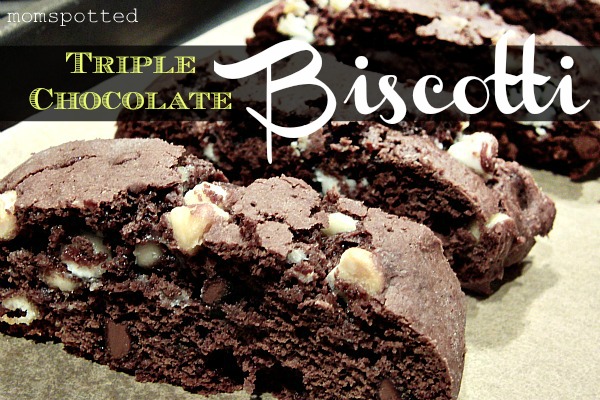 Wilton's Triple Chocolate Biscotti
Ingredients
1 1/4

cup

all purpose flour

1/2

cup

granulated sugar

1/3

cup

unsweetened cocoa powder

1 1/2

tsp

baking powder

1/4

tsp

baking soda

1/4

tsp

salt

2

eggs

lightly beaten

1/4

cup

1/2 stick butter, melted

1

tsp

vanilla extract

1/2

cup

white chocolate chips

1/2

cup

milk chocolate chips
Instructions
Preheat oven to 350. Line cookie sheet with parchment paper. In large bowl combine flour, sugar, cocoa powder, baking powder, baking soda, and salt. Stir. In small bowl combine eggs, butter, and vanilla. Mix with electric or stand mixer on low speed. Slowly add flour mixture to egg mixture. Stir in chocolate & white chocolate chips. Roll out on floured surface into the shape of a 12 inch log. Place on parchment paper on cookie sheet. Bake for 25-28 minutes. Remove from heat and to wire rack. Cool for 30 minutes. Reduce oven heat to 300 and bake for an additional 15-20 minutes. Cool for 10 minutes. Serve or store in air tight container.
For some reason I never really thought about the process. Once you make the dough (don't use a whisk, use a cookie hook) you're going to want to take and roll out over a floured surface and shape into a 12″ log shape and place on a cookie sheet with parchment paper on it. Bake for 25-28 minutes at 350 degrees and then cool for 30 minutes on a cookie sheet. At that point it will look like this: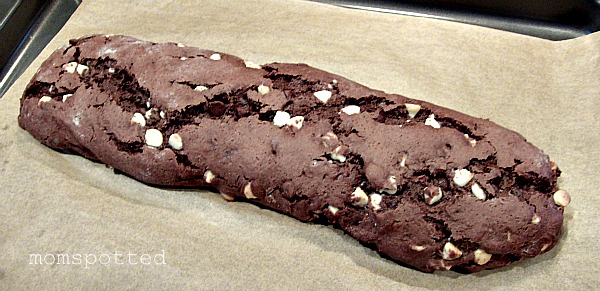 Lower the temperature of the oven to 300 and slice the biscotti in half inch pieces and space out. Then bake for an additional 15-20 minutes.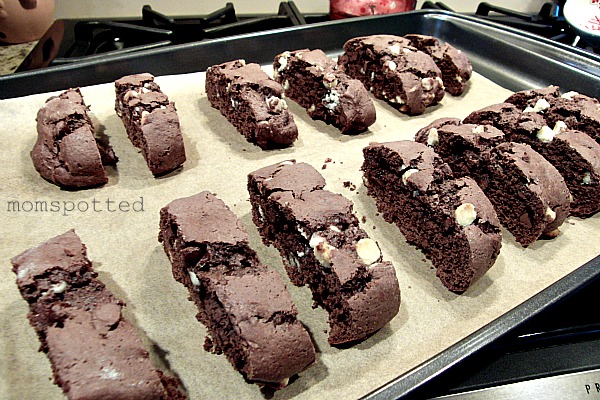 Cool for 10. Serve or place in plastic container for storage.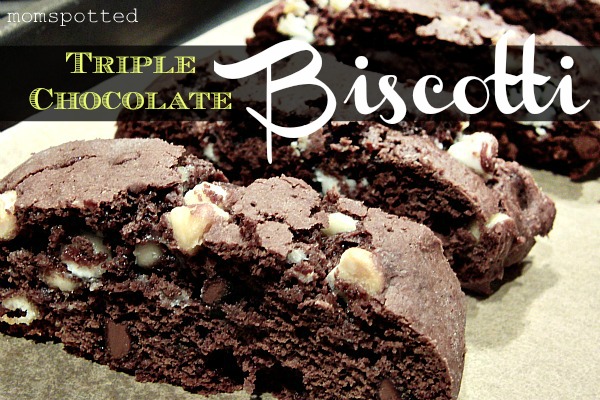 This biscotti is, well, amazing. Even though it was a bit time consuming it is definitely something I'd make again (and maybe often). If I had better planned my time out I would have found a recipe to use the oven for the 30 minutes while the biscotti was cooling.
Pin It