I've been seeing all kinds of posts popping up all over about making your own crayons and while it is super easy and doesn't require much some people really assume it's so simple that you don't need directions. I pinned this project multiple times from multiple people and do you know I had to google for actual temps and times?!? So when we made our Christmas shaped crayons we documented what worked best for us.
Here is our start to finish.
First have your child peel and break all their crayons. I bought crayons just to do this since we really don't have any old broken ones (crazy, right?) I bought generic crayons and I don't know of that makes a difference but I figured I should state it. When I first told Gavin what we were doing he was excited. He's my artist and we go through a box of crayons all the time. He peeled three crayons and started to cry. Told me I was the meanest mom ever. Clearly this was not his day. The next day he asked to finish and did it no problem. I knew he had it in him to do this ALL on his own. Of course his favorite part was breaking the crayons.
He placed the crayons into the Bite-Size Tree Mold from Wilton. Try to mix your crayons up a little. Since he was doing this on his own I didn't make any changes and the ones with different colors together were the ones he was loving the most after.
Place on cookie sheet and bake for 15 minutes at 275 degrees. The boys sat there the entire time and watched them.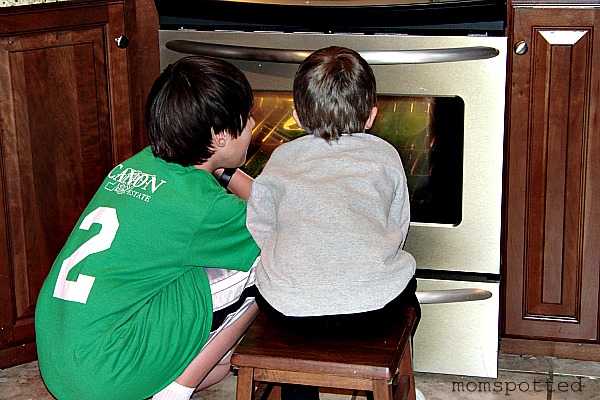 When the come out they'll look like this. The Christmas shaped crayons will settle a bit so let them be for about an hour and fully cool.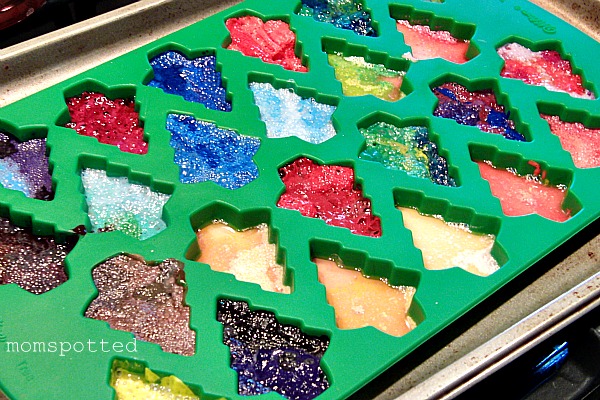 You'll just have to peel the silicone mold to remove them. No spray or anything needed. As you can see the crayons DID stain the mold so I'm not thinking this is food safe any longer. We'll find plenty of other art projects though we can use this on next year.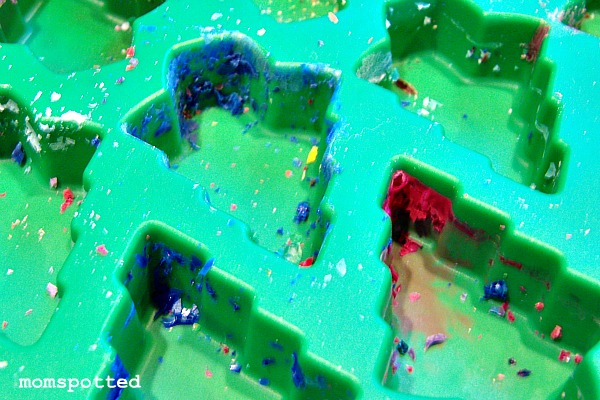 As you can see we ended up with Christmas shaped crayons. Gavin loves them and thinks they are the coolest thing ever. He shows them to everyone and even had to bring them to school for show & tell.
So what are you waiting for? Go make some crayons!!!
Mom Spotted Review Policy: As a Wilton Mom Ambassador I was supplied the Bite-Size Tree Mold at no cost, but was not required to post or rate it. My thoughts and experiences are completely my own.