I have had such a great year learning so much about the Contours Baby team and products. Being a Contours Mom I was able to visit the brand in Chicago this year and learned so much about them. They take so much into consideration when making these productsfor our most precious little people. A third generation family that I'm definitely to proud to have represented at BlogHer12.

Through the years there is one product that has remained one of my favorites. The Contours® Options® 3-Wheeler Stroller. I don't normally start off with the price but through this post I want you to remember this stroller is only $169.99. Far less then many brands with similar features.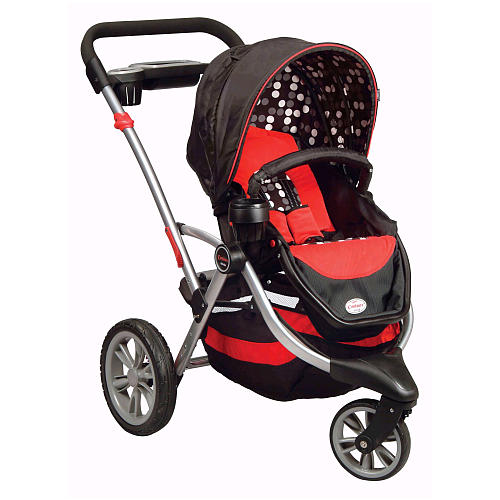 First thing that is a must for me and something that really makes me hate other strollers. The parent area. I almost always have a coffee with me yet most cup holders can't fit my coffee cup. The parent tray on this doesn't just leave me one cup holder but two. I also have a huge area to put my keys, phone, etc. Sometimes I wish there was a lid though so I could leave my debit card or cash there too.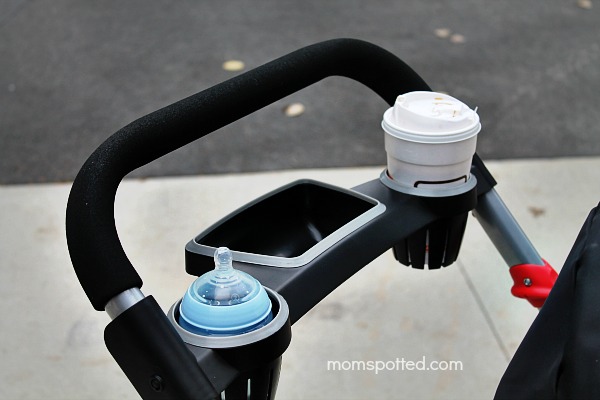 Another must that other strollers have been really failing me at- storage! My bag is big, the blankets are big. I don't just want to be able to store it but I also want to be able to have access to it. Immediately if need be. This basket is easily accessible regardless of how the seat is positioned (more on that to come).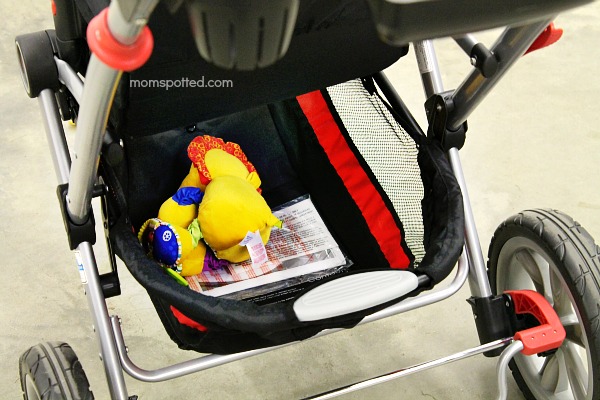 Now that my must have's are out of the way let's move on. Big, sturdy tires in the back. Bumps, curbs, indoor, outdoor. you baby will have a smooth ride. You won't need another stroller for the park and one for the mall. This stroller will suite you for every place you and baby want to go. The brake is a simple bar that you tap with your foot.
The front wheel is a single swivel wheel. This really helps it moves easily and get through crowded areas better. It also helps with one handed maneuvering.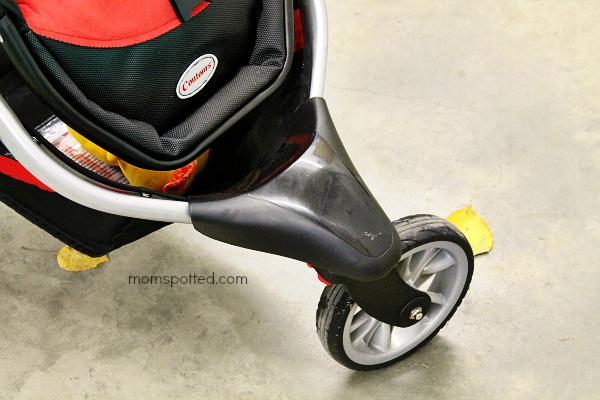 The front bar removes easily from both sides as well. The foot rest is adjustable and can be moved out for littles and under for bigger kids.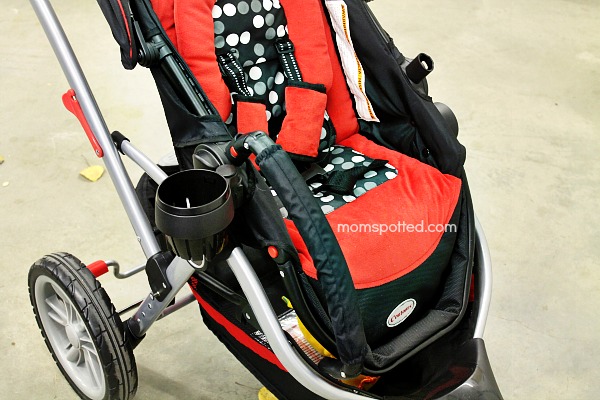 The head rest is padded and removable. Perfect for infants.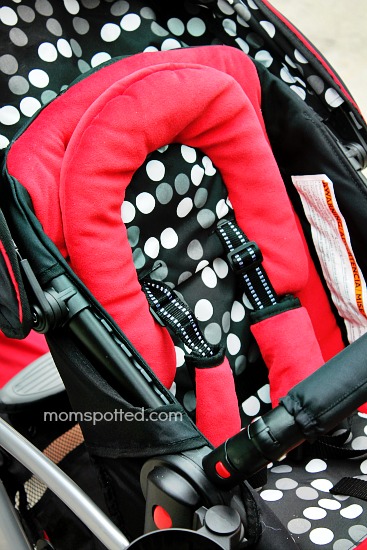 You can see here on Sawyer the straps hold him well and the protectors on the strap protect his cute cheeks. The front bar is not for safety but we attach toys to it regularly.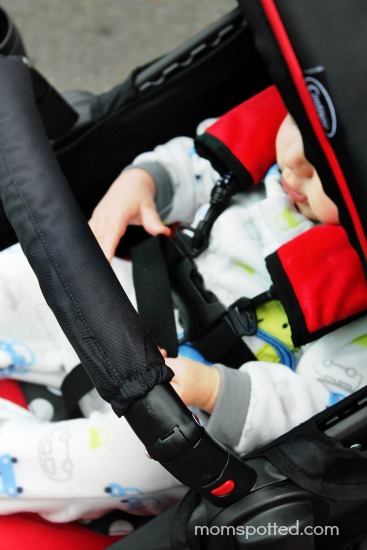 I love this stroller because of how versatile it is!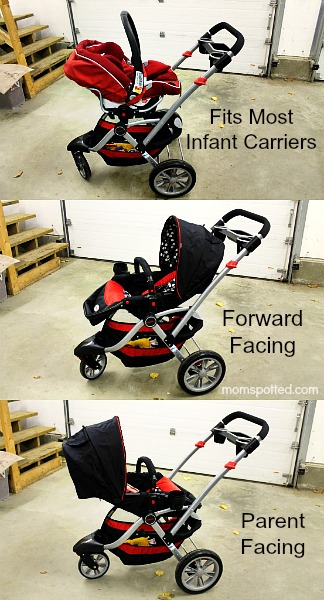 The seat can sit up and lay down nicely and easily. There is a handle in the back you just lift, move seat, and let go, and lock.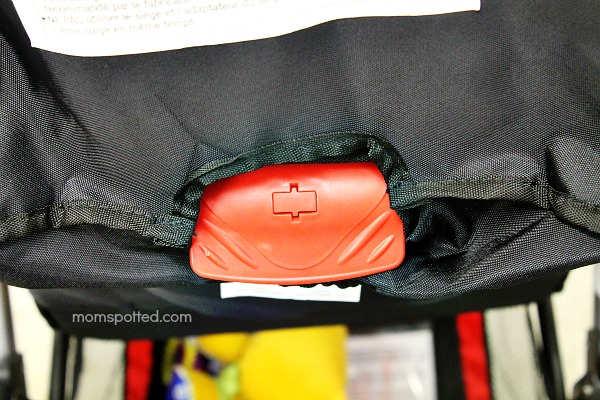 The seat has it's own cup holder. It does snap on and off. You will need to pay attention to your cup holder when you open and close your stroller. I've almost lost it already but now that I know I just pop it off right before I fold it down.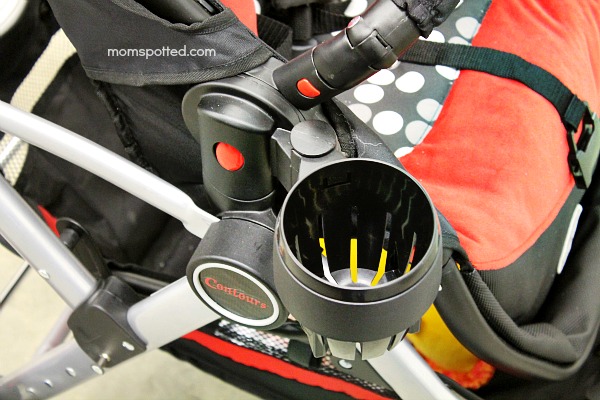 Now if you want to change the seat positioning or use your infant seat you will release the seat in the middle by holding the red buttons in on each side and lifting up. When you place the seat in you will want to let it click and lock.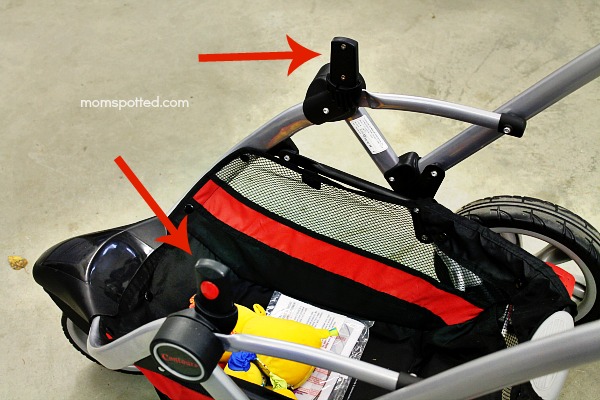 The infant car seat adapter locks in the same way.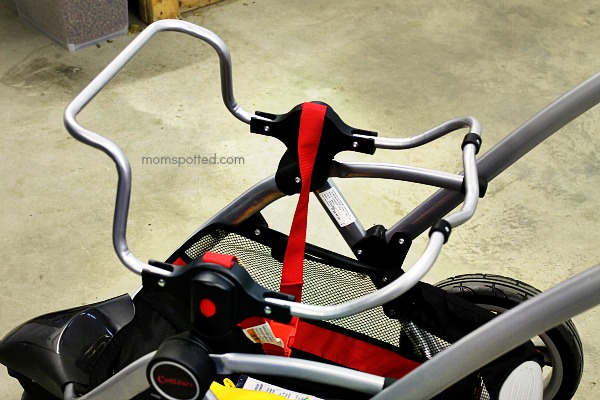 Which rocks because I have a Peg Perego car seat. The adapter came included with the stroller.
The following brands of infant car seats can be used with this infant car seat adapter:


| | |
| --- | --- |
| Britax® B-Safe® | Graco® Safe Seat |
| Britax® Chaperone | Graco® SnugRide® Infant |
| Chicco® KeyFit | Graco® SnugRide® 30 |
| Chicco® KeyFit 30 | Graco® SnugRide® 32 |
| Combi® Shuttle 33 | Graco® SnugRide® 35 |
| Cosco® First Ride DX | Maxi-Cosi® Mico™ |
| Cosco® Starter | Peg Perego® Primo Viaggio |
| Evenflo® Discovery™ | Peg Perego® Primo Viaggio SIP |
| Evenflo® Discovery 5™ | Peg Perego® Primo Viaggio SIP 30/30 |
| Evenflo® Embrace™ | Safety 1st® Designer® 22 |
| Evenflo® Embrace™ 5 | Safety 1st® onBoard™ 35 |
| Evenflo® Embrace™ 5 LX | Safety 1st® onBoard™ 35 AIR |
| Evenflo® Serenade™ | |
The trademarks above are the property of their respective owners. They are not associated with Kolcraft® Enterprises, Inc. and no approval by them is to be implied.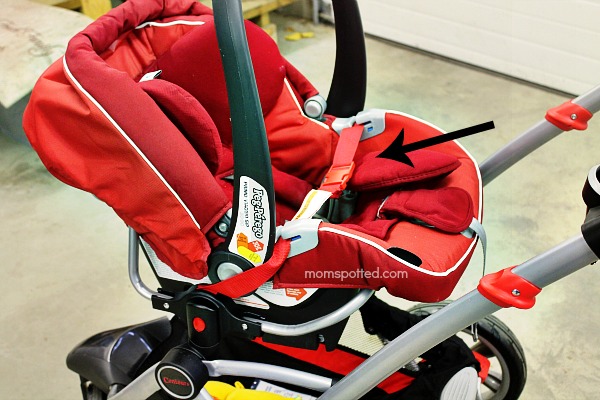 When I take it with me I generally take just the frame since I still use my infant seat. If I have nothing in my back I lay it down sideways so it's not seen but I can also stand it upright for more floor space. If I do want the seat to come too I just grab it and add it in but you CAN fold the stroller up with the seat still attached to it.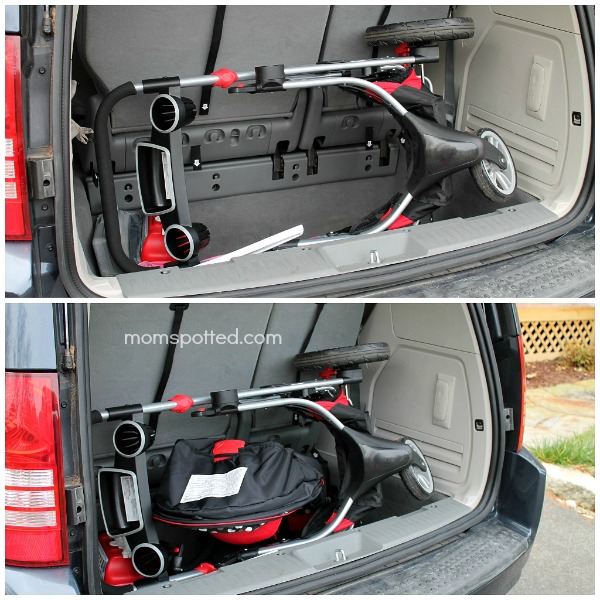 Sawyer just loves going for walks in his stroller.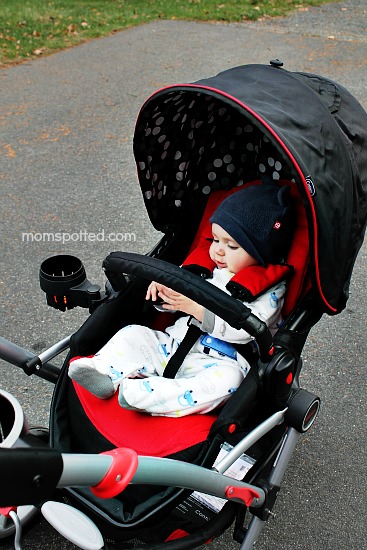 You can purchase the Contours® Options® 3-Wheeler Stroller which retails for $169.99 for as low as $139 from our affiliate Amazon!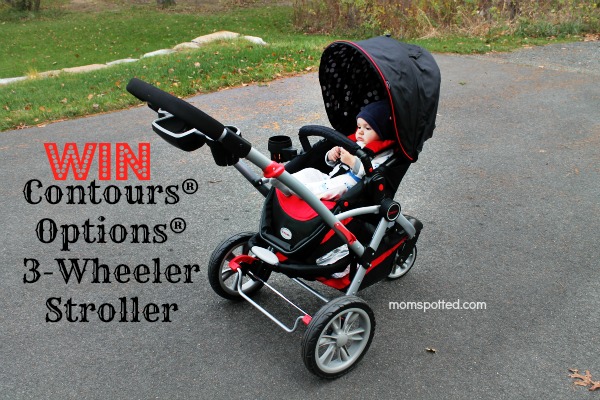 Contours Baby has offered one Mom Spotted Reader a Contours® Options® 3-Wheeler Stroller!!!
(Your choice neutral or pink colored)
How to Enter:
CONTEST HAS ENDED
Mom Spotted Review Policy: I was provided with the featured item(s) at no cost by the manufacturer and/or its PR agency in order to test the products abilities and give my own personal opinions on it. The opinions I have given are mine and may differ from others but it was not influenced in any manner by monetary means.