I remember the day we talked about getting a dog. I was horrified. I have spent all my life avoiding dogs and here my family was begging me to bring one into my home at 8 months pregnant. What were they thinking?? After some serious begging by not only my kids but the hubby I found us making an appointment to look at some puppies. They had a few but I was interested in the golden female they had. When we got there she refused to come see us hiding under a table while this fluffy mutt refused to leave us alone. He was persistent too! Within minutes he not only had my husband down playing with him but me too. We went to visit them with no money so we were forced to leave and think things through but from the minute we pulled out of the driveway we knew how badly we had to have him.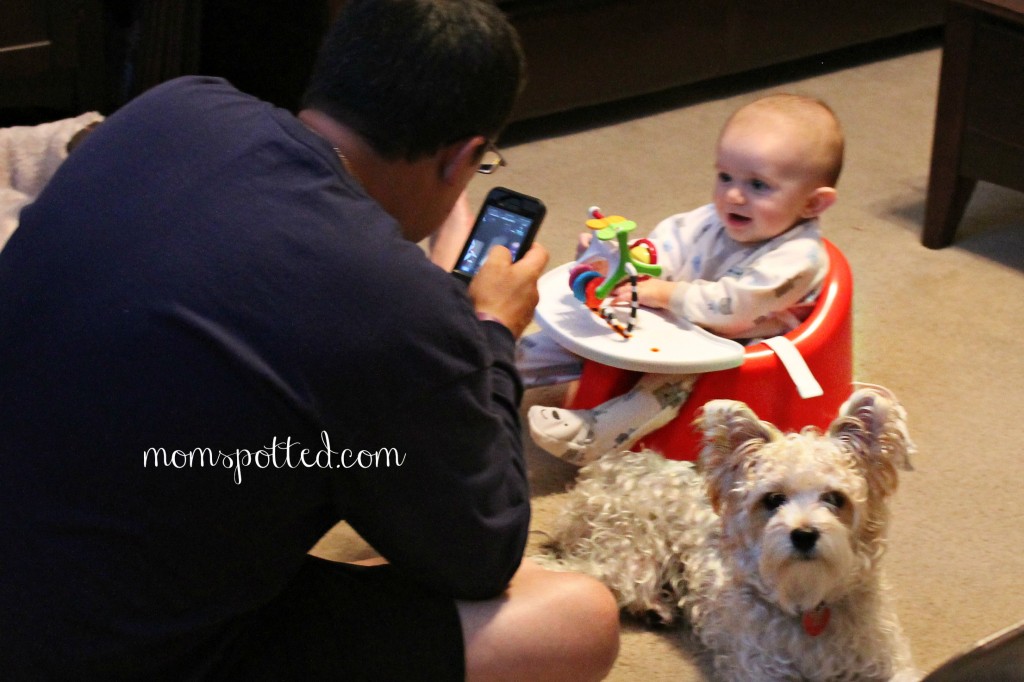 We've only had Charlie since February but we love him so much. He just is just what our family needed even though we have the craziness of a puppy and a newborn. Luckily as they both begin to grow things have become much easier! Charlie is every part a member of our family now and life wouldn't be the same without him. the craziest part of it all and he and I are the closest ones. I'm the one he follows around all day long so I'm the one he snuggles up to at the end of the night too. He still struggles with some jealousy from the new baby as you can see in the photo above. He just wants to be in the middle so it's known he's there.
When we first got him he refused to eat. We didn't want him on the food the previous owner had him eating. Getting him switched over was hard. We have him on both wet and dry food for dogs but getting him over to his new foods we had to go through a phase. When transitioning from one food to another, please remember to introduce the new food gradually so as not to upset your dog's stomach.
For the first two days or so, your dog's meals should be about 75% old food and 25% new food. Mix the two foods together, don't keep them separated.
If the first couple of days of the transition go smoothly, you can mix 50% of your dog's old food with 50% of the new food on days 3 and 4.
On days 5 and 6, your dog's meals should be about 75% new food and only 25% of the old food.
On day 7 let your dog enjoy 100% of the new Cesar dog food!
We also tried the New CESAR® Meaty Selects which is a great wet food for small dogs. They come in a resealable 10-ounce can bursting with tender meaty chunks which rocks because we love the regular Cesar wet food but with Charlies smaller portion we didn't like that we couldn't cover it good. Having the resealable lid made it much easier and cleaner in my fridge. The Meaty Selects were definitely a favorite for Charlie! If you are looking for the best dog food for your pet I would definitely consider Cesar. Of course I'd also recommend you talk to your vet as with any change in your pets diet.
Make sure to follow the Cesar Facebook Page to get all the latest updates!
"I wrote this review while participating in an ambassador program by Mom Central Consulting on behalf of Cesar and received product samples and a promotional item to thank me for taking the time to participate."