I made a list of products for baby at six weeks old of everything that made my life easier. I also made a list of all the products I am using to make life easier breastfeeding. I thought since time has passed and Sawyer is growing and changing I would tell you what we are using and loving around here.
If you check the list at six weeks we still LOVE each and every product on that list. The tub sadly stopped working (temp gage) after only a few uses which makes me sad. I contacted the company but have had no luck getting any help or anything.
 I went through a few different stickers during my pregnancy and didn't like them and they often photographed poorly. I LOVE the stickers I bought for Sawyer though. You see them every month on his clothing for my monthly update posts. I bought them from BabySmilesBoutique on Etsy.com. If you want the exact ones I got they are the Jonathan stickers.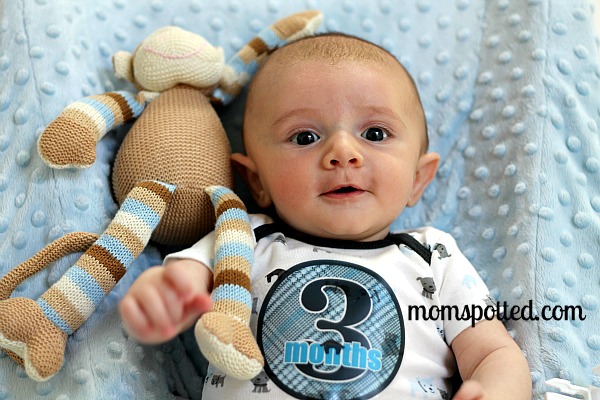 Sawyer loves his playmats. From the moment I first put him under his Baby Einstein playmat he was in love. The sun at the top plays music and lights up. They don't sell this one anymore but the Baby Einstein Caterpillar and Friends Play Gym looks like a great choice that is comparable. Just a heads up the hammer didn't come with it. I change the toys around that are hanging to keep him interested longer.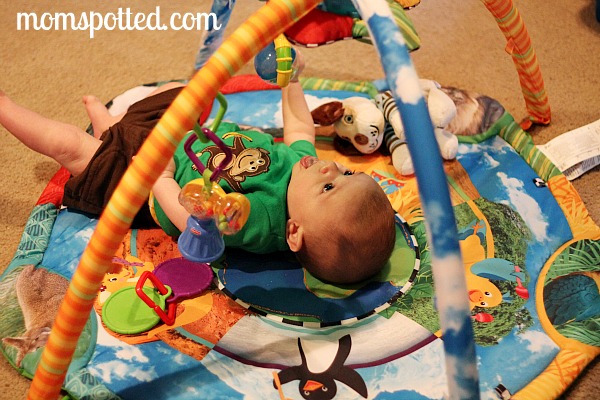 Since he loved his playmat so much I wanted to get him another one. After looking around I went with the Fisher-Price Discover 'n Grow Kick and Play Piano Gym through Amazon (cheapest price I could find!). He loves this one and I love that it will grow with him. As of now he doesn't prefer one play gym over the other. On this one he loves the mirror that hangs from the top center.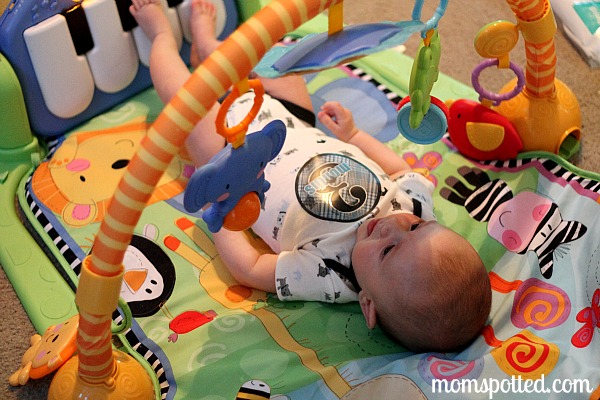 I still love my regular stroller set I mentioned previously but as far as going to the park, running, or any kind of grass or bumps it didn't do so great. Since it's warm outside those are places we're starting to frequent more and more. I got to the point where I was dreading the baseball games. Since I'm planning on starting the Couch to 5K this week (which you'll hear more about soon!) I knew I needed a good jogging stroller and the Joovy Zoom 360 Swivel Wheel Jogging Stroller was a perfect fit for what I needed. This stroller just glides through grassy fields and bumps and Sawyer is happy whenever he's in it!
We have been using out InGenuity Cradle & Sway Swing from day one and was the very first product he tried out after the initial car seat for the ride home. Right from the start he loved it. It was a safe spot for me to place him and he often falls asleep. In fact while I type this out it's where he is sleeping. This model plugs into the wall which is great because I don't have to worry about batteries. Make sure to check when buying though because all models don't have this feature.
With the other two boys I used the Boppy Pillow right from the start. With an overwhelming amount of product to try this somehow was left in the crib but lately we've been using it more and more. You can see it hidden behind Sawyer in many pictures I take even though you can't really see what it is. Sawyer loves it because he feels like he's being held. I like it because he can be next to me while I work on other projects.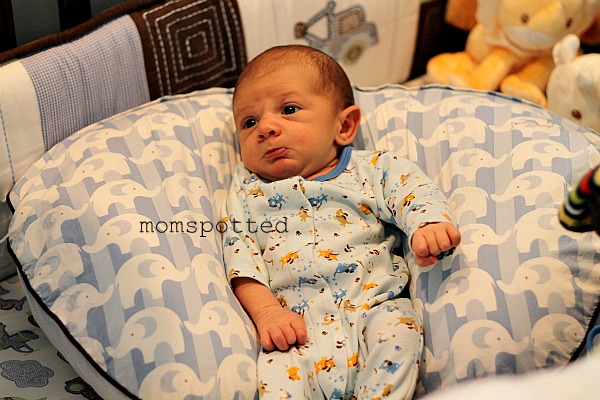 Hope you like the products we chose to feature. This post is not sponsored although there are a few affiliate links places. This is just my opinion but these products have been great to have around and have made my life a lot easier!