In just a little more then two weeks the boys are out of school. I really don't like the idea of them spending their days inside glued to their tv's and computer screens. I want them outdoors getting fresh air playing ball and having fun. Having a baby definitely throws a wrench into the plans as I can't run around with them as easily and I can't get in my garden and get dirty like I used to.
I needed to find a way to be outdoors and have Sawyer outdoors. I wanted something he'd be safe to both play in and sleep in. I looked over so many sites looking for the perfect product but I kept coming back to the Joovy site. See Joovy has the Orangie Room Playard and I thought the color was a great fit. I knew it would be easily seen and would keep the boys from accidentally running into it.
The Joovy Room has elevated the playard to a new level. This premier, full-feature nursery center is a bassinet, changing station and playard, all in one. The Joovy Room has exceptional good looks while offering supreme functionality. Parents love its convenience and multi-purpose usability.

The Room has Joovy's contemporary styling and gives a fresh look to the playard category. This appealing design along with Joovy's second to none quality is what sets the Room apart from other playards. Joovy takes pride in using the highest-grade fabrics on the market today. Our 600D nylon fabric is super strong, durable and stain resistant. We urge you to compare our fabrics to other playards on the market because there is no comparison!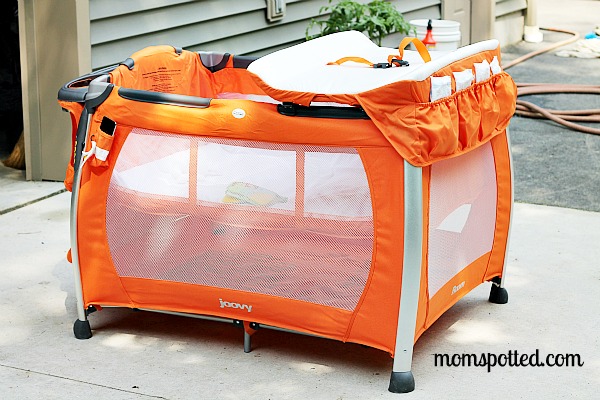 Since we'll be spending hours and hours outdoors I wanted a playard that would have everything I needed all in one. The Orangie Room Playard was a great option because it has this great parent organizer that allows me to put everything I need here. From spare clothes to wipes to blankets. I can even keep a few thing for the older boys here.
The parent organizer is the biggest available on a playard. Ours has 9 storage compartments (including a hard plastic top for wipes); it holds up to 9 lbs. of nursery items.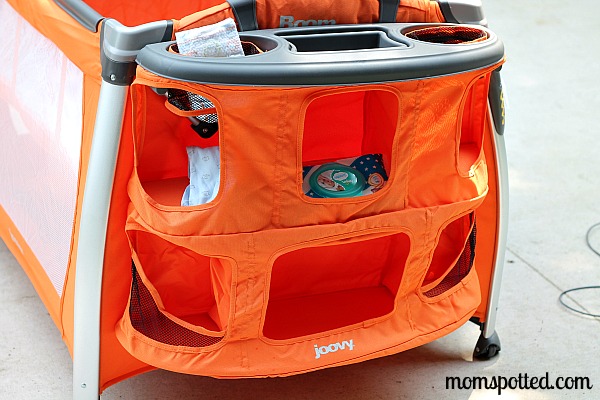 One thing I can't stop doing is changing him. I need a safe spot to put him down if I need to change his clothing or his diaper. I don't want to have to run inside the house for this and leave the older boys unattended- especially since we will likely have water out. I love that there is also an additional organizer on this side so if I don't to worry about forgeting the things I need and keeping them at arms reach. There are four smaller individual pouches here that can hold diapers, cream, sunscreens- whatever you need really.
The removable changing table supports a baby up to 25 pounds. A notable feature is the Room's changing table, it has a vinyl top (not fabric) so it's super easy to wipe down. It also includes four storage pockets to hold your essentials.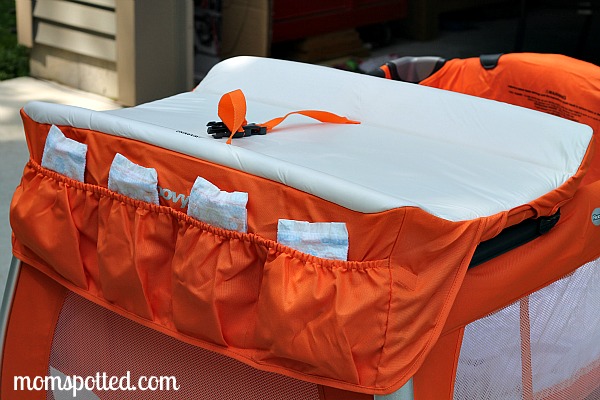 It also has a bassinet insert that is perfect for Sawyer this summer. It even comes with it's own soft sheet that's a perfect fit.
The full-size bassinet on the Room holds an infant up to 15 pounds. We've included a 100% cotton sheet that works in the bassinet or playard floor (additional sheets are sold separately). We're sure you'll find this sheet the softest, heavy-duty playard sheet available for your child's comfort and wellbeing.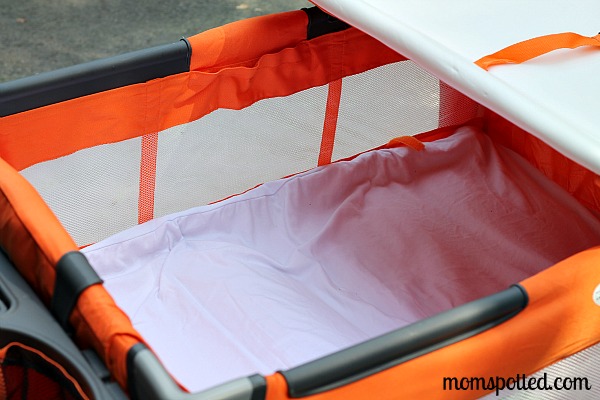 Here is where this playard becomes even cooler! This playard has a light and a built in MP3 jack. I was able to plug in my iPod touch and play any music we wanted to hear. My favorite songs or his favorite lullabies.I love the speaker volume too. My oldest forgot that this was for Sawyer and not for him and thought he would switch the music and crank it. Too bad it can't go any louder then what you would want around your child. If you're sitting nearby is loud enough for all to enjoy but you won't be able to make it too loud for baby.
I love that if we stay out late there is even a light. Not bright enough to bother Sawyer but enough for me be able to see what I need.
The Room has two wheels making it easy to move around your home. The built-in MP3 (iPod) jack with speaker allows you to play your personal playlist or the integrated music with sleep mode. Your child will enjoy playing or sleeping to his favorite nursery tunes. 

The Room is also equipped with a built-in nightlight positioned to work inside the bassinet or playard.The Room includes a zippered travel bag for when you are on the go.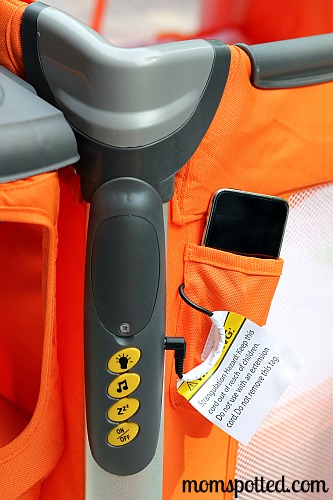 As Sawyer grows he'll be able to enjoy it as a regular playard with or without all the accessories. None of the pieces that come with the playard need to be on it or need another piece in order to be on it making it perfectly customizable to your needs.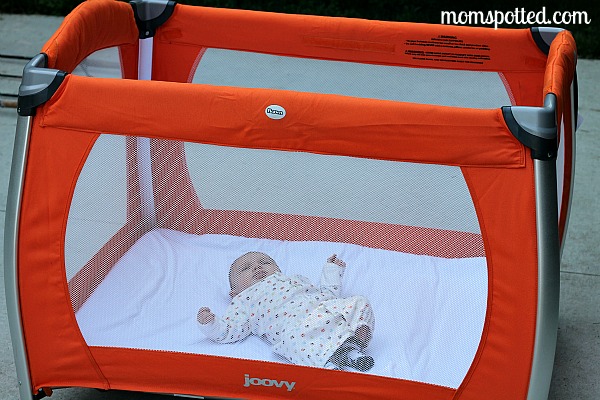 We have so many bugs around here as our land borders both the woods and a stream. I picked up a net and it fits perfectly keeping Sawyer safe from getting bitten.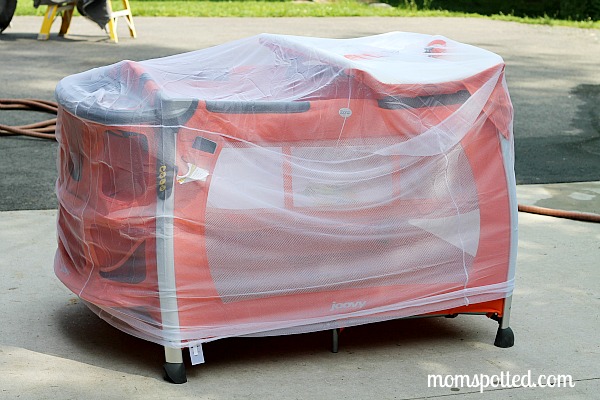 Sawyer loves taking napes here where the fresh air surrounds him. Funny thing is I worried he wouldn't sleep here since he won't sleep flat anywhere other then our bed. He was out in a matter of minutes though.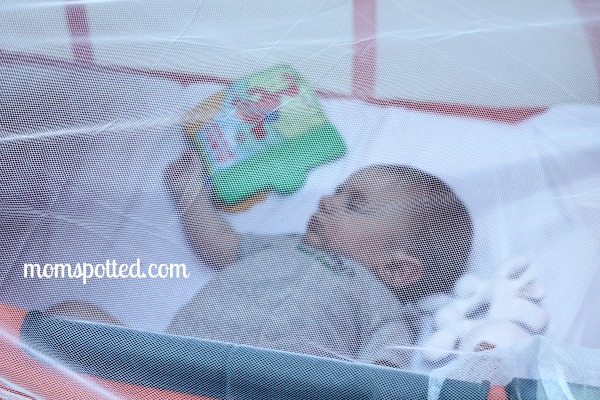 The Joovy Orangie Room Playard for $269.99 and is available directly from the Joovy site and from our affiliate Amazon. It is available in three colors: orangie, blueberry,  and black.
www.joovy.com