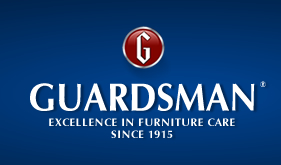 I use to never think much about my furniture. They were just pieces of furniture that I had collected and my husband had collected through the years. None of it matched and none of it held any significance  to us. Then our house burned down and we had to buy all new furniture. Suddenly we had nice furniture, it matched, and looked great.
Problem? We had no clue how to take care of it once we had it. Before our stuff was cheap so we used whatever cleaning product we had on hand or a wet washcloth. We didn't want to strip the stain or dry it out. We even had built in pieces like our mantle that we needed to always look amazing.
When I was asked to review Guardsman Furniture Care and thought it would be a great opportunity to try something. When the Ultimate Dusting Cloths came in I pulled one out of the packaging. They come five to a package and are little yellow cloth wipes.
Product Description

– Specially treated to draw out and lock in dust
– Traps dust to remove allergens for healthier, cleaner air
– Sprayless application—nothing to inhale
– Unlike sprays, leaves behind no dust-attracting residue
– Saves time—removes dust fast and effectively in just one step
– Lint-free, 100% cotton flannel delivers scratch-free results
– Washable and reusable

Use regularly to keep dust at bay—ideal for all your dusting needs. Use on furniture, blinds, appliances, auto Interiors, cabinets and paneling, glass and mirrors, ceiling fans, walls and railings. Also fits most floor sweepers—just fold in half, wrap around the sweeper, and attach as appropriate. Hand wash in lukewarm water with mild detergent and air dry.

Cloth size: 14 in. x 18 in. (36 cm x 46 cm).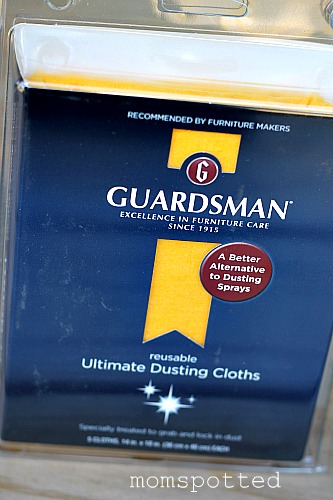 The wipes require no prep. Just grab and go. What I learned was I could use them on way more then wood as well. They are washable meaning I can use them over and over again. It's simple to use as it's just a cloth and you wipe it down but the dust literally just sticks to it. I've used it all over our house and found it really does work well. Leaves my furniture looking pristine and I love that I now have something that is safe for my different surfaces but most importantly my wood.


Guardsman teamed up with TV design star Tracy Hutson to launch its "Stop Cleaning. Start Caring™" campaign on March 28, to help educate furniture owners on techniques that will bring out their furniture's inner beauty.
Go to Guardsman.com to share a story about your favorite piece of furniture and make a promise to care for it in the same way you care for other things you love.
From the stories shared, Hutson will select one lucky winner with the best furniture story to receive a personal design session in their home that includes a $1,500 room re-accessorizing and shopping experience along with a suite of Guardsman products.
To launch the campaign, they're donating $25,000 to Habitat for Humanity to help build simple and affordable homes in partnership with low-income families, because we believe that building and rehabbing homes does more than put a roof over someone's head. No matter where one might be in life or what new chapter they're starting, a home provides individuals and families with stability, safety, and of course, lots of pride.
Visit Guardsman.com to enter and view official rules.
I wrote this review while participating in a blog tour campaign by Mom Central Consulting on behalf of Guardsman and received a Guardsman product and a promotional item to thank me for taking the time to participate.