I still can't believe I have a baby. I swear I'm still absorbing the fact that I actually got pregnant. My pregnancy definitely flew by. I don't know if it was because it was the whole holiday season which helped me focus on other things but I never felt like it was dragging. Was definitely a rougher pregnancy because older and not in the best shape which didn't help either. I had a lot of back pain in the pregnancy and by the end just doing the dishes was nearly impossible.
At my 37 week check-up they told me I was as far from going into labor as could be. My cervix wasn't even open. I know 37 weeks is just hitting full term but I was done. This was as far as I had made it with my other two. Since Gavin was a C-section it meant I could choose another section or have a VBAC. I chose to try a VBAC. IMO I'd rather go through the hell of labor then the pain of recovery. As you know though if I went past my due date they couldn't induce me and I'd have to have a section. I scheduled the section at 41 weeks and crossed my fingers.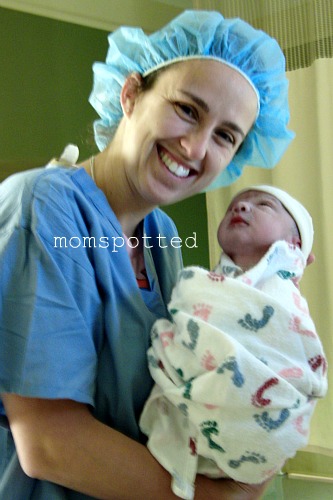 Tuesday night after posting my Wordless Wednesday post showing Sawyer's Crib and letting you know I finally finished the nursery that day and would share soon (which I promise I will!) my water broke while sitting on the couch at 10:45pm. I immediately leaped off the couch and stood there in shock. My husband looked at me completely confused and I announced that either my water broke or I just peed on the couch. Suddenly I had water pouring down my legs and I ran to the bathroom. Hubby ran the phone to me so I could call my Dr.
She stated normally she would tell me to hang out at home since I had no contractions but since I was going to be attempting a VBAC we needed to come in to begin the monitoring process. I jumped in the shower and within minutes the contractions started – HARD. I got out and finished packing my bag that was actually on my to-d0 list the following day. At this point I couldn't move through my contractions and even though it had maybe been 45 minutes my contractions were already 3 minutes apart.
My MIL was at our house before I even got out of the shower so we never woke the boys. We arrived at the hospital around midnight and I was miserable. I don't remember labor with Johnny EVER being this bad and I had him naturally with no medication. I made it clear immediately I wanted an epidural. They told me once I was through with all the needed blood work, monitor set up, and IV in they notify the anesthesiologist. My contractions were less then a minute apart but I was only 2 cm dilated and 80% effaced just before they gave the epidural around 2 am. This gave me some time to collect myself. Hubby passed out at this point but it's really when the fun started to begin. We noticed that the baby's heart was dropping. I moved to every position and finally got it up, I had to wear oxygen on and off at this point too. An hour later it happened again. Again around 4am and this time she checked me and I was 6cm and told me if I wanted my mom here for the delivery I should call her now.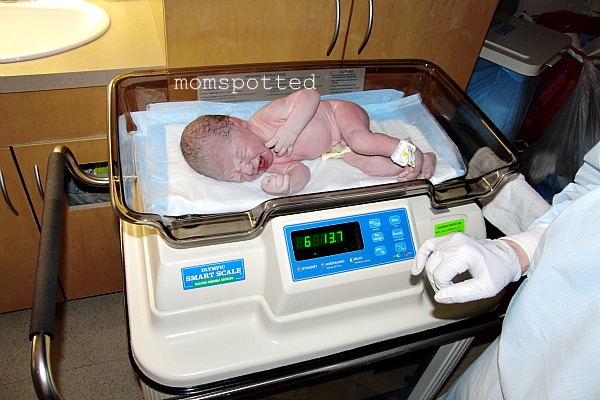 About 45 minutes later the baby dropped again but this time the heart rate wouldn't come back up. The nurse ran for a Dr. and my fears of hearing them call to prep a surgical room scared me so much. The Dr finally was able to get the heart rate down and put an internal monitor on and told me I couldn't come off the oxygen this time.
My mom walked in about 15 minutes later and it started all over again. This time the Dr. checked me and I was fully dilated and ready to go. She told me that if I wanted this VBAC we had to try now or we were taking a chance at another section. Luckily, I could feel my contractions after less then 10 minutes of pushing we welcomed Sawyer James to the world at 0600.
The cord was wrapped around his neck and he was blue.
The Dr. said we were lucky everything worked out so well. The cord was the reason for the heart rate dropping. He was otherwise a beautiful, healthy baby boy.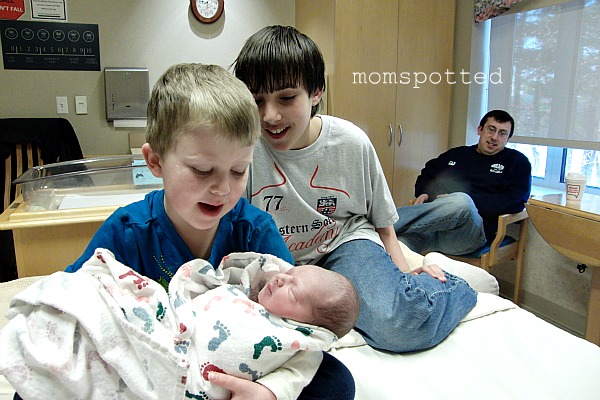 Daddy left within the hour to go help with the boys. They were still asleep when he got there and woke them to let them know their little brother had arrived. They didn't believe him. He had to show the bracelet on his wrist and yet they still searched the house for me. He decided that he was going to bring them back to the hospital and let them meet their brother instead of going to school. Of course the boys loved it.
The boys are so in love with their little brother!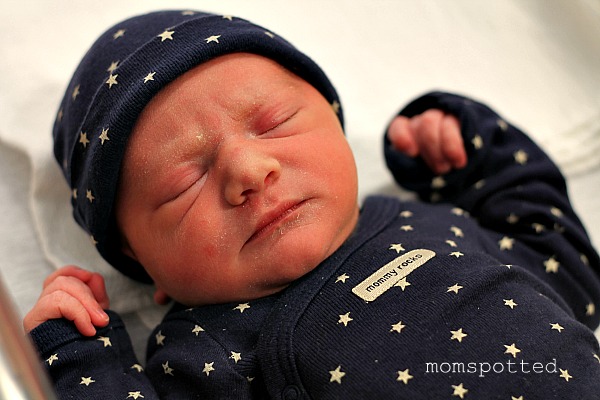 As you know the name Sawyer was a name I found and fell in love with. The boys said that he needed a "J" name since we all had one so we all agreed his middle name would start with a "J". Daddy then picked out James as his middle name. I love it because in a way we all took a special part to build his name.
Now, if I can stop my Hubby from calling him Jimmy. Oy.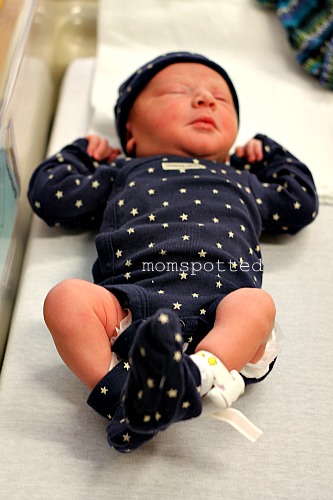 I am so in love with this little boy. It's been so long (5 years, 8 months) since I've had a little one. If I've been a bit MIA lately it's because I want to enjoy every minute of my little precious Sawyer James because as we all know- they don't stay little for long.