On Superbowl Sunday we signed up to bring a dessert and we made the Giant Heart Cookie from Wilton. I had honestly never made a giant cookie in a pan like this and the boys were super excited about making such a big cookie!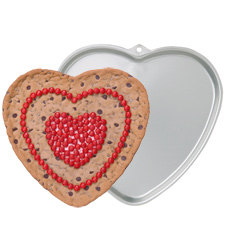 As you know we had the chaos of looking at a puppy this weekend. Shortly after pulling this giant cookie out of the oven we found out we had to leave much earlier then we had anticipated. I had planned on making this really pretty cookie that I sat down and took some time on. Instead I spent less then five minutes on it but it was still a great success!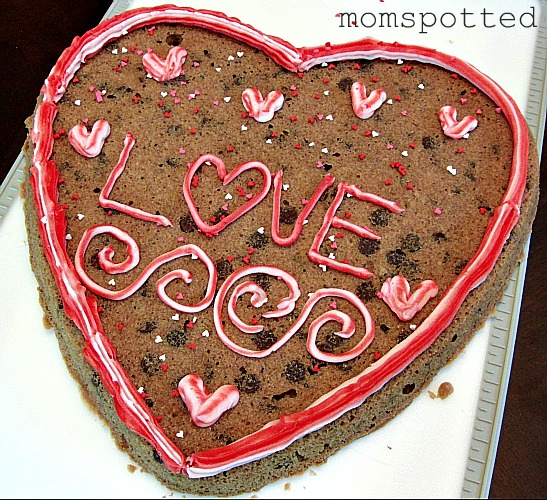 Luckily I had two tubes of the Red/White Striped Icing on hand. I invested in the tips for the tubes long ago and they are great for when time is of the essence. See the swirl in the color below. I was rather impressed that red and white could remain in a tube together and not bleed into pink. Even after twisting and bending the tube as I gripped it it came out striped!  It took one tube for the edging and then a partial tube for the inside writing. I think sprinkled with little heart sprinkles I had left over from last year and called it a day.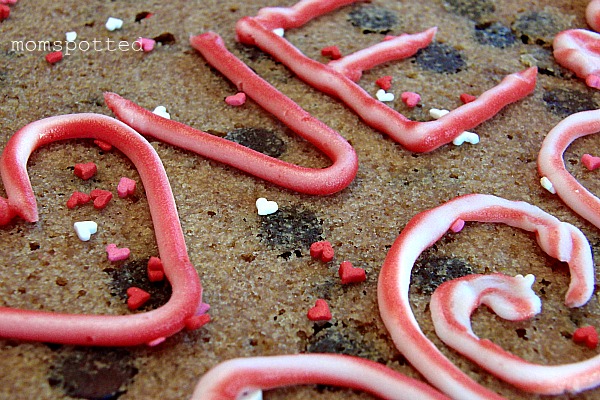 In very little time we had a fun, festive holiday treat that everyone enjoyed. The pan is incredibly affordable at only $7.99 and you could even grab it cheaper with a coupon at your local craft store! Pick your up today!
Mom Spotted Review Policy: As a Wilton Mom Ambassador I was provided with the products mentioned above at no cost from Wilton in order to test the products abilities and give my own personal opinions on it. The opinions I have given are mine and may differ from others but it was not influenced in any manner by monetary means.