I don't think I truly realized how far baby products have come and how much brands have researched until Sawyer came into our lives. Sure, I considered myself up to date with baby products even though Gavin was older since I still had them coming in but I mainly stuck to the bigger items. I never realized how far even the little items have come too.The Munchkin brand hasn't just taken into account what mom needs but they've kept it stylish and affordable at the same time.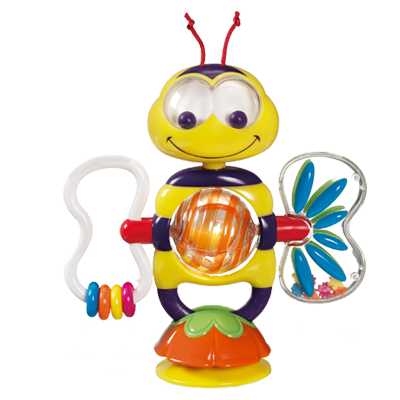 When I was contacted by Munchkin I checked out their site as I do all sites. I hadn't realized just how much they carried. They have products to help you in your nursery, with diapering needs both in and outside the home, feeding, toys, and more. When I saw the Bobble Bee I knew I had to have it.Johnny had a very similar toy and he loved it. The ability to attach to the swing tray, table, or basically anywhere with a flat surface made it a great toy we could bring places and he could interact with without knocking on the floor. What I love about this bee is not only can he stand and play but I can pull it out of the base (good grip baby won't be able too!) baby can also have it as a toy they can hold just about anywhere.
Our interactive bee is getting great buzz. This toy is the bee's knees! This colorful creative toy offers endless play possibilities. Make the head bobble up and down, spin the wings, roll the belly and listen to all the different sounds. The durable suction cup base keeps it secure when you set it on a high chair or table top. Or you can remove it from the base and use it as a hand-held activity toy. No matter how you play with it, this interactive bee is a real honey! Perfect bumble bee toy for babies 3+ months. Interactive play builds motor skills.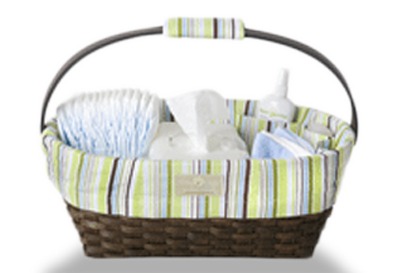 The product I was actually asked to review was the SaraBear® Diaper Caddy. It retails for $39.99 and at first I have to admit I was almost positive I wasn't going to be a fan. Normally, I would have turned the product down but it was Munchkin. I figured I could find another use for it if I didn't like it since the base basket looked to be my style.
Invented by a mom who saw a need for at-your-finger-tips accessibility to all the baby care essentials, each caddy starts with a custom Shaker style basket in a tight weave of real wood. A handle is attached on either end of the basket and can be collapsed to lie along the side of the basket. Each liner is made from a heavy-weight, 100% cotton fabric. The basket will firmly hold a baby wipes container, and has pockets for diapers, ointments, burp cloths and swabs. The caddies contain no PVC and the dyes used in the textiles are entirely formaldehyde-free. Any wood stain that is used on a SaraBear basket is water-based and lead-free. The packaging was deliberately designed without the use of plastics. At a moment's notice or a baby's cry, take everything you need to care for baby from one room to the next.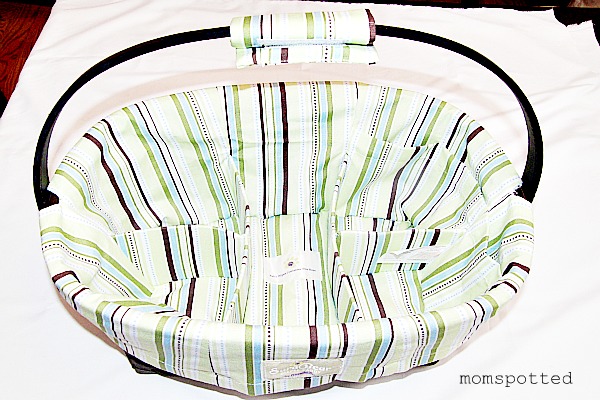 Let me tell you how much I LOVE this diaper caddy. I am so glad I decided to take it because now I need to find a new purpose for the other one I have because this SaraBear® Diaper Caddy by Munchkin because it's going to be the perfect fit for what I need it to be. See my changing table and supplies will all be upstairs in Sawyer's room on the other side of the house. I don't want to have to go all the way there every time I need to change him. Or need something for him. This will allow me to not only keep his basic diapering needs conveniently down stairs but other extras too.
I love that the liner is also removable (velcro at the sides) and that the handle is flexible. When I filled it up with supplies and brought it downstairs to photograph I had my arms filled with other things like I likely will with baby later on. The flexible handle allowed the basket to lay flat with my hip while still being comfortable to carry. If for some reason my hands are dirty when I grab it I can also wash the cushioned handle.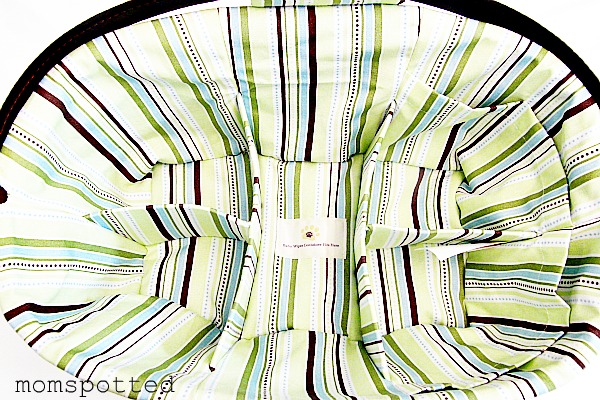 There is lots of like spots and pockets for things I need. I can fit a full size wipes contained down the center and I still have four other pockets as well as four side pockets. I can store toys, diapers, lotions, spare clothes, etc all in the large pockets and save the smaller ones for clippers, diaper cream, vaseline, etc. Literally everything I need can be kept in small supply downstairs where I'll need it most during the day. At the end of each day I can check it over to see what I used up and replace anything I need and I'm good to go again.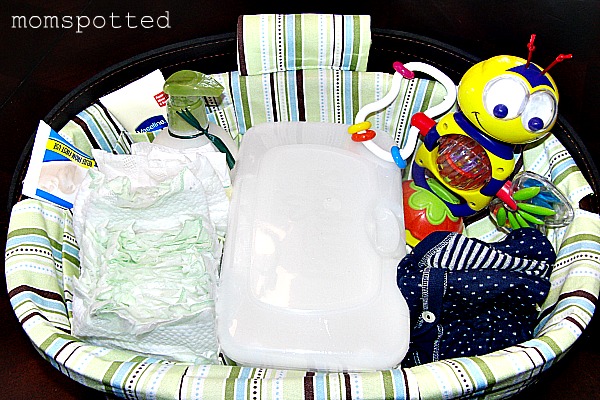 Munchkin actually has lots of different ways to help keep your nursery well organized! Another great option is their 6-Shelf Closet Organizer! Easy to hang closet rod sleeve fits most closet rods. 6-shelf organizer increases closet storave. Fits Munchkin Nursery Bins. Large, reinforced shelves hold clothes, blankets, shoes, toys & more. Retails for $19.99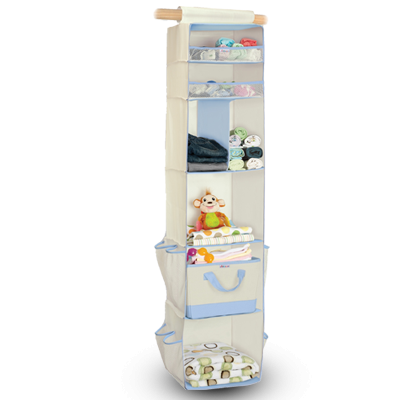 Munchkin has offered one Mom Spotted Reader a 6-Shelf Closet Organizer!!!

How to Enter:
1.) Visit
Munchkin
and tell me what other product (not shown here) you like from them!

Mandatory
How to earn additional entries:
2.) Become a follower on my blog (publicly- privately does not count)-leave another comment (or let me know if you already are) – 2 entries
3.) Subscribe to my blog by EMAIL (not feed) – 2 entries
4.) Blog about my giveaway- with a link back to here AND
Munchkin
4 entries (MUST include at least 30 words! Get
two additional entries
if you include a photo of the giveaway).
Post YOUR blog entry first and then the comment (please include the link directly to it not to your front page, and make an additional comment then the ones above.)
5.) Add my Mom Spotted button to your blog
7.) Follow
Mom Spotted
on Twitter AND Tweet about this giveaway-
Copy/Paste:
Win a 6-Shelf Closet Organizer from #Munchkin Baby & @MomSpotted #Giveaway Ends 2.6.12 http://wp.me/p18qpn-4wV
~this can be done once daily (leave link in comment)~
8.) Become a Fan of Mom Spotted on Facebook– leave me a comment
9.) Become a Fan of Munchkin on Facebook!
10.) Post on your facebook home page (1x daily):
Win a 6-Shelf Closet Organizer from @Munchkin & @Jennifer MomSpotted Giveaway Ends 2.6.12 http://wp.me/p18qpn-4wV
(Make sure it links to me and Munchkin & put link in comment)
11.) Leave a relevant comment on any non-giveaway post (reviews are ok)
(Make sure to check out all my other giveaways!
Check the side bar to the right for list!)
That's many chances to win a 6-Shelf Closet Organizer!!!
Contest ends February 6th at 11:59pm!
***USA Only***