The hospital bag can be so overwhelming. While some of us plan to spend less than a day in the hospital others need to plan for up to five days. Regardless of what your birthing plan is you need to remember that things happen and sometimes no matter how much planning you do things happen. Your 24-hour pit stops to have a baby could turn into a week-long event. After having a breech baby who refused to turn I learned this the hard way.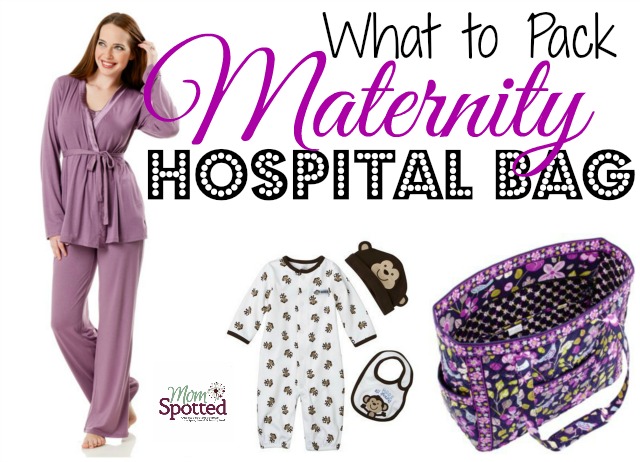 Granted, Gavin was a scheduled section but I did try getting him to turn right up until they made that actual cut. I was more prepared with Gavin as with Johnny my husband packed half the bag. I thought I would share my tips on packing a diaper bag for whatever path your delivery takes you so you aren't left stranded without something you wish you had.
One bag. This doesn't translate all the time to your diaper bag. This bag needs to work for both of you and not just baby. I'll be using my Get Carried Away Tote in Floral Nightingale. I got it to originally be my diaper bag and yes I know I'm having a boy but this time around I'm having a bag that I like too. This bag is a pretty good size and will accommodate both of us well.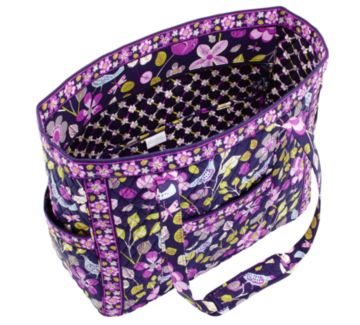 When I had Johnny I packed only for Johnny. I was left with an ugly Johnny (the clothing not my beautiful kid) while I was there and when it came time to go home I realized I had sent home the clothing I came in with home. I sent hubby home to get me something to wear and he thought he was doing me a favor grabbing my favorite pair of size 2 jeans. Problem? I had gained 80 pounds that pregnancy and those jeans barely made it past my knees. This resulted in me bawling my eyes out in the bathroom for over an hour to the realization I wasn't fitting in those again. I had to wait for him to go back home and get me a pair of my maternity pants.
With Gavin, the first thing in the bag was clothing for me to go home in but the was it for clothes. I had a section so for five days I wore the ugly hospital gown. This time, I considered getting one of those fashionable hospital gowns but really $40 for a gown I'd never wear again? I couldn't justify it. So I spent $50 and got myself a great 3 piece nursing pajama set that I could use over and over again. The one I got is identical to this Long Sleeve Tie Front Nursing 3 Piece Set but dark gray. I'll be able to use it while I nurse, place a robe on when people visit and use it regularly when I get home. They didn't have this one in stock when I went to the store to try them on but I'm definitely buying the set pictured because I love the gray one I have.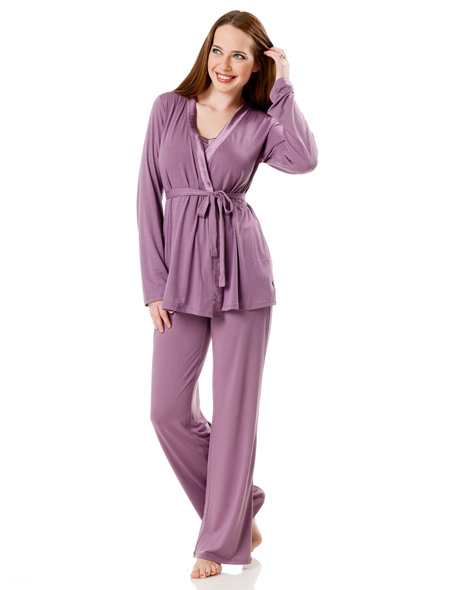 Everyone remembers that baby needs an outfit to go home in but what about the outfit for when everyone visits? I'd bring 3-4 outfits that baby can wear while you're there. Make sure to pack both NB and 0-3 month sizes. Outfits that include a hat is a plus. Remember simplicity is key. You will have a lot of your plate and outfits that have buttons, and 20 pieces of it aren't for the hospital. Stick to simple. I also have a NB gown that has a hat, mitts, and booties. I bought this outfit at Carter's. Pretty much our whole first-year wardrobe for all my babies came from Carter's.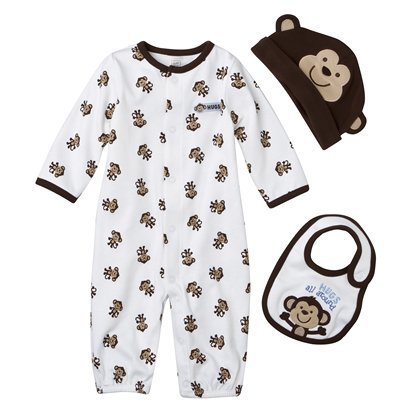 The baby book. Honestly, I couldn't even tell you where the boys baby books are. I think they are in the shed. In my defense, we had a house fire and while I was able to pull these from the rubble they are dirty and gross and as a result in the shed. Are they completely filled out? Not a chance. I'm the person who fills them out for the first month and then never goes back to them. However, I know you will find their baby bracelet, my bracelet, and their footprints along with all their info. I was going to skip the baby book but I can't bring myself to have something for one child and not the others. Both my boys have this adorable Suzy's Zoo book pictured below. I've been on a hunt for the same one for Sawyer but I haven't been so lucky so I'm still searching.
Other paper products I recommend for your hospital bag:
Notebook
You'll want something to take notes on when you talk to any specialist. You'll have ideas that pop into your head, whatever.
Thank you cards, Stamps, & Address Book
Once I got home the time was gone. I was so glad I did this while AT the hospital. I stuck them in the mailbox on my way home.
Paperwork
Do you have a birthing plan? insurance forms, etc. My hospital takes these things in advance but you may want a copy on you just incase.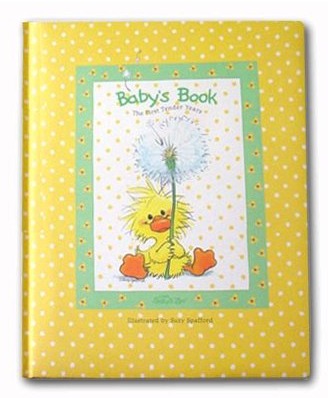 Toiletries
The hospital will have basic needs on hand if you forget something but if you are like me you just like having your own things. I have my vacation pack with all my needs inside. I'll be able to go in for the simple things and take the whole pack in for my shower. Having the hook keeps me from having to put things on lower shelves and be bending over constantly. In the event you need a c section you'll want to avoid bending over at any cost.
Basic toiletries you'll need: shampoo, conditioner, hair ties (several), brush, hair dryer if you must, soap, lotion, face lotion, face soap, make-up, deodorant, finger nail clippers, nail file, q-tips, chapstick, etc. Some of these you won't need and some you will. I can't go without a nail file and a hair tie and I know others that won't give birth without a face of makeup on. Keep personal preferences to your daily needs in mind.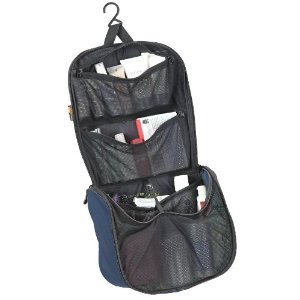 Electronics & Entertainment
I get you are giving birth but you'll want electronics for both before and after. When I was in the hospital for Gavin I was there for a week and bored beyond belief. I don't sleep well when I'm not at home so at three am I was going crazy. Gavin was taken from me every night because our chest to chest resting was raising his temperature too much and I was left alone in my room with nothing to do. Many sites will tell you to leave these things at home but with Gavin, I was stir crazy in my room and would have died for something to keep me entertained.
Things I will be bringing:
iPad, basic camera and DSLR, batteries, magazines, and a word search book.
Make sure to check if your hospital has wi-fi. Download a movie for just in case, worse case you can watch it during a 2 am feeding at home. If you have a fancy camera make sure to grab a simple camera too. You'll want your husband to be involved and when things get crazy around the actual delivery you'll want to hand your camera out. One thing I've learned about fancier cameras is people get scared to touch them and it will result in you missing great photos. I'd rather an okay pic than no pic at all. I do however want my nice camera there for the next morning when I'm all alone with my baby and want to have some fun.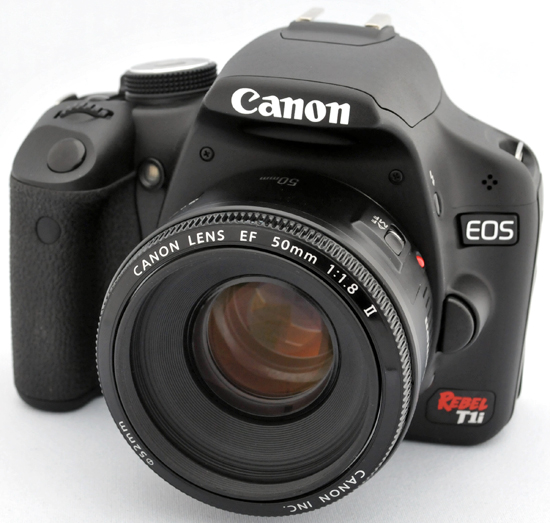 I know many of you might be there for just the 24 hours but if you end up there for a week like I did you'll be so glad you took the time to be prepared. My 48 hour trip with Johnny I still was lacking so much. I'm the girl who'd rather have it than be without it.
Now I get that some of you use some of these things right up until you give birth. Solution? Write these things down on an index card and leave it on top of the pre-packed bag. If you are unsure if your husband would know where to find something make sure to leave the location next to it. This will make sure you walk out the door with everything you need in your hospital bag and if you go into labor and need your husband to go home for the hospital bag he can easily find it and everything you need and get back to you as quickly as possible.
Did I forget something?
Leave me your thoughts in a comment so I can add it to my own bag and my readers can too!