Every year I go through the same thing. WHERE am I going to stick all the Christmas cards?!?! See I don't really have anywhere to stand them. My husband would kill me if I stuck thumb tacks all over the walls so they left me to taping them in the doorways. It looked great but come every January I cringed taking them down praying to God that the stain didn't come off with the tape and I'd live to see another day.
Then hoping on Pinterest I saw the perfect fix. Duh? Leave it to Pinterest!
Take nice ribbon and some clothes pins and you have a tape free, hole free solution that makes everyone a little happy.
See, I made sure that the ribbon was about a foot longer then it needed to be so it would overlap. Then I stapled it in three spots to make sure that it wouldn't come lose.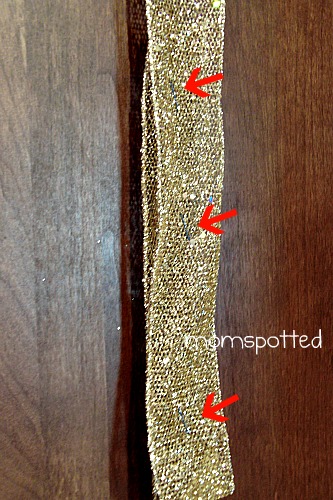 Then I took it a step further and put green and red glitter glue down the clothes pins so they'd be a little more festive.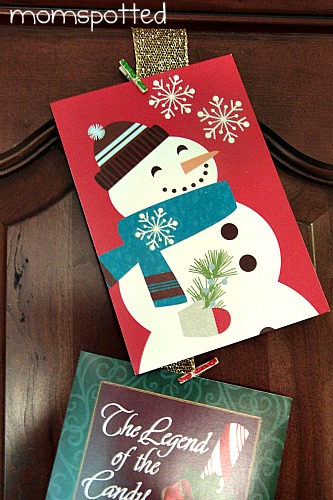 Now, I have them out where we can see them and they are easy to take down. I can even just use a staple remover and save the ribbons and clothes pins for next year! I love this and I can't believe something so simple never dawned on me. Clearly, a ah-ha moment!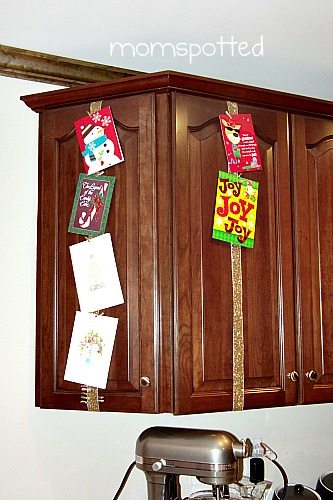 ~~~~~~~~~~~~~~~~~~~~~~~~~~~~~~~~~~~~~~~~~~~~~~~~~~~~~~
I've been doing this for a couple years now and it's been working great. The little clips are a pain so I've grabbed some bigger ones that IMO look just as good. Here's the same ribbons still being used: