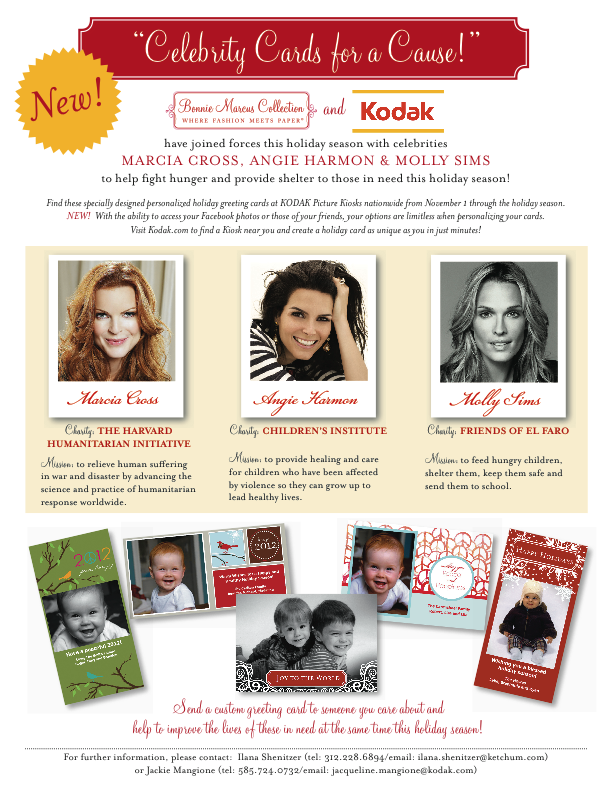 Got an hour tonight to hang? Then why not join me for chat around Holiday Cards!
What: A Facebook Chat called Holiday Cards 101 – Gifting and giving back. The chat is the second of a two-part series, sponsored by Kodak.
When: Thursday, December 8, at 8 p.m. ET.  It will last 1 hour.
Where: Kodak's Facebook page – http://www.facebook.com/Kodak; There will be a tab on the side of the page: Chat Live with Bonnie Marcus!
About the class: Those holidays are creeping up fast! If you haven't already sent them out, it's definitely time to think about creating the perfect holiday greeting card!  If you're planning to design your own this year, this Facebook chat is the place to be!  Amazing creative mind and celebrity card designer Bonnie Marcus will be joining us to answer any and all questions you might have about making your holiday cards. As a bonus, Bonnie will be telling us all about her Celebrity Cards for a Cause and the cool new Kodak Picture Kiosks in Target and CVS stores, which use RSS technology to connect you directly to your Facebook albums – allowing you to retrieve your favorite pictures to use in your own photo creations!