Christmas is so healing for me. There is something about this time of year that makes me like a 4 year old child all over again. The lights on the houses, the exchanging of gifts, and the ornaments on the tree.
Of course the holiday season kick starts with my stalking the local Hallmark Store. I collect the singing plush every year and while my mom buys it for me as one of my gifts I still can't wait to find out what it will be. I'm so glad this year they went back to the winter characters! This years 'Deck the Halls' one is a cute snowman and dog combo!
This year I'm loving the new Interactive Storybooks & Story Buddies this year! We received Jingle and I knew Gavin would love him. Of course I was right! You simply push the button on his ear and when you read the book he totally interacts! There are certain sentences in the book that will trigger your Story Buddy. In our book the trigger sentences are always in red. After a few reads your child will start to want to learn to read them themselves so as I parent I am loving this! You do need to make sure that if your child learns the sentences that they speak clearly.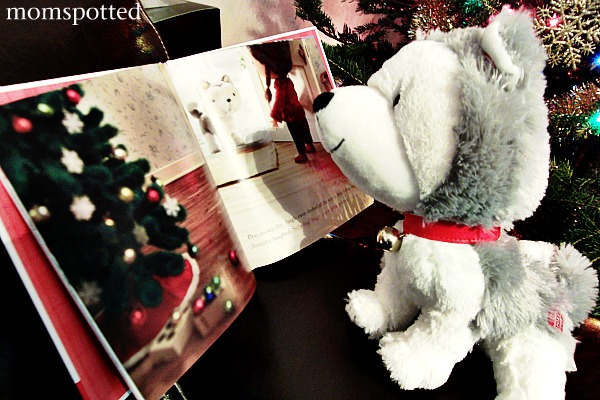 Another favorite in our family is taking out all the ornaments. Many of ours were made by the kids. The kids love remembering memories and such behind them. I use to collect the trains and such for my boys but sadly we lost them in the fire and I've since decided that if I can't have them for all we can't have them. We do miss them though as they were so special to the boys. Now we just go and pick out one ornament each. Looking back we can tell who and what they loved that year!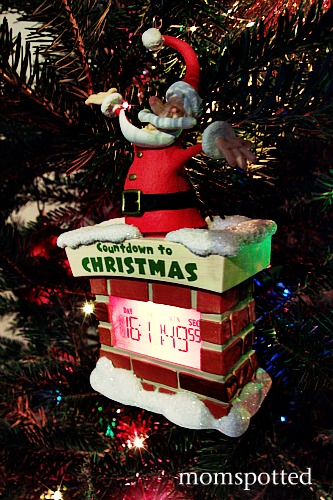 The new Countdown to Christmas Keepsake Ornament from Hallmark was a huge hit for my boys! Johnny set it himself and said he just put today's date and time in and it counted back for him so that he didn't have to figure the math behind it. We used a simple hook to hang it and of course the boys wanted it front and center so that they could always check it. Just by lightly taping the bottom an LED light makes it easier to read! As you can imagine the boys are tapping it daily.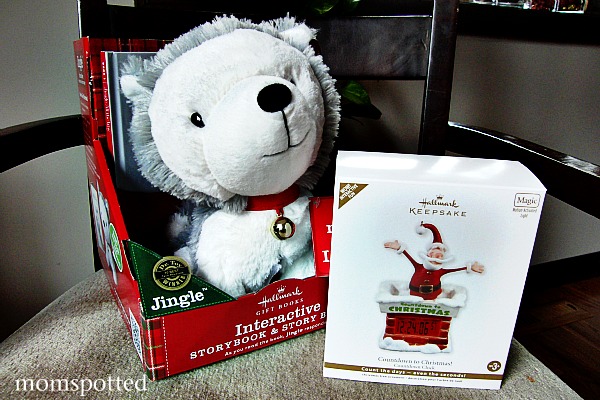 Hallmark has offered one Mom Spotted Reader an Interact Storybook & Buddy & Countdown Ornament!!!

How to earn additional entries:
2.) Become a follower on my blog (publicly- privately does not count)-leave another comment (or let me know if you already are) – 2 entries
3.) Subscribe to my blog by EMAIL (not feed) – 2 entries
4.) Blog about my giveaway- with a link back to here AND
Hallmark
4 entries (MUST include at least 30 words! Get
two additional entries
if you include a photo of the giveaway).
Post YOUR blog entry first and then the comment (please include the link directly to it not to your front page, and make an additional comment then the ones above.)
5.) Add my Mom Spotted button to your blog
6.) Follow
Mom Spotted
on Twitter AND Tweet about this giveaway-
Copy/Paste:
Win a $50 #Hallmark Interactive Storybook & Buddy & Countdown Ornament from @MomSpotted #Giveaway Ends 12.19.11 http://wp.me/p18qpn-4m5
~this can be done once daily (leave link in comment)~
7.) Become a Fan of Mom Spotted on Facebook– leave me a comment
8.) Become a Fan of Hallmark on Facebook!
9.) Post on your facebook home page (1x daily):
Win a $50 @Hallmark Interact Storybook & Buddy & Countdown Ornament & @Jennifer MomSpotted Giveaway Ends 12.19.11 http://wp.me/p18qpn-4m5
(Make sure it links to me and Hallmark & put link in comment)
10.) Leave a relevant comment on any non-giveaway post (reviews are ok)
(Make sure to check out all my other giveaways!
Check the side bar to the right for list!)
That's many chances to win an Interact Storybook & Buddy & Countdown Ornament!!!
Contest ends December 19th at 11:59pm!
***USA Only***

Mom Spotted Review Policy: I was provided with the featured item(s) at no cost by the manufacturer and/or its PR agency in order to test the products abilities and give my own personal opinions on it. The opinions I have given are mine and may differ from others but it was not influenced in any manner by monetary means.