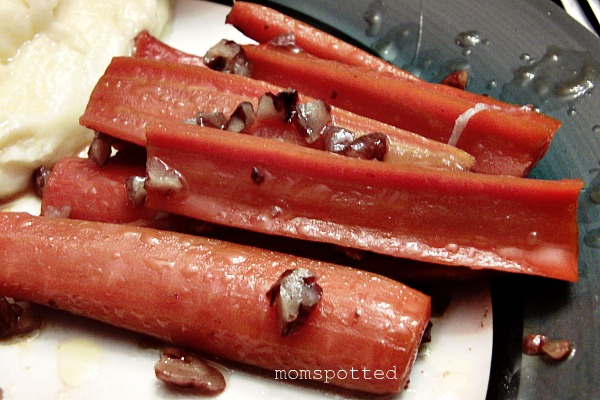 Candied Pecan Carrots
Great side dish for your every day mean or double ingredients and serve at your Thanksgiving dinner.
Ingredients
2

lb.

bag carrots

1

cup

maple syrup

divided

1

stick butter

small handful pecans

chopped
Instructions
Preheat oven to 400

Peel & cut carrots, place in oven safe dish

pour 1/2 cup of maple syrup over carrots

slice and place butter on top

sprinkle chopped pecans over mixture

pour remaining syrup over all ingredients
I love carrots and so does Gavin. Problem is that Daddy and Johnny don't. Having it so down the middle makes it hard when it comes to picking the side dishes for our dinners. I don't really like making something when everyone at the table isn't a fan of a dish.
Then I was jumping around on Pinterest (feel free to follow me) and found a photo of these candied carrots. Problem? Sometimes when people pin they don't realize they aren't actually pinning the post. When I clicked over it was just a photo. I couldn't find where it came from but through several google searches I was able to figure out the basic ingredients: carrots, butter, and maple syrup. So on my own I went from there.
 I purchased a bag of carrots and peeled and cut them into about 3-4 inch pieces.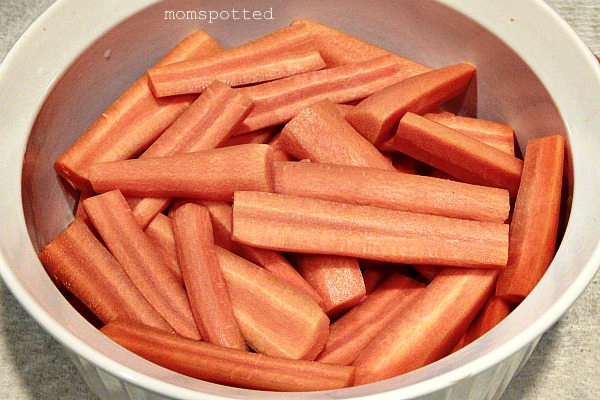 Next I poured the syrup over the carrots and then placed the butter on top. This is where I started thinking. The idea of pecans sounds so good so I grabbed a small handful and chopped them up and sprinkled them over the top. I then took more syrup over the top. I also snuck more butter in after the photo. This pregnancy I'm on a serious butter kick, I know, I know!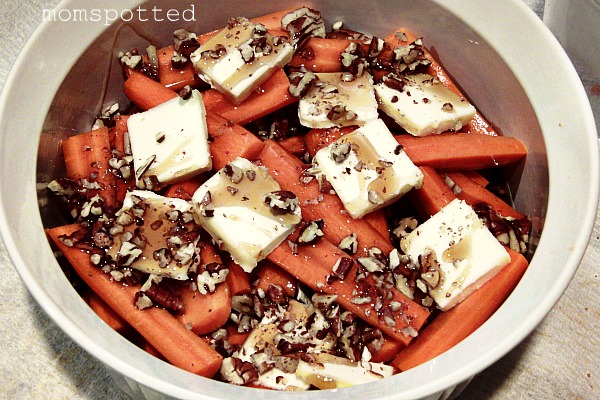 I stuck in the over at 425 for about 40 mins. Stab with a fork to make sure the carrots are soft.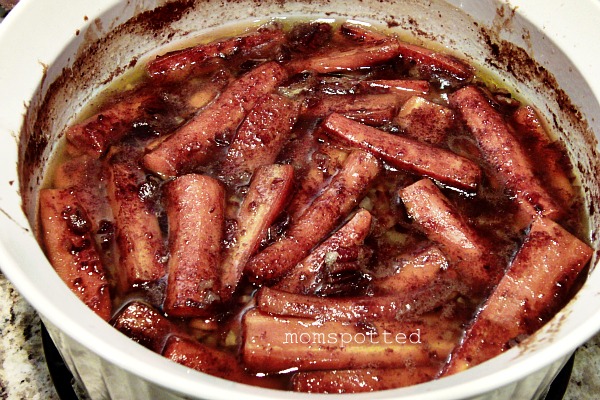 I brought them to the table in the dish I cooked them in and the used a slotted spoon to serve. Make sure you spoon out the pecan pieces because you definitely want to eat those up!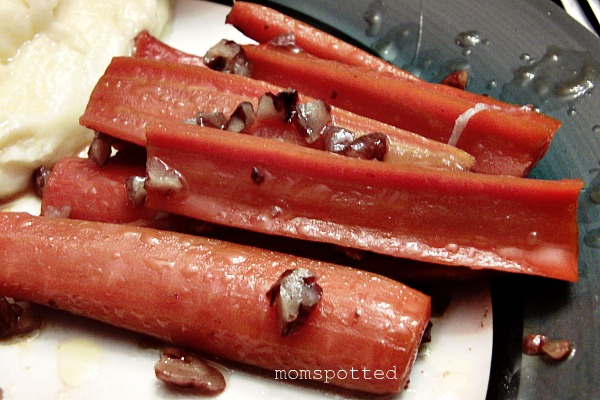 These are definitely the BEST carrots I have ever tasted or tried. I will never go back to making them any other way. Even Johnny and my husband were willing to give them a try since the smell that came from them was over the top amazing. I had spent the entire day cooking but the smell from these just stole the whole show! These are a must try, just do me a favor and don't use baby carrots!