I can't believe that Halloween is just around the corner! I feel like it was just yesterday that I was planning our summer! Of course the kids are loving the fact that they can get dressed up and go trick or treating and see how much candy they can get their hands on this year. Normally, when it comes to costumes they both have a list a mile long of what they want to be but not this year. They were both stumped.
So I sat Gavin down in front of my laptop and showed him all the available costumes on HalloweenCostumes.Org he didn't take long to tell me he really like the Childrens Deluxe Scooby Doo Costume.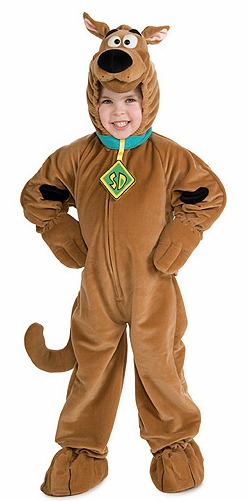 Join Shaggy, Scrappy and the rest of the gang in this deluxe Scooby Doo costume for children! This licensed, polyester costume includes a soft, brown jumpsuit that zips up in the front and is brown with black spots. Scooby's head is attached to the hood and sits on top of your child's head. It is filled with foam to maintain it's shape. The suit's dog paws slip on over the hands and shoes and are secured with elastic. The blue collar has the initials "SD" printed on the dog tag and is adjustable with elastic. A tail is also attached to the back of the jumpsuit. See just what kind of trouble you and the kids of Mystery Inc. can get into with this deluxe Scooby costume!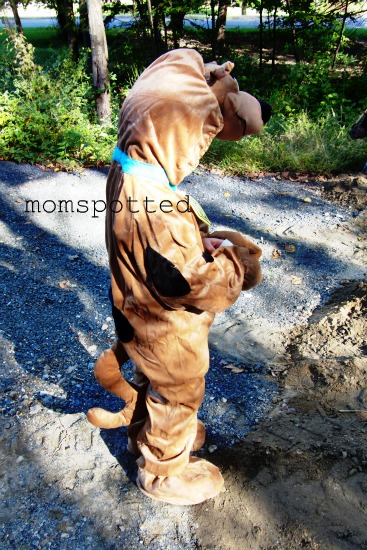 As a mom this costume couldn't have worked out perfectly. I love friendly looking costumes for children. I'm not a fan of the blood look. This costume was also not black. A few years back Johnny picked out a skeleton costume that when his backside was to us he vanished at night. It was so scary I said no more black costumes.
I also love this costume because for inside parties he can wear a tank and shorts and when we go outside during the crisp New England autumn he can wear sweats under it and stay nice and warm all while never covering his costume.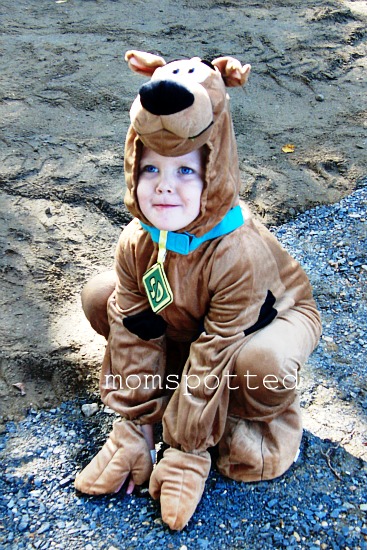 You can purchase the Childrens Deluxe Scooby Doo Costume directly from HalloweenCostumes.org for $44.99. It's available in several different sizes for the perfect fit as well!
Mom Spotted Review Policy: I was provided with the featured item(s) at no cost by the manufacturer and/or its PR agency in order to test the products abilities and give my own personal opinions on it. The opinions I have given are mine and may differ from others but it was not influenced in any manner by monetary means.