I'm sure you've seen the posters at the store entrances letting us know about the upcoming release of Spooky Buddies by now! My kids were all over it weeks ago! Well, the wait is almost over! Next week is the release on Tuesday, September 20th! The boys are going to be super excited to be able to see this movie when it arrives as we've seen and own all the previous 'buddy' movies!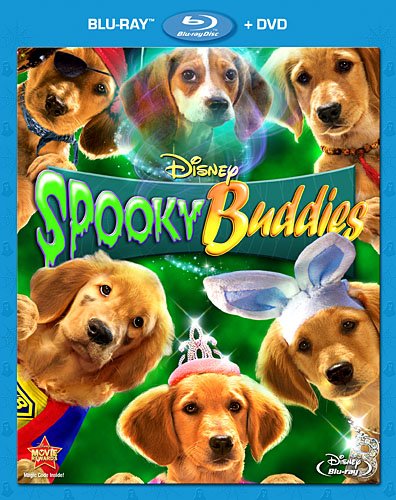 Disney's irresistible talking puppies are back in an all-new movie that takes them far across town to a mysterious mansion where something very spooky is going on. With the help of some unexpected new friends – including a friendly ghost, this exciting adventure is howling-good Buddy fun. In a race against a no good hound, the Buddies and their new friends, Pip, Zelda, Rodney and Skip must stop Warwick the Warlock – and save the world from his dastardly deeds. Overflowing with action, humor and a bag full of bonus features, "Spooky Buddies" is a spooktacular adventure that treats you to a celebration of friendship and teamwork your whole family will enjoy.
Your kids bugging you now for the movie? Hold them over with some fun printable activity sheets. Just click the link!
Here are some fun clips from the movie to get you excited!
Don't forget to pick up your own copy Tuesday, September 20th! The DVD & Blu-ray should be available at most stores such as Walmart and Target.