I learned about Hayneedle about two years ago. I was in awe with the online selection of products they carried. Being a product reviewer I was aware of some similar sites but normally on those sites I learned while they carried a big list of items they had limited choices once you knew what you were looking for. Until you went to Hayneedle. Not only do they have an amazing selection of products but they have more selections of choices on the items themselves. Their prices are generally the same or cheaper then the other sites but you can get everything you need all in one stop! Plus, so many things come with free shipping too!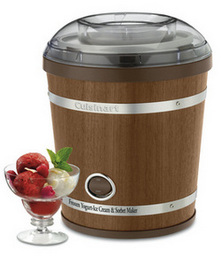 I was happy that the Cuisinart 2-Quart Frozen Yogurt-Ice Cream & Sorbet Maker came with a recipe book. Since the machine was only 4 pieces we were immediately thinking about what flavor we wanted to make first. While the boys wanted to get right into the fancy flavors I thought we should start with their simple chocolate recipe.
The recipe itself will take a few hours of chilling in the refrigerator once made and before it can go into the machine.  I never realized how easy it was otherwise. I poured it into the cold freezer bowl and turned the machine on. Walked away until 35 minutes later.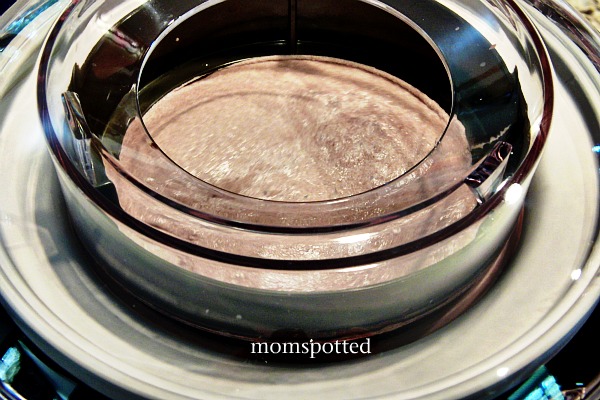 Here is what it looks like after about 35 minutes of being in the machine. I think it was supposed to get a little harder but I put the freezer bowl in for the minimum amount of time. We plan on putting it in the freezer over night next time but we were so excited so try it that we didn't want to wait til the next day knowing we had everything on hand to make it.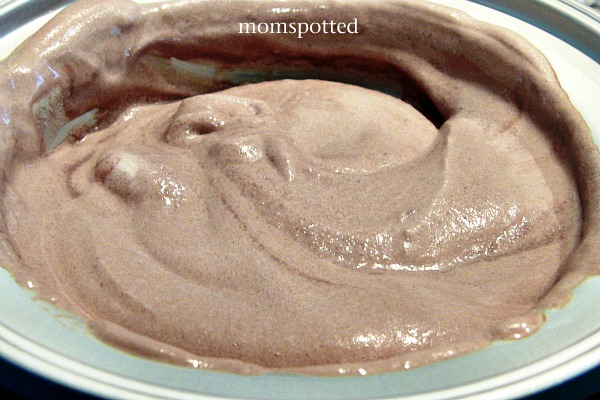 When it was done I poured the ice cream into an air tight container and placed it in the freezer. Since the ice cream was really soft I put what didn't fit in the container into a cup and it was the perfect consistency for a milkshake. It was SO good!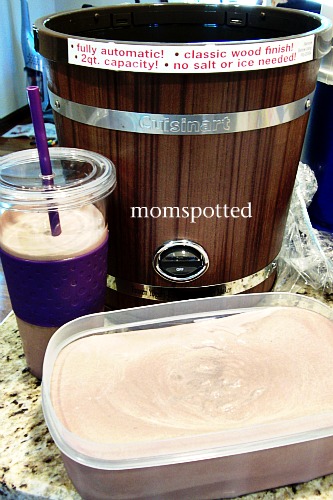 It says if you want your ice cream harder to put it in the air tight container and freeze for two additional hours. When we did that this is what we got. It was perfect.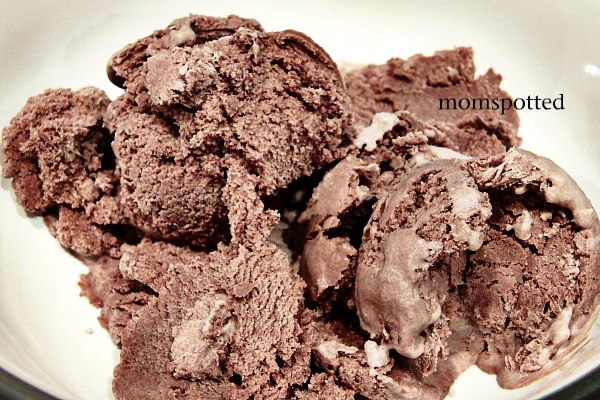 I've never made my own ice cream before but this ice cream was delicious. The taste was so much better then anything I had bought from the grocery store in the past. The process was rather time consuming but it was also our first time. In the future I'll be more prepared so we aren't anxiously awaiting. I can't wait to try out more flavors. The machine was easy to use, easy to clean, and pretty easy to store since it all stays together. It was a little on the loud side but I've heard all ice cream machines were loud. Just plan your churning time for when you don't have a baby sleeping near by.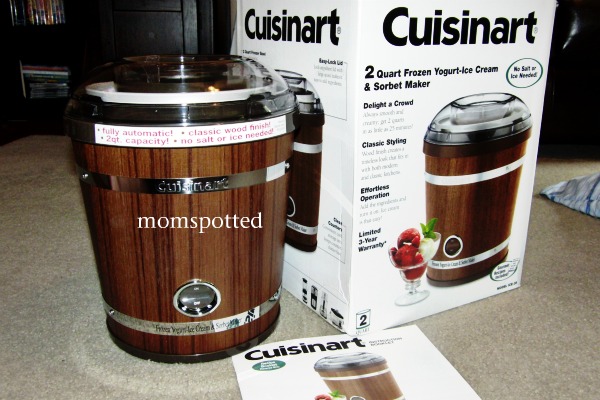 Hayneedle has offered one Mom Spotted Reader a Cuisinart 2-Quart Ice Cream Maker!!!

How to Enter:
1.) Visit Hayneedle and tell me what kitchen item you'd like from them.
Mandatory
How to earn additional entries:
2.) Become a follower on my blog (publicly- privately does not count)-leave another comment (or let me know if you already are) – 2 entries
3.) Subscribe to my blog by EMAIL (not feed) – 2 entries
4.) Blog about my giveaway- with a link back to here AND
Hayneedle
4 entries (get two more if you include a photo of the giveaway).
Post YOUR blog entry first and then the comment (please include the link directly to it not to your front page, and make an additional comment then the ones above.)
5.) Add my Mom Spotted button to your blog
6.) Follow
Hayneedle
on Twitter
7.) Follow
Mom Spotted
on Twitter AND Tweet about this giveaway-
Copy/Paste:
Win a Cuisinart 2-Quart Ice Cream Maker from @hayneedle & @MomSpotted #giveaway ends 9.26.11 http://wp.me/p18qpn-3PK
~this can be done once daily (leave link in comment)~
8.) Become a Fan of Mom Spotted on Facebook– leave me a comment
9.) Become a Fan of Hayneedle on Facebook! – Tell them what you love at their site
10.) Post on your facebook home page (1x daily):
Win a Cuisinart 2-Quart Ice Cream Maker from @Fantastic Sams & @Jennifer MomSpotted Giveaway Ends 9.26.11 http://wp.me/p18qpn-3PK
(Make sure it links to me and Fantastic Sams & put link in comment)
11.) Leave a relevant comment on any non-giveaway post (reviews are ok)
(Make sure to check out all my other giveaways!
Check the side bar to the right for list!)
That's many chances to win a Cuisinart 2-Quart Ice Cream Maker!!!
Contest ends September 26th at 11:59pm!
***USA Only***

Mom Spotted Review Policy: I was provided with the featured item(s) at no cost by the manufacturer and/or its PR agency in order to test the products abilities and give my own personal opinions on it. The opinions I have given are mine and may differ from others but it was not influenced in any manner by monetary means.