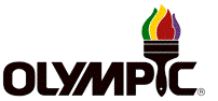 If your place is anything like mine you have a few rooms in your home that you wouldn't mind changing up a little. In my case I still have rooms in my house that have never been painted. See when we lost our home to the fire and rebuilt my hubby was so focused on moving back in that he said "we'll paint once we're in" because he didn't want to wait any longer once the permit to move in was signed. So on good faith we moved in. Now its three years later and my walls still aren't painted.
I finally talked him into getting some projects done around the house. I want to start decorating and finishing rooms but feel that I can't do that without some color in my home. He finally agreed and here I find myself pregnant. I thought for sure I'd have to call off all the projects because of the fumes. Nope, Olympic Paints have little to no VOC's! In other words- they are safe to use!

To be honest I have to admit that I never paid to much attention to paint. I thought they were all the same. Surprisingly, paints are not the same. In fact you'd be surprised just how different they are. Some brands can even have major differences within their own brand. One paint that has really caught my eye these days is the Olympic® ONE Paint! It can be used on properly prepared interior walls or ceilings in just about any room in your house right down to moisture prone rooms like the bathrooms and kitchen!
Benefits:
Paint + Primer in One
Extreme Hiding Power
Scrubbable & Durable
Superior Stain Resistance
Truer, Richer Color
Provides Mildew
Resistant Coating
Easy Application & Cleanup
Smooth Finish
100% Acrylic Formula
Low VOC
Lifetime Warranty
Backed by the Good Housekeeping Seal
Product Info:
Warranty: Lifetime Warranty
Finishes: Flat, Eggshell, Satin, Semi-gloss, Ceiling Flat
Sizes: Quart, Gallon, Five gallon
Approximate Gallon Coverage: 400 sq. feet (37.2 sq. meters)
Use our paint calculator to determine how much paint you need

While you're here and already in the process of planning your new project why not win $10,000 for your efforts. All you have to do is take a photo and share it on the Olympic Paint and Stain Facebook Wall.
 We're giving you 10,000 and ONE reasons to get your new project "Simply Done." Our new Olympic® ONE, formulated to offer the best in quality & durability as well as extreme hiding power & stain resistance, is a superior paint & primer in ONE without the premium price. So take a photo of your "Simply Done" Olympic® moment – be creative and include an Olympic® Paint can somewhere in the photo – for a chance to win $10,000!
For more information on the 'Simply Done' Olympic Paint Facebook Contest just click the bolded link and it will bring you right to where you need to be. Make sure to enter because it really is as easy as 1,2,3!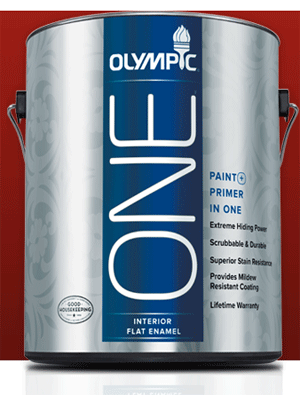 Olympic Paint has offered one Mom Spotted Reader a $60 Coupon towards Olympic Paint and Stain!!!

How to Enter:
1.) Visit Olympic Paint and tell me what room you would paint first.
Mandatory
How to earn additional entries:
2.) Become a follower on my blog (publicly- privately does not count)-leave another comment (or let me know if you already are) – 2 entries
3.) Subscribe to my blog by EMAIL (not feed) – 2 entries
4.) Blog about my giveaway- with a link back to here AND
Olympic Paint
4 entries (get two more if you include a photo of the giveaway).
Post YOUR blog entry first and then the comment (please include the link directly to it not to your front page, and make an additional comment then the ones above.)
5.) Add my Mom Spotted button to your blog
6.) Follow
Olympic Paint
on Twitter
7.) Follow
Mom Spotted
on Twitter AND Tweet about this giveaway-
Copy/Paste:
Win a $60 Coupon towards Olympic Paint and Stain from@InspiredColor  &
@MomSpotted #giveaway ends 8.28 http://wp.me/p18qpn-3I7
~this can be done once daily (leave link in comment)~
8.) Become a Fan of Mom Spotted on Facebook– leave me a comment
9.) Become a Fan of Olympic Paint on Facebook! – Tell them what you love at their site
10.) Post on your facebook home page (1x daily):
Win a $60 Coupon towards @Olympic Paint and Stain at @Jennifer MomSpotted Giveaway Ends 8.28 http://wp.me/p18qpn-3I7
(Make sure it links to me and Olympic Paint and Stain & put link in comment)
11.) Leave a relevant comment on any non-giveaway post (reviews are ok)
(Make sure to check out all my other giveaways!
Check the side bar to the right for list!)
That's many chances to win a $60 Coupon towards paint!!!
Contest ends August 28st at 11:59pm!
www.olympic.com
***USA Only***

Mom Spotted Review Policy: I was provided with the featured item(s) at no cost by the manufacturer and/or its PR agency in order to test the products abilities and give my own personal opinions on it. The opinions I have given are mine and may differ from others but it was not influenced in any manner by monetary means.