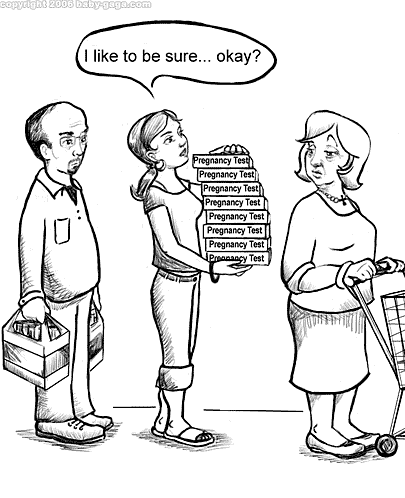 Being TTC (trying to conceive) for so many years the photo above actually explains more then just this pregnancy as I was testing on a regular basis. Many times I couldn't move on to a new cycle until I tested. However, when one of my tests actually gave me a BFP (big fat positive) I almost fell on the floor. I immediately thought "Well, this test HAS to be defective" and grabbed another test.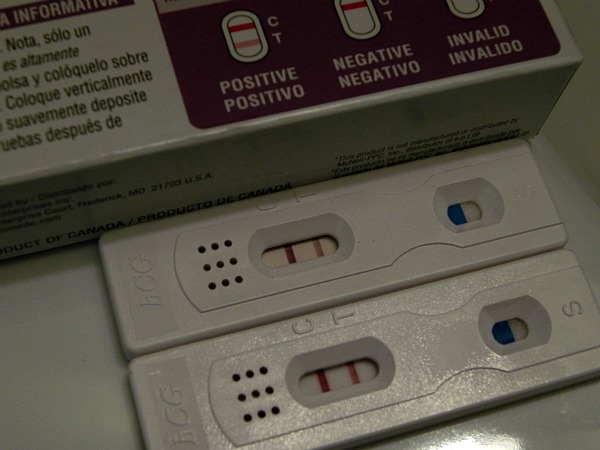 I grabbed my camera and took the above photo and immediately emailed a friend. I wanted to have someone else look at it so I knew I wasn't seeing things. Since I already had a stock of tests on hand I proceeded to test again the next morning, lunch, and dinner. When all those came back positive I was still in denial. I tested again the next morning and called my OB. I was irritated as the my specialist was on vacation and the receptionist who clearly didn't know the years of heartbreak I had gone through giggled at me clearly thinking I was nuts. She drilled me with 9000 questions and I continued to tell her I just needed an HCG blood test. Still giggling she tries telling me that if a handful of tests gave me a positive result I'm pregnant and a blood test isn't necessary. At this point my hormones are on overdrive and I'm still trying to not let my kids hear any of this conversation. I basically tell her this has never been a problem and I'm not waiting a week for my fertility specialist to return. She reluctantly gave in.
Of course the blood work came back positive too.
So, I'm curious. I know when you guys saw my pic of the three tests I got a lot of comments on how many I took. Little did anyone know that was day #2's tests. Some felt better knowing they weren't the only crazy people taking test after test. One girl even told me she tested up until her first U/S (which I have to honestly admit I've toyed with the idea). Others said they took one test and that's all they needed.
So, how many tests did you take to confirm a positive result? Did you still need a blood test after to make it official?