We've done a lot of road trips in the past few years. It seems with everyone we get a little better. Of course the road trips that included our kids are a bit more chaotic and a bit more stressful but all the more fun. Jif knows just how much work it is planning a road trip and wanted to share some great tips:
Get the whole family involved in planning getaways and have each person choose at least one activity so everyone is looking forward to the trip.
Bring travel-friendly snacks everyone loves, like Jif To Go Peanut Butter.  Each 1.5-ounce cup is perfect for dipping while you minimize mess and maximize portability.
Play travel-related games such as I-spy or license plate bingo.  They're a great way to pass the time and keep the entire family entertained.
Some of my own tips are:
Make a list. Start it a week before you leave. Every time you think of something you need write it down. When it comes time to pack up and load in you'll feel less stress knowing you have everything that was on your list.
Have each child pack their own "toy bag". Give them a few pointers such as books, video games, favorite animals. Then make sure when everyone loads into the car they have their personal bag with them.
If your trip is long I highly recommend a portable DVD player. When they get antsy or need help falling asleep a movie always does the trick. To keep "stuff" to a minimum invest in a small binder to hold your DVD's in.
When you take the time to prepare and pack accordingly it will pay off and your trip will be enjoyable.
With two growing boys I can tell you if we don't pack snacks we are pulling over every other hour. What happens when you're making pit stops for food? You're generally making bad choices with fast food places or convenience stores. Not only is my family eating unhealthy foods but we're also spending additional money that could be used for more fun things.
I love the idea of these Jif To Go Peanut Butter cups. As you know while Peanut Butter is high in fat its benefits far outweigh it. Peanut Butter is also high in both dietary fiber and in protein. This isn't just good for helping keep the hunger levels away but also keeping your sugar levels up. This is a plus for when you're driving!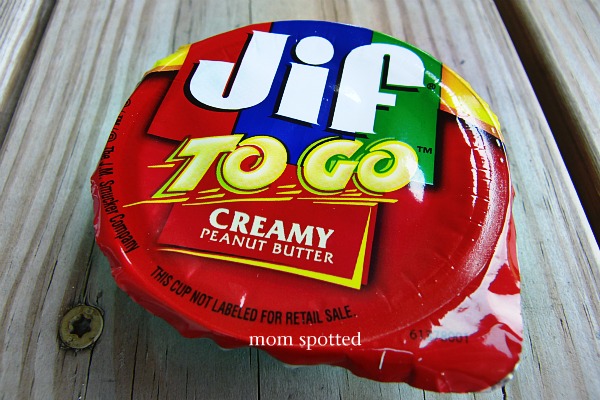 These little cups are only 1.5 ounces but it's more then enough to leave you satisfied. You can pack crackers, pretzels, celery, and more to make it different each time too.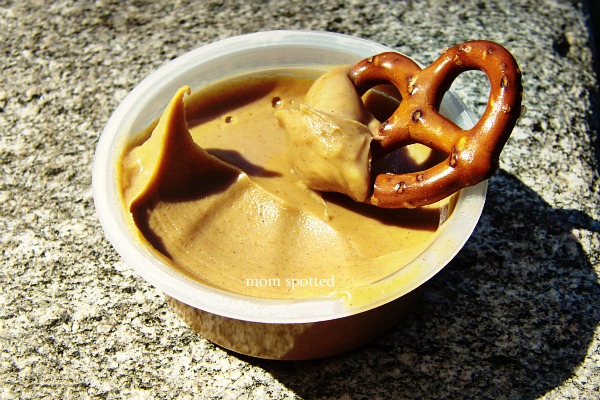 My boys are always excited when their snacks can go wherever they go. As an avid boating family I can see these also being a great hit out on the water. We don't have to worry about it going bad if not left in the cooler or that it will make a mess since they are secure until you open them and then they just go right in the trash!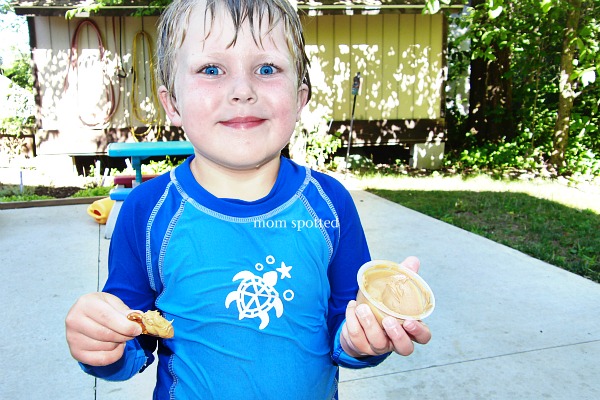 Jif wants to help make your summer road trips as easy as possible and has provided me with this great summer travel pack.
Each Jif To Go Travel Pack includes:
Jif To Go Creamy Peanut Butter

3-pack (1.5 oz. cups)
8-pack (1.5 oz. cups)

Tote Bag
Garmin GPS
$50 gift card to AutoZone
Jif  travel mug
Travel Scrabble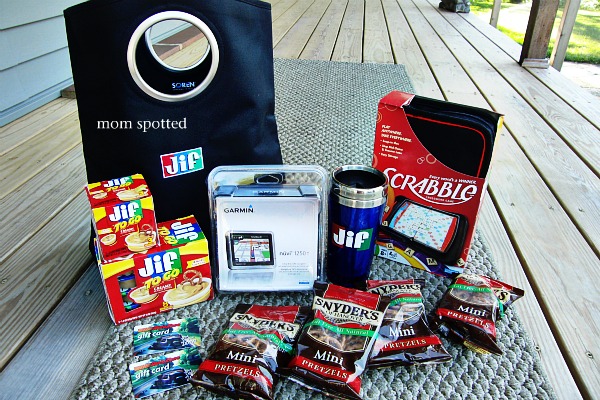 Fresh Produce has offered TWO Mom Spotted Readers the awesome Travel Pack pictured above!!!
How to Enter:
1.) Visit Jif and tell me what recipe you'd like to try of theirs.
Mandatory
How to earn additional entries:
2.) Become a follower on my blog (publicly- privately does not count)-leave another comment (or let me know if you already are) – 2 entries
3.) Subscribe to my blog by EMAIL (not feed) – 2 entries
4.) Blog about my giveaway- with a link back to here AND Jif 4 entries (get two more if you include a photo of the giveaway).
Post YOUR blog entry first and then the comment (please include the link directly to it not to your front page, and make an additional comment then the ones above.)
5.) Add my Mom Spotted button to your blog
6.) Follow Mom Spotted on Twitter AND Tweet about this giveaway-
Copy/Paste:
Win a Travel Pack loaded with a Garmin GPS, $50 GC, and loads of Jif goodies #MomSpotted #giveaway Ends 8.7.11 http://wp.me/p18qpn-3zU
~this can be done once daily (leave link in comment)~
7.) Become a Fan of Mom Spotted on Facebook– leave me a comment
8.) Become a Fan of JIF on Facebook! – Tell them what you love at their site
9.) Post on your facebook home page (1x daily):
Win a Travel Pack loaded with a Garmin GPS, $50 GC, and loads of @Jif goodies @Jennifer MomSpotted Giveaway Ends 8.7.11 http://wp.me/p18qpn-3zU
(Make sure it links to me and Jif & put link in comment)
10.) Leave a relevant comment on any non-giveaway post (reviews are ok)
(Make sure to check out all my other giveaways!
Check the side bar to the right for list!)
That's many chances to win an awesome travel pack!!!
Contest ends August 7th at 11:59pm!
***USA Only***
Mom Spotted Review Policy: I was provided with the featured item(s) at no cost by the manufacturer and/or its PR agency in order to test the products abilities and give my own personal opinions on it. The opinions I have given are mine and may differ from others but it was not influenced in any manner by monetary means.