I have to be honest with you. When I was asked to give the Pouchee Purse Organizer a try I wasn't sure if it was something I was going to like. I'm pretty particular when it comes to my handbags and this was new to me. I decided to go with the Pouchee Plus. It was a purse organizer as well as able to be a purse itself. I liked the color and the style I just had to see how organized this itty bitty bag really was.
Pouchee Purse Organizer Inserts is specifically designed to fit inside purses to make women's lives easier and more organized. Not only does it have compartments for credit cards, cell phones, pens, sunglasses, and more- making it easy to find exactly what you're looking for- but it also makes changing bags for different occasions and outfits a breeze. With the Pouchee Purse Organizer- all your essentials are in one organized place and handy rings lift the Pouchee Purse Organizer right out of your bag and into the new one – this is great for busy, fashion-conscience women because they can switch to coordinating purses in just a few seconds!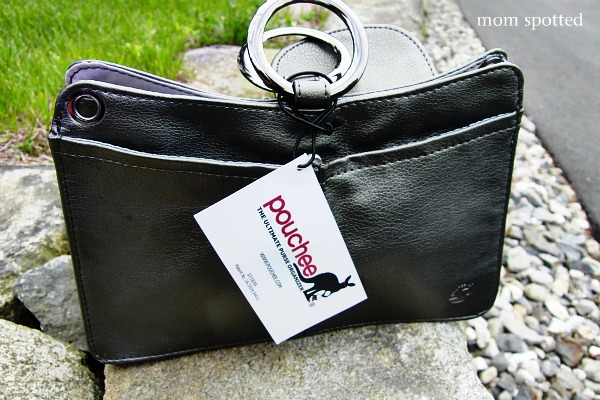 When my Pewter Pouchee Plus Purse Organizer arrived I was immediately impressed. I really loved the dark silver circles at the top that are used to easily grab it out of your purse. On the front there were two side pockets and then the back had a slot that could keep your phone, another side pocket, and then not to waste any space a pen slot.
The Pouchee Plus is the larger version of the Pouchee Purse Organizer and comes with an optional shoulder strap. The Pouchee Plus is great for organizing large purses and for use as a small purse itself! Dimensions: Width: 9" x Height: 6" x Depth: 3.5"
Here you can see that it snaps closed so if you're using it as the purse you have a little protection.
Features:

Credit card pockets on the inside of the purse organizer
Optional strap to use as a small purse or evening bag
Made of soft vinyl that is durable and supple
Inside dividers to keep everything organized.
No Wrapping – No Assembly – No Hassle Purse Organizer
The Ultimate Purse Organizer!
Inside Zippered pockets for change or personal items.
Handy Rings for ease of changing purses and bags.
Outside pockets for pens, sunglasses, mobile phone,etc.
Inside pockets for lipsticks or small flashlights, credit cards, keys
Light-colored liner to easily see organizer contents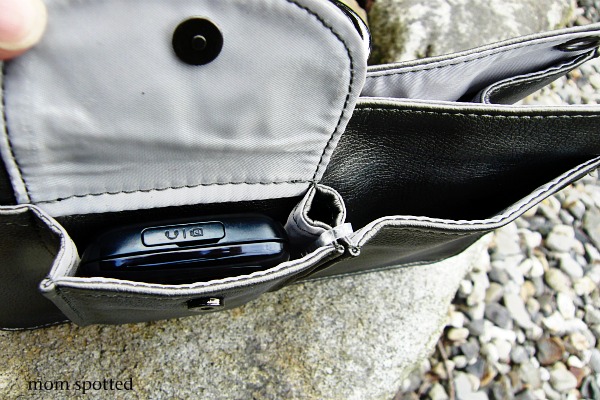 Here it is empty and pulled open. Look at all the little pockets and slots. I love that there are dividers between the sections. This helps keep smaller stuff right where you need it.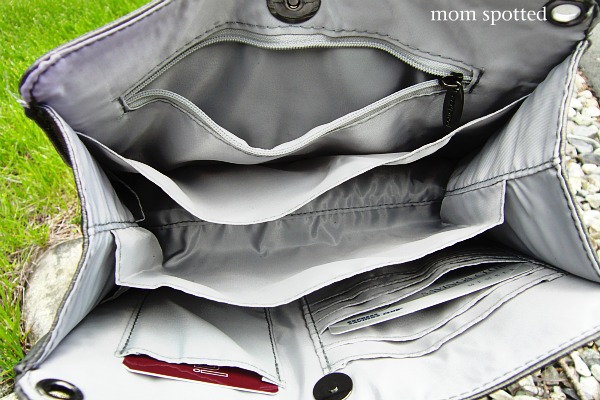 I have to tell you I will be using this as my purse and not in a purse. I love how small and functional it is. It's still super fashionable too! You can see here how much room I still have once I put my coach wallet inside.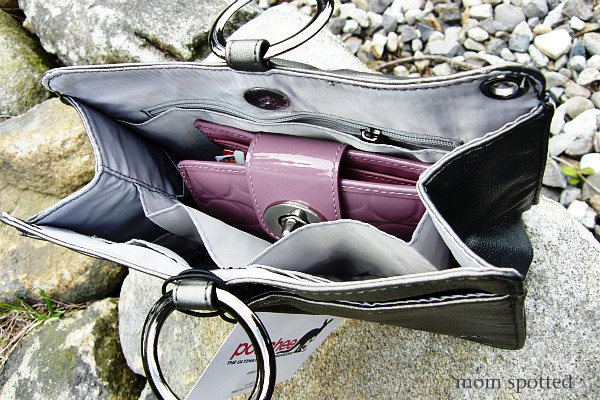 Even though it can easily hold my wallet if I want there are slots all over for cards, ID's, and more. I love the snap at the top so you can close it and keep it closed.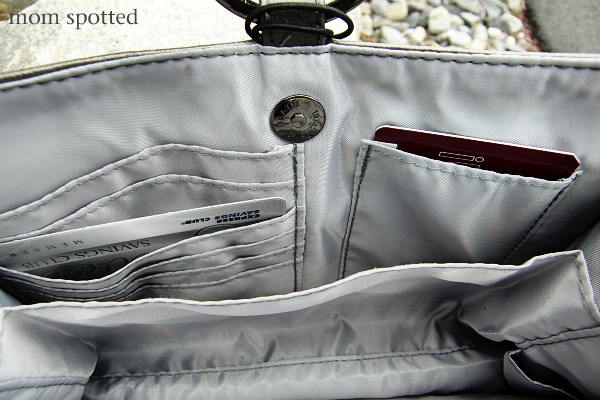 I love that they know it's cute enough to use as is and even give you a shoulder strap that is removable. It clips on easily through the openings on the top.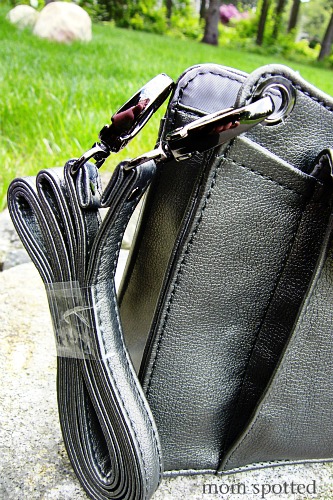 I'm definitely happy with my Pouchee Purse Organizer. I am always hunting down things like chapstick, pens, and coupons. This has helped me stay organized and have everything I need all while being small and easy to carry around. This would be a great option for traveling.
Pouchee Purse Organizer has offered one Mom Spotted Reader a Pouchee of choice!!!

How to earn additional entries:
2.) Become a follower on my blog (publicly- privately does not count)-leave another comment (or let me know if you already are) – 2 entries
3.) Subscribe to my blog by EMAIL (not feed) – 2 entries
4.) Blog about my giveaway- with a link back to here AND
Pouchee Purse Organizer
4 entries (get two more if you include a photo of the giveaway).
Post YOUR blog entry first and then the comment (please include the link directly to it not to your front page, and make an additional comment then the ones above.)
5.) Add my Mom Spotted button to your blog
6.) Follow
Pouchee
on Twitter
7.) Follow
Mom Spotted
on Twitter AND Tweet about this giveaway-
Copy/Paste:
Win a Pouchee Purse Organizer from @pouchee & @MomSpotted #giveaway ends 6.12.11 http://wp.me/p18qpn-3db US & CAN
~this can be done once daily (leave link in comment)~
8.) Become a Fan of Mom Spotted on Facebook– leave me a comment
9.) Become a Fan of Pouchee on Facebook! – Tell them what you love at their site
10.) Post on your facebook home page (1x daily):
Win a Pouchee Purse Organizer from @Pouchee – The Ultimate Purse Organizer & @Jennifer MomSpotted Giveaway Ends 6.12.11 http://wp.me/p18qpn-3db US & CAN
(Make sure it links to me and Pouchee & put link in comment)
11.) Leave a relevant comment on any non-giveaway post (reviews are ok)
(Make sure to check out all my other giveaways!
Check the side bar to the right for list!)
That's many chances to win a Pouchee Purse Organizer!!!
Contest ends June 12th at 11:59pm!
***USA & Canada Only***

Mom Spotted Review Policy: I was provided with the featured item(s) at no cost by the manufacturer and/or its PR agency in order to test the products abilities and give my own personal opinions on it. The opinions I have given are mine and may differ from others but it was not influenced in any manner by monetary means.