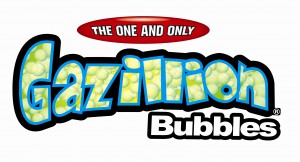 All kids love bubbles and I'm pretty sure that most if not all adults do as well. Don't get me wrong all bubble solution makes a bubble but until you use  Funrise Gazillion bubbles you don't know what a good bubble is really like. I'll admit before I used Gazillion bubbles I thought it was a crock but after using them for several years now I will tell you there is definitely a difference in the bubble quality.
This year we had the luck of getting to test out both the Gazillion Bubble Cyclone and Gazillion Incredibubble Wand!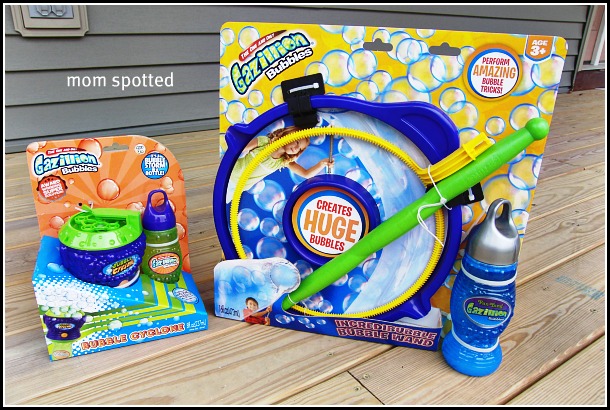 The Gazillion Incredibubble Wand is by far the entire family's favorite. I have no shame in telling you that I wait for my turn to use this. This Gazillion Incredibubble Wand is seriously the best bubble wand we've ever used and both my boys have been big on bubbles! What I really like is that we bought this wand a few years ago and was so sad when the handle snapped making it so we couldn't use it anymore. I'm really happy to say that they redesigned it and I don't see that happening again!
The New Gazillion Incredibubble Wand lets you make bubbles as big as you! Simply pour the Gazillion solution into the tray, dip the wand into the solution and wave the wand to create enormous bubbles! Includes a 16 oz. bottle of the Special Super Strength Blue Gazillion Bubble solution.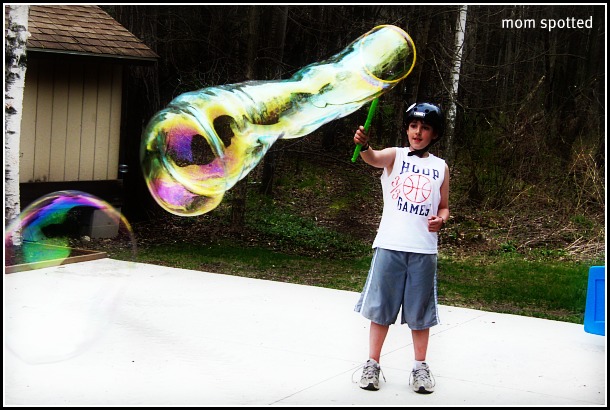 Not only will you get amazing long and big bubbles but you'll also walk away with lots of fun pictures if you have your camera near by. Gavin was loving this bubble as it was just as big as he was! One thing I really do want to note is that I really don't recommend using this wand with other kinds of bubbles. It breaks almost every time you life the handle causing very frustrated kids. So make sure to pick up extra bubble solution and you're kids will play endlessly!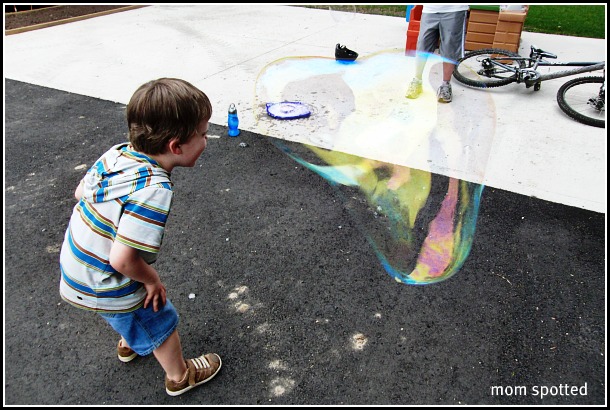 We also got to try the Gazillion Bubble Cyclone. This was a new product for us and we (as always with Gazillion) were definitely pleased. This reminded us a lot of a bubble blower but Gavin was able to pick it up and walk around with it. It's like a bubble torch. Set it on the ground, carry it all around, no matter what you're going to end up with lots of bubbles!
The new Gazillion Bubble Cyclone puts the power of a bubble storm in your hands! Just screw the mini-machine onto the Gazillion Bubbles solution bottle, push the button and enjoy a whirlwind of mini-bubbles! Hold your bubble torch up high, or set it down for a perfect bubble scene. Great for birthday parties, or an outside picnic! Available with 8 oz. or 32 oz. bottle of The One and Only Gazillion Bubble solution. Includes bottle base. Requires 3 "AAA" not included.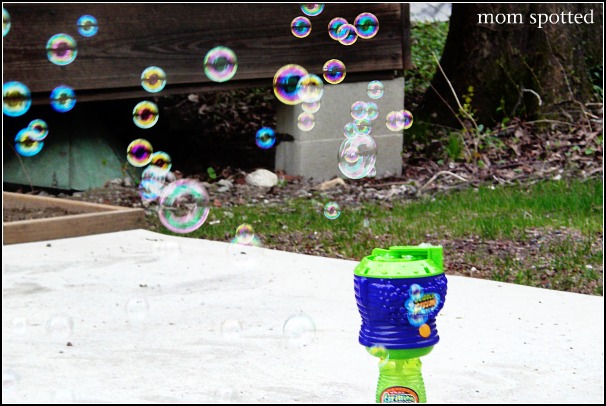 Make sure to enter the Ultimate Gazillion Bubbles Photo Contest where you could win a $1000 Toys R Us gift card as the grand prize. Each month there will also be a $250 Toys R Us Gift card winner! Contest runs until July 22, 2011 so head on over to enter! I did!
Funrise Toys has offered one Mom Spotted Reader the TWO Gazillion Bubble toys listed above!!!

How to Enter:
1.) Visit
Funrise Toys
and what other Gazillion Bubbles item you like.!

Mandatory
How to earn additional entries:
2.) Become a follower on my blog (publicly- privately does not count)-leave another comment (or let me know if you already are) – 2 entries
3.) Subscribe to my blog by EMAIL (not feed) – 2 entries
4.) Blog about my giveaway- with a link back to here AND
Funrise Toys
4 entries (get two more if you include a photo of the giveaway).
Post YOUR blog entry first and then the comment (please include the link directly to it not to your front page, and make an additional comment then the ones above.)
5.) Add my Mom Spotted button to your blog
6.) Follow
Funrise
on Twitter
7.) Follow
Mom Spotted
on Twitter AND Tweet about this giveaway-
Copy/Paste:
Win TWO Gazillion Bubble Toys from @Funrise_Toys & @MomSpotted #giveaway ends 5.22 http://wp.me/p18qpn-32y
~this can be done once daily (leave link in comment)~
8.) Become a Fan of Mom Spotted on Facebook– leave me a comment
9.) Become a Fan of Funrise Toys on Facebook! – Tell them what you love at their site
10.) Post on your facebook home page (1x daily):
Win TWO Gazillion Bubble Toys from @Funrise Toys & @Jennifer MomSpotted Giveaway Ends 5.22 http://wp.me/p18qpn-32y
(Make sure it links to me and Funrise Toys & put link in comment)
11.) Leave a relevant comment on any non-giveaway post (reviews are ok)
(Make sure to check out all my other giveaways!
Check the side bar to the right for list!)
That's many chances to win TWO Gazillion Bubble Toys!!!
Contest ends May 22nd at 11:59pm!
***USA Only***

Mom Spotted Review Policy: I was provided with the featured item(s) at no cost by the manufacturer and/or its PR agency in order to test the products abilities and give my own personal opinions on it. The opinions I have given are mine and may differ from others but it was not influenced in any manner by monetary means.