Do you drink soda? Do you know how much waste your bottles and cans add up too? Well when I went to the Housewares Show in Chicago SodaStream showed us just how much the average family adds to our landfill in just soda containers alone. It's quite the visual isn't it? This picture does it no justice, believe me.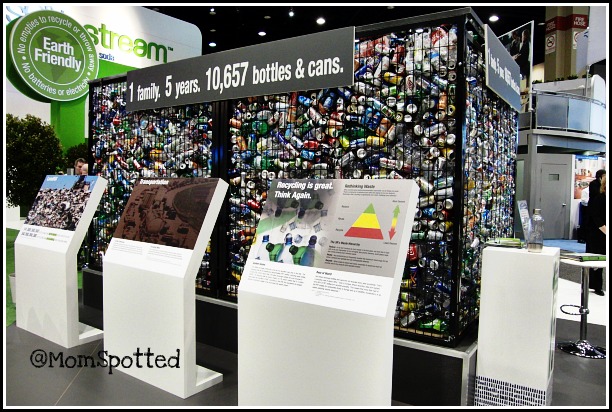 Another thing I didn't realize about SodaStream? That they have over 100 flavors to choose from!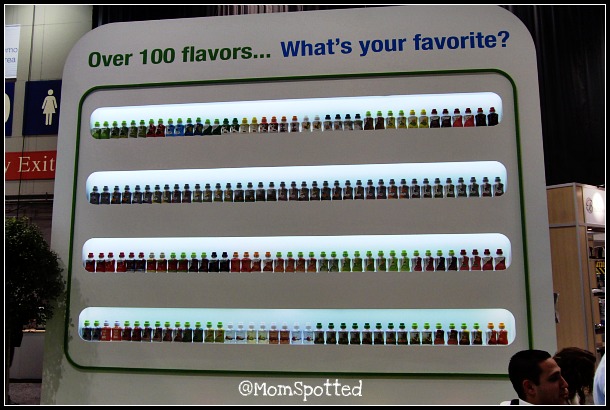 Home Soda Makers
Making carbonated water and soft drinks is simple! Turn tap water into sparkling water in under 30 seconds, with no clean-up. Enjoy the freshness and convenience of homemade soda and protect the environment at the same time. No heavy bottles to carry, store at home or throw away. Fizz to your taste and add the flavor of your choice to make your favorite drink. Simple to clean and reuse. With a variety of colors and silhouettes, you'll be sure to find a soda maker to match with any decor.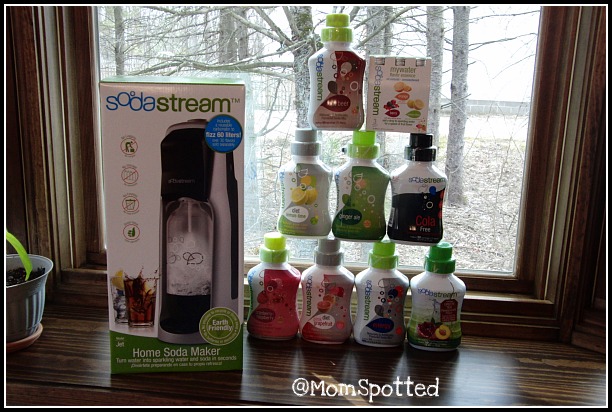 They aren't just your typical soda either. They have Sparkling Teas, MyWater Essence Flavors, and more!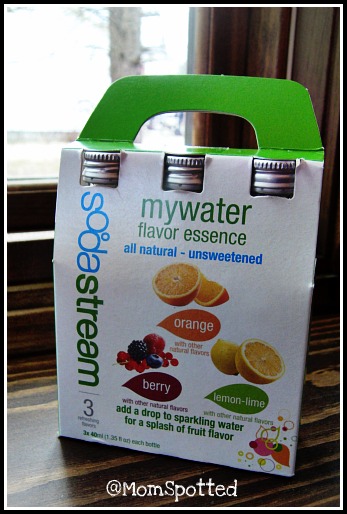 Now using the Fountain Jet is incredibly easy.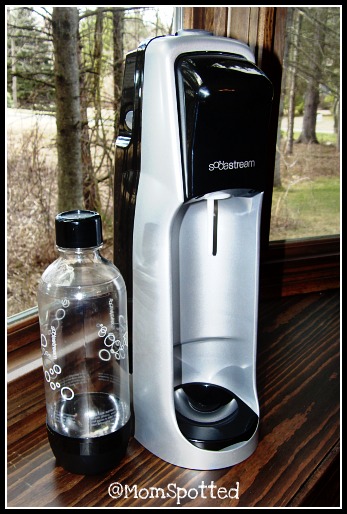 There really isn't much too it. The carbonators slips in the back of the machine. Make sure you have one of the Carbonating Bottles near by.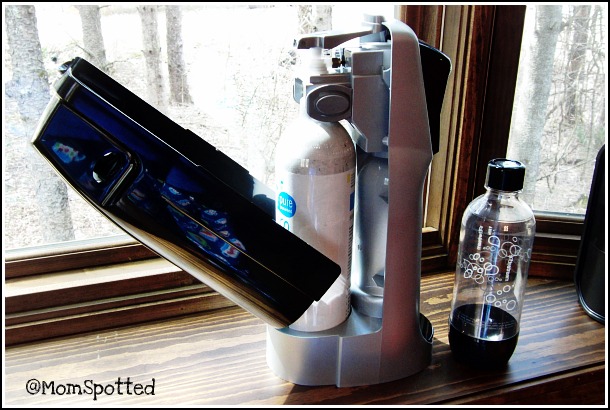 That Carbonating Bottles needs to be filled up with water, but don't exceed the max line. Then without the cover screw the bottle to the machine.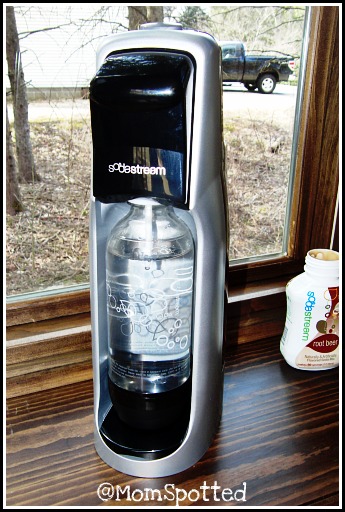 On top of the machine is a button. Push down on it hard three times. You'll hear a loud buzz. This means you're doing it right. The first time it may startle you're kids.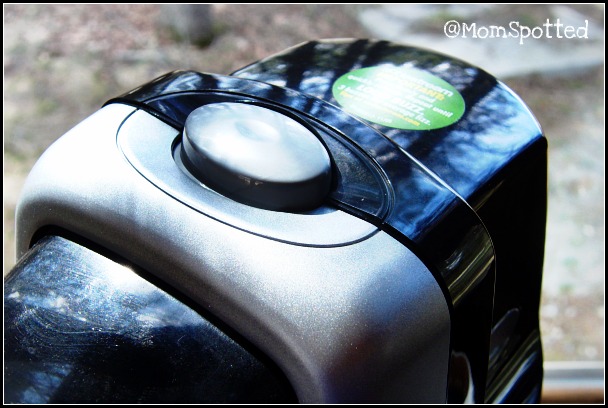 Then grab the flavor you prefer. Fill the cap.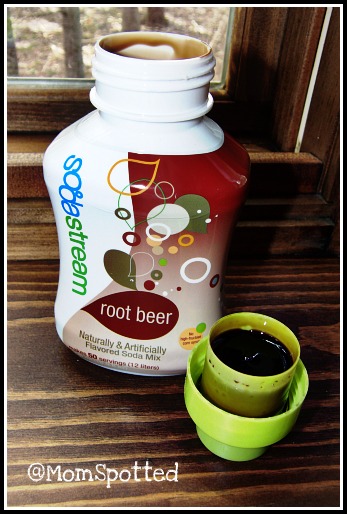 Very slowly pour it into the bottle. Then screw the cap on tightly and SHAKE. Crazy sounding, huh? Don't worry it won't explode when you open it right afterwards.
We love using it, in fact my 10 year old loves using it. We're not incredibly big soda drinkers but Johnny loves to make a cup for fun on the weekends. It's simple to use and a little goes a long way. It's inexpensive and easy. Most importantly- it tastes great!  Takes up barely any space on your counter too. Far less space then the cases or liters you'd have to store.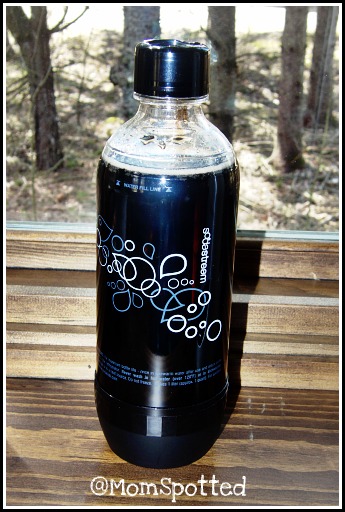 SodaStream has offered one Mom Spotted Reader a Fountain Jet Soda Lover's Start-Up Kit (approx. $100 retail value.)!!!
It includes the winner's choice of black/silver, white or red/silver Fountain Jet, CO2 to make over 100 liters of soda, 2 reusable carbonating bottles, a sample pack of flavors, and 3 full-sized flavors of the winner's choice.

How to Enter:
1.) Visit
SodaStream
and tell me what THREE flavors you'd pick!

Mandatory
How to earn additional entries:
2.) Become a follower on my blog (publicly- privately does not count)-leave another comment (or let me know if you already are) – 2 entries
3.) Subscribe to my blog by EMAIL (not feed) – 2 entries
4.) Blog about my giveaway- with a link back to here AND
SodaStream
4 entries (get two more if you include a photo of the giveaway).
Post YOUR blog entry first and then the comment (please include the link directly to it not to your front page, and make an additional comment then the ones above.)
5.) Add my Mom Spotted button to your blog
6.) Follow
SodaStream
on Twitter
7.) Follow
Mom Spotted
on Twitter AND Tweet about this giveaway-
Copy/Paste:
Win a $100 Fountain Jet Soda Lover's Start-Up Kit from @SodaStream & @MomSpotted #giveaway ends 5.1 http://wp.me/p18qpn-2eb
~this can be done once daily (leave link in comment)~
8.) Become a Fan of Mom Spotted on Facebook– leave me a comment
9.) Become a Fan of SodaStream on Facebook! – Tell them what you love at their site
10.) Post on your facebook home page (1x daily):
Win a $100 Fountain Jet Soda Lover's Start-Up Kit from @SodaStream & @Jennifer MomSpotted Giveaway Ends 5.1 http://wp.me/p18qpn-2eb
(Make sure it links to me and SodaStream & put link in comment)
11.) Leave a relevant comment on any non-giveaway post (reviews are ok)
12.) Vote for MomSpotted on HopScout Takes 2 seconds- no registration required! (2 entries)
(Make sure to check out all my other giveaways!
Check the side bar to the right for list!)
That's many chances to win a $100 Fountain Jet Soda Lover's Start-Up Kit!!!
Contest ends May 1st at 11:59pm!
www.sodastream.com
***USA Only***

Mom Spotted Review Policy: I was provided with the featured item(s) at no cost by the manufacturer and/or its PR agency in order to test the products abilities and give my own personal opinions on it. The opinions I have given are mine and may differ from others but it was not influenced in any manner by monetary means.