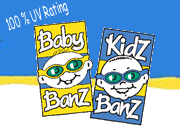 It's crazy to think that Baby BanZ is 10 years old this year! That's 10 years of protecting our children from the harmful sun and all the damage it can cause to the skin of our little ones. They were first sold in Australia which is known for being one of the harshest UV zones in the world. Shortly after they opened their market up to the American Market and is now well known all across the world.
Baby Banz knows how harmful the sun can be and how it can affect not only our skin but our eyes as well. They sell quality products to protect our children right from the start and they aren't just limited to sun protection but also provide eye protection for special needs and ear protection too!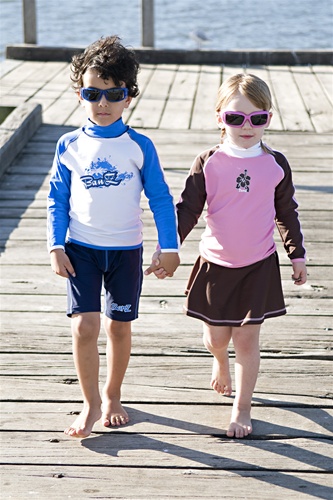 When Johnny was little I wasn't as in tuned to all the damaging powers of the sun. He never burns and sunscreen usually did the trick. Maybe I was naive about the damage that can be done even when a burn doesn't come with it. Gavin, however, was a completely different story. He could just look outside and get a sunburn. His pale skin was always a target. I found 70SPF sunscreen and he still burned with that. I needed something else. Then I was introduced to protective sunwear.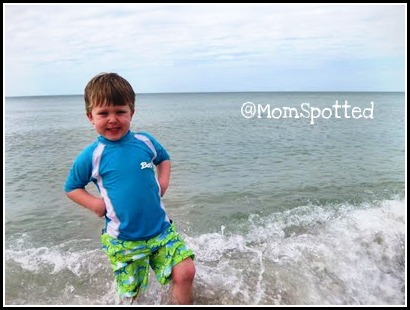 The first year we tried it out I went with the short sleeves thinking that he'd get hot with the long sleeves. While it did give him the extra coverage he needed the extra coverage. Then last year I was able to work with Baby BanZ again and went with the long sleeve top and it was perfect. He never complained of overheating and I knew he was always protected.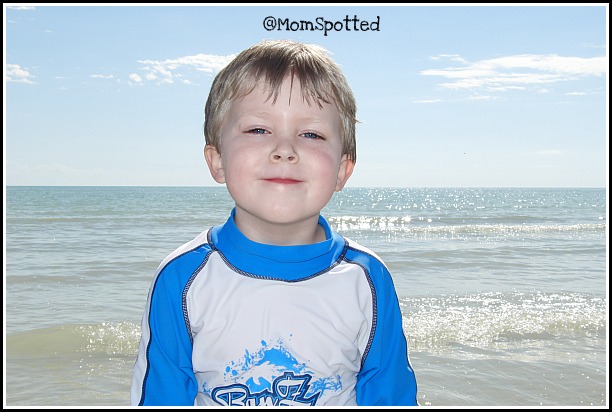 So, this year of course I'm all about protecting him! I absolutely love the UV Board Shorts for Boys and Girls that Baby BanZ carries! They are perfect for the big boy he is now becoming! Plus, they even have cute coordinating protective tops. I, of course, love the UV Long Sleeve Rash Tops but they also have coordinating UV Short Sleeve Rash Tops too!
Banz swimsuits were originally designed in Australia for one of the world's toughest UV environments. Our board shorts are cut generously to provide maximum protection and comfort. Boys shorts have netting built in, girls do not. Side Seam pockets on both. All Banz swimwear has been clinically tested to a rating of UPF 50+.

Features
UPF 50 + Rating
Clinically tested to exceed Australian Standards
Material: Polyester
Mesh built in brief for boys colors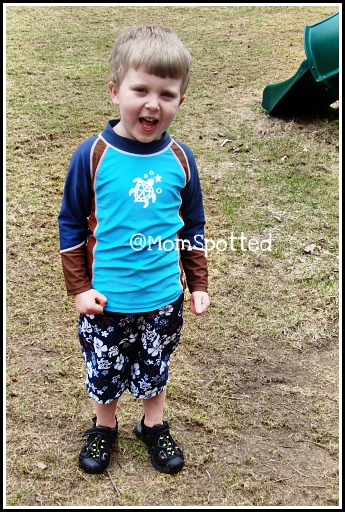 Don't think that your kids are limited to wearing their UV Swimwear only in the water. It's great for playtime too! It moves well with your child and won't slow them down. The sun doesn't take a break so why should your child?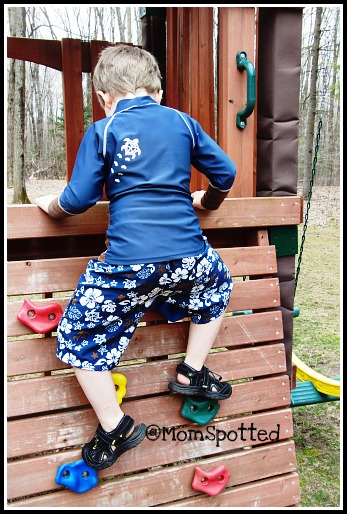 You can purchase the UV Board Shorts for Boys and Girls for $20 each, the UV Short Sleeve Rash Tops for $22, and the UV Long Sleeve Rash Tops for $24.

Baby BanZ has offered one Mom Spotted Reader a UV Rash Top & UV Board Shorts Set of their color choice!!!

How to Enter:
1.) Visit
Baby BanZ
and tell me what sunglasses you like best and in what color!

Mandatory
How to earn additional entries:
2.) Become a follower on my blog (publicly- privately does not count)-leave another comment (or let me know if you already are) – 2 entries
3.) Subscribe to my blog by EMAIL (not feed) – 2 entries
4.) Blog about my giveaway- with a link back to here AND
Baby BanZ
4 entries (get two more if you include a photo of the giveaway).
Post YOUR blog entry first and then the comment (please include the link directly to it not to your front page, and make an additional comment then the ones above.)
5.) Add my Mom Spotted button to your blog
6.) Follow
Baby BanZ
on Twitter
7.) Follow
Mom Spotted
on Twitter AND Tweet about this giveaway-
Copy/Paste:
Win a UV Rash Top & UV Board Shorts Set from @babybanz & @MomSpotted #giveaway ends 5.1.11 http://wp.me/p18qpn-2fZ
~this can be done once daily (leave link in comment)~
8.) Become a Fan of Mom Spotted on Facebook– leave me a comment
9.) Become a Fan of Baby BanZ on Facebook! – Tell them what you love at their site
10.) Post on your facebook home page (1x daily):
Win a UV Rash Top & UV Board Shorts Set from @Baby Banz & @Jennifer MomSpotted Giveaway Ends 5.1.11 http://wp.me/p18qpn-2fZ
(Make sure it links to me and Baby Banz & put link in comment)
11.) Leave a relevant comment on any non-giveaway post (reviews are ok)
12.) Vote for MomSpotted on HopScout Takes 2 seconds- no registration required! (2 entries)
(Make sure to check out all my other giveaways!
Check the side bar to the right for list!)
That's many chances to win a UV Rash Top & UV Board Shorts Set!!!
Contest ends May 1st at 11:59pm!
***USA Only***

Mom Spotted Review Policy: I was provided with the featured item(s) at no cost by the manufacturer and/or its PR agency in order to test the products abilities and give my own personal opinions on it. The opinions I have given are mine and may differ from others but it was not influenced in any manner by monetary means.