When our house burned down a couple years ago I was devastated. Then came the rebuilding. Which meant a new kitchen. Which meant new appliances! I had always wanted a gas range and this was finally my chance. We had gas piped into the house and went looking. I ended up with a Professional Series Frigidaire Dual-Fuel Stove. Meaning it has gas burners on the top and an electric convection oven below. It also had a warming drawer on the bottom. I love the look of it. It completely makes the kitchen.
However, with some of our Frigidaire Accessories we weren't sure what we wanted and what we didn't. Or even where to pick up new filters. This is the perfect online store for all your Frigidaire needs.
There's nothing better than cooking a big, delicious breakfast on a Sunday morning. Looking for a great way to make the most of breakfast? Then be sure to use our Ultimate Griddle.

The Ultimate Griddle is a stovetop griddle that turns two of your regular burners into one evenly-heated grilling surface. Want perfect pancakes? Tasty French toast? Sausages browned to perfection? Crispy bacon? Then use our stovetop griddle on your gas or electric stove top.

The Ultimate Griddle isn't just great for cooking food evenly. It also is designed to make breakfast healthier by draining fat and oils away from food. As a result, you get better flavor, less fat, and even cooking. Sounds delicious, right?

Get the Ultimate Griddle today and get features like:

A durable, heavy hand-cast aluminum make
Excalibur non-stick surface
Rounded corners for easy clean up
25 year limited manufacturer's warranty
Made in the U.S.A.
Care and use instructions included
Compatibility for flat surface glass or ceramic cooktops too!

Make breakfast even better. Get your stovetop griddle today from Frigidaire.
The quality of this griddle is great. I love the weight of it.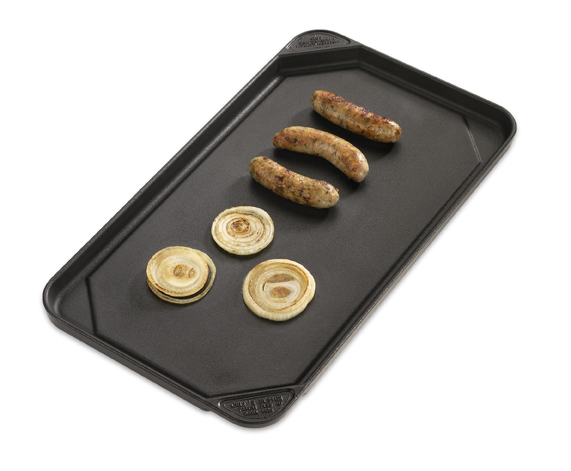 I do want to note that it wasn't a branded Frigidaire griddle. In my opinion the griddle is a great griddle and there is nothing wrong with it I was just expecting one that was branded by them.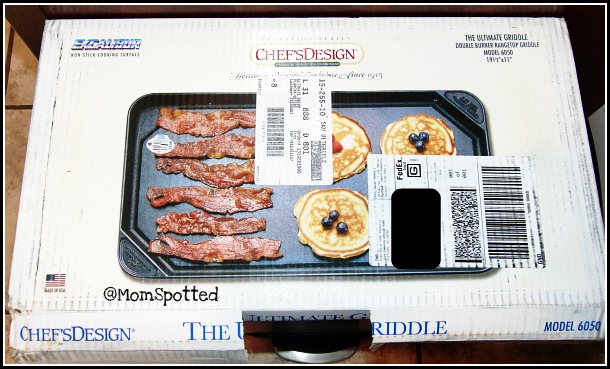 I have a Professional Series Frigidaire Dual-Fuel Stove. I love having a gas range with a convection oven. When I saw the griddle I knew it would be a great combo for Sunday morning brunches. It fits perfectly on the groves for the top. I did have to remove two pieces as it was larger then one of the side inserts. However once the two pieces were removed the griddle fit in the groves perfectly.
Doesn't it look good?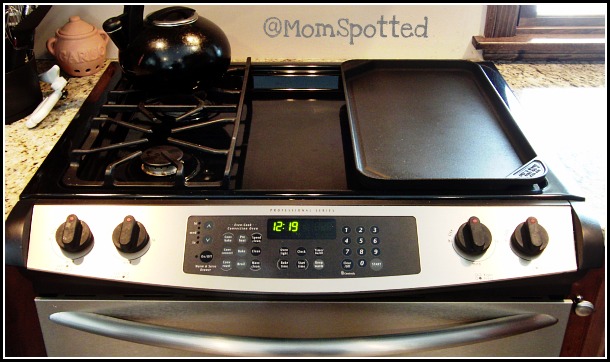 Sunday morning I made brunch. Of course I had to add in some yummy pancakes. I really want to get another one so I can be making bacon, sunny side up eggs, and hash browns at the same time. When Daddy works late we often make pancakes for dinner as it's fun and easy. This will make it much easier.
At first I was a bit nervous. I was used to an electric griddle and I knew that heated evenly. I was worried this wouldn't since it was being heated by two burners but it definitely heated evenly. When I make Gavin's I shape them like Mickey Mouse so those were smaller and I could put a pancake in the middle. They all cooked together. It was a little harder to flip for two reasons. The surface is a tad more abrasive then the smooth electric griddle and the second pancake was farther away from me, but that is to be expected. We did smell a bit of unburned gas and cracked the window near the stove, but it could have been from it being it's first use.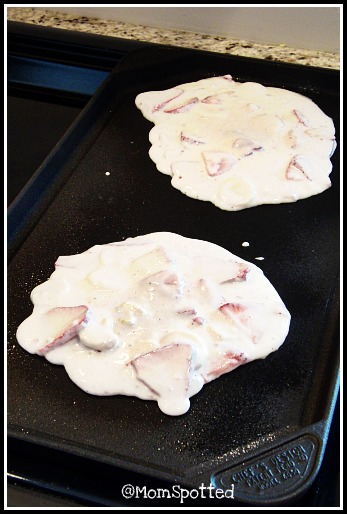 You can purchase the Ultimate Griddle for $44.99 but check out everything else they sell for Frigidaire Accessories from laundry needs to freezer baskets they have them!
Mom Spotted Review Policy: I was provided with the featured item(s) at no cost by the manufacturer and/or its PR agency in order to test the products abilities and give my own personal opinions on it. The opinions I have given are mine and may differ from others but it was not influenced in any manner by monetary means.