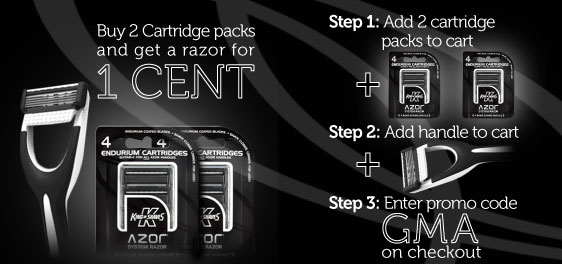 Buy 2 packs of  Remington Azor Hybrid Synergy System Razor Cartridges and get an Azor Hybrid Synergy System Warp Razor for a penny!
In this brand new collaboration Remington brings the UK's hottest grooming brand, King of Shaves stateside, marking Remington's first foray into the wet shave category. The two grooming heavyweights joined forces to deliver the ultimate shaving experience with a complete line of razors, cartridges and skincare (to prime, shave and protect) designed to provide best in class results with optimum performance.  The standout of the collection – King of Shaves by Remington Azor – is an award-winning Hybrid Synergy System Razor with a unique flexible hinge for a superbly comfortable shave.  The "Bendology Technology" effortlessly follows every contour of the face allowing the closest shave possible. See below for details, and feel free to reach out if you have any questions!
Enter exclusive code GMA from Friday March 4th – Sunday March 6th on www.remingtonproducts.com/GMA to get a Remington King of Shaves handle for a penny with the purchase of 2 King of Shaves replacement cartridges AND free shipping on all products site-wide.
(This post is unsponsored)