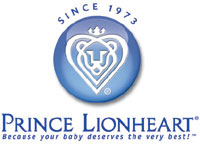 I've reviewed several Prince Lionheart over the years. They have innovative products from the kitchen to outside that make your life easier and simpler without breaking your bank. This time around I thought I would take it out of the house entirely and go for where we spend a lot of our time sadly. The car. Or in my case a Jeep. I love my Jeep more then I can tell you. We got a great deal on it a few year back and it's the first fully loaded vehicle I've ever owned. Taking care of it is key so not only can I use it for several years and have it serve our needs but be able to turn around and sell it and still make a profit. One area of my car that suffers the most is the back seat. Those boys of mine can make a mess of anywhere they go!
Stage 1 – Bottom tray is used alone with rear facing infant seats. Stage 2 – Back attaches to the bottom tray for use with forward facing toddler and booster car seats.Its high-density foam construction prevents depression damage that is caused by car seats. The bottom tray keeps all cars seats level and in proper position, and the kick plate protects upholstery from shoe scuffs. Works with all LATCH compatible car seat systems and fits all automobiles. Available in Black, Gray and Beige. Made in the US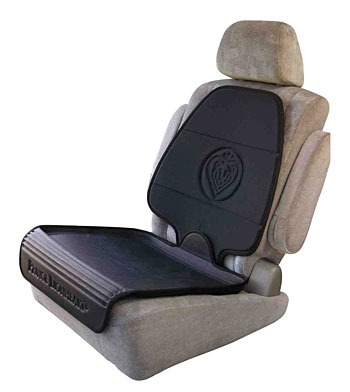 I have leather seats in my Jeep and my husband kept yelling at me to put something under my car seat because I was going to ruin the leather and I didn't listen. Well, when I went and removed my car seat to install the Two-Stage Seatsaver from Prince Lionheart this is what I saw.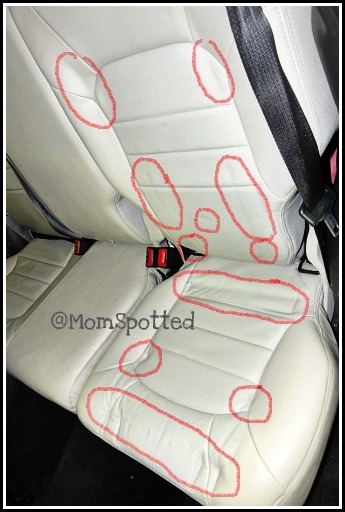 Crazy, isn't it! It makes sense though with Gavin's weight in it and the way the hard plastic curves around the base of the seat. Sure I could just throw a towel there like my hubby does but towel he is using probably costs more then the seat saver and it looks horrible. Not only that but it does nothing to protect the back of the seat.
The Two-Stage Seatsaver goes over both parts of the seat. It also curls around the bottom to cover where Gavin will kick back.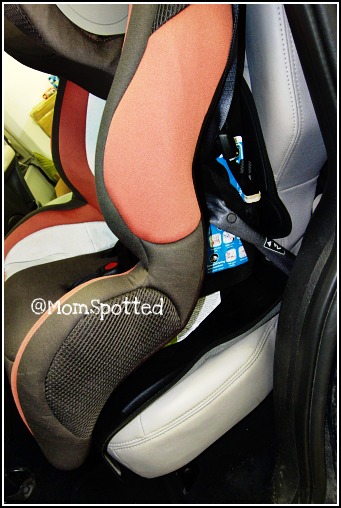 As you can see from the other side that the Two-Stage Seatsaver does not affect the way the car seat buckles or installs to the seat. If you use a latch system it won't affect that either. Only using an infant seat or have your convertible seat facing the other way? No problem the back piece comes off until you need it.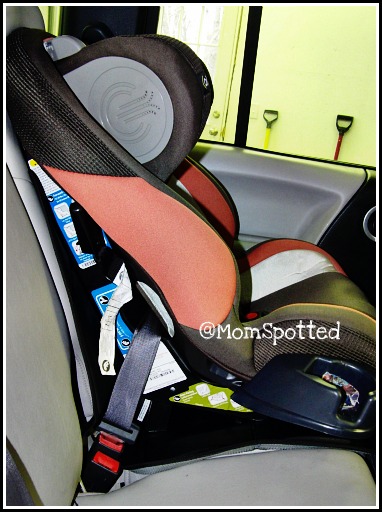 You can purchase the Two-Stage Seatsaver directly from Prince Lionheart for $21.99
Make sure to stay tuned as a Prince Lionheart Elite Writer you'll be seeing several product reviews over the next year!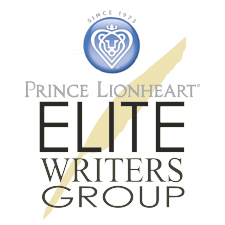 Prince Lionheart has offered one Mom Spotted Reader a Two-Stage Seatsaver!!!

How to earn additional entries:
2.) Become a follower on my blog (publicly- privately does not count)-leave another comment (or let me know if you already are) – 2 entries
3.) Subscribe to my blog by EMAIL (not feed) – 2 entries
4.) Blog about my giveaway- with a link back to here AND
Prince Lionheart
4 entries (get two more if you include a photo of the giveaway).
Post YOUR blog entry first and then the comment (please include the link directly to it not to your front page, and make an additional comment then the ones above.)
5.) Add my Mom Spotted button to your blog
6.) Follow
Prince Lionheart
on Twitter
7.) Follow
Mom Spotted
on Twitter AND Tweet about this giveaway-
Copy/Paste:
Win a Two-Stage Seatsaver from @PrinceLionheart & @MomSpotted #giveaway ends 4.10 http://wp.me/p18qpn-250
~this can be done once daily~
8.) Become a Fan of Mom Spotted on Facebook– leave me a comment
9.) Become a Fan of Prince Lionheart on Facebook! – Tell them what you love at their site
10.) Post on your facebook home page (1x daily):
Win a Two-Stage Seatsaver from @Prince Lionheart & @Jennifer MomSpotted Giveaway Ends 4.10 http://wp.me/p18qpn-250
(Make sure it links to me and Prince Lionheart & put link in comment)
11.) Leave a relevant comment on any non-giveaway post (reviews are ok)
12.) Vote for MomSpotted on Babble (No registration – 2 second click) 1x vote
(Make sure to check out all my other giveaways!
Check the side bar to the right for list!)
That's many chances to win a Two-Stage Seatsaver!!!
Contest ends April 10th at 11:59pm!
www.princelionheart.com
***USA Only***

Mom Spotted Review Policy: I was provided with the featured item(s) at no cost by the manufacturer and/or its PR agency in order to test the products abilities and give my own personal opinions on it. The opinions I have given are mine and may differ from others but it was not influenced in any manner by monetary means.